Every successful Fire Safety and Compliance business needs to establish their goals and understand which KPIs are right for them to target. This is highly dependent on the scale of your business and the type of customers you serve.
A common mistake made by a lot of Fire and Security Field Service businesses make is focusing on revenue and growth. It's easy to understand why this happens. Revenue keeps the lights on and helps you pay your team's salaries.
However, when you only focus on the amount that's coming in you lose sight of some of the marginal gains you could be making across your business that can add up to something really big for your business.
In this article we will outline what those activities are, how to set KPIs for you and your team to achieve them and why other Fire and Safety businesses use Klipboard for their Fire Compliance Software to hit all their targets.
Go straight to each KPI by clicking the list below:
KPI 1: Number of Fire Compliance jobs you can complete
Consider the number of Fire Engineers or Compliance specialists in your team. The revenue implications of each one of those team members completing a single extra job each week could be huge for your business.
It's easy to just ask for more but you need to set up the conditions for your team to achieve more without putting a strain on them or increasing the risk of rushing jobs. Details can't be missed in fire compliance, the implications of a missed infraction or compliance issue is too great, ultimately your reputation is on the line.
Your team can safely and professionally complete more jobs when you broaden the radius of where you work. To do this you need intelligent routing to maximise their time. Asking your team to complete more inspections or repairs across a wider area will require you to have better job scheduling and dispatch tools, so you can send the right person to the right job.
Smarter job planning with Klipboard's Field Service Management software can help your team get to more jobs. No more wasted time finding locations, intelligent job routing finds the fastest route and Automated communications let your client know you're on the way.
It's what we call an 'Uber-like' experience and it's something that your clients are increasingly demanding. KPI 2: How fast can you get an invoice paid
Cash flow is the lifeblood of your business. If you can speed up the time it takes to go from a quote, to a completed job and then a paid invoice it means you can ensure your business remains more profitable and will allow you to invest in your business.
If you're still managing your Field Service Finances with a multitude of Excel spreadsheets, emails and chasing with phone calls then you're unlikely to hit your targets. If you can relate to that then you need to set yourself a new KPI and that's to speed up how quickly you can get an invoice paid.
Field Service Management software from Klipboard will help you by automatically notifying your customer when there's an invoice requiring payment.
Our Real Time dashboards provide metrics on every job allowing you to get greater visibility of your job margins and profitability.
A fire safety job is a loss and a liability until it's paid!
KPI 3: First Time Fix Rate
You need a quick turnaround on corrective works but not at the cost of your First Time Fix Rate.
Your Fire Safety Engineers need to be targeted and monitored on their ability to identify a fault or failure in equipment and fix the fault on their first visit. This not only guarantees the problem is fixed but it will also have the best economic outcome for both your and your customer. Your customer won't need to pay for further call out chargers and your team can move onto the next job.
What is a good First Time Fix Rate?
The average servicing business will achieve around an 80% FTFR. However, the top 20% of growing Field Service businesses achieve around a 90% First Time Fix Rate.
Research from the Aberdeen Group identified a direct link to success and a Field Service Businesses ability to identify and resolve an issue on the first visit.
How to calculate your First Time Fix Rate
You can calculate your FTFR rate by simply taking the number of jobs completed on their first visit and divide it by the total number of completed jobs
We've created a complete guide to achieving a good First Fix Rate with our guide here.

KPI 4: Hours spent completing admin on Fire Safety jobs
It's bad form to ask your team to track their time spent on every task, you have to trust and empower them to manage their own workload. However, it is certainly worth asking them how much of their week they spend on admin?
Ask your team how much of this admin they also take home with them because Fire Safety Engineers have a tendency to take admin home with them and this isn't healthy or productive.
Firstly, from a well-being point of view this isn't great. They need their downtime and extended periods of excessive work is likely to cost you more in the long run with sickness and burnout.
Secondly, mistakes are made when details aren't collected correctly on site. When engineers or fire safety inspectors complete reports on sheets of paper, these can get lost, damaged or by the time they are brought back to the office to enter into your system they can barely be read.
Successfully, more productive field service businesses have ditched the paper and joined Klipboard. It enabled them to complete and enter the details of those fire safety jobs on site, on their mobile or tablet and uploaded straight to the shared platform for both the office and the field in real time.
No more taking the work home. No more lost paperwork. No more human error. This will result in fewer hours being spent on admin, either back in the office or when your team has to take their work home with them. You'll have a healthy, happier and more productive team.
KPI 5: How successfully you can grow Fire Safety Compliance accounts
Far too many Field Service Businesses believe that growing revenue is all about getting another customer on board.
A new customer will earn you more revenue but it will cost you a lot of time initially. Setting them up as customers and understanding the nuances of how both parties like to operate takes time. Sometimes processes clash together causing friction initially and a strong set of SLAs and expectations need to be sent to get off on the right foot.
You could be earning more revenue without that initially onboarding disruption. You've already built a rapport with your current customers and they understand how your team works.
Email Marketing can inform your current customers of your range of services
Your customers are likely getting additional services from other providers simply because they didn't know you offered them.
It's worth sending out a reminder every now and then of the services you do offer or when you add something new to the mix let them know.
Ask them!
The next time you're speaking to the customer, ask them if they have secured additional contracts, buildings or have a new requirement – if you don't ask you'll never know.
KPI 6: Customer Retention
You've got them, now keep them.
Holding onto customers is challenging and the cost of finding a new customer is expensive. It can take quite a lot of time and investment to secure a new customer for your Fire Safety Compliance business.
You'll need to spend some time looking at their infrastructure and risk to understand the scope of the customer's needs and then there's the onboarding challenges of taking on a new customer. They will need to adapt their processes to match how you like to work and visa-versa.
Keeping customers is vitally important in the Fire Safety business where referrals and reputation are the key drivers for winning new business. Ensure that Customer Retention is a KPI for your business. Above everything else make sure you are conscious of your customers expectations and understand that they will change over time.
The modern field service customer expects top notch communication, punctuality and clear visibility of the service they are getting. We talk about this being an 'Uber-like' experience, where the client has access to a dashboard and information that gives them total visibility of their jobs. For some, it's simply having automated communications to say your engineer is on the way, who they are and what they will be working on. For others it's broader, they want to see all their assets and when they need to be serviced.
Klipboard identified this as being a key driver for customer retention so we created the Client Portal. Think of it as a secure link Fire Compliance businesses can send their clients which includes all the jobs they are working on for them. Klipboard helps you access all the details of your client's assets, job information and even empowers your customer to accept your quotes through the portal. Online Quote Acceptance speeds up the process of securing new work and helps the client feel they have increased visibility of their jobs.
Growth but not at the expense of your team
Around 18 million days are lost in the workplace every year in the UK due to work related stress, depression and anxiety.
Hitting your targets is important and growing your Fire Safety Compliance business is an achievable target but not at the expense of your team's health. You're only likely to achieve your KPIs if your whole team is working together as a productive collective unit.
Burnout will throw a spanner in the works and seriously hinder your ability to complete every job, satisfy every customer and keep your reputation.
Looking after the welfare of your team should come before everything else. We wrote a handy guide on how to prevent burnout in your team which you can check out here.
How big an issue is burnout in field service?
In a survey of over 3,500 remote workers, 20% said they suffered from a feeling of isolation, lack of communication and burnout. Your Field Engineers and any member of your team who works remotely are at risk of any of these symptoms. Hybrid working conditions have increased the risk of burnout as the strains of their workload aren't always visible.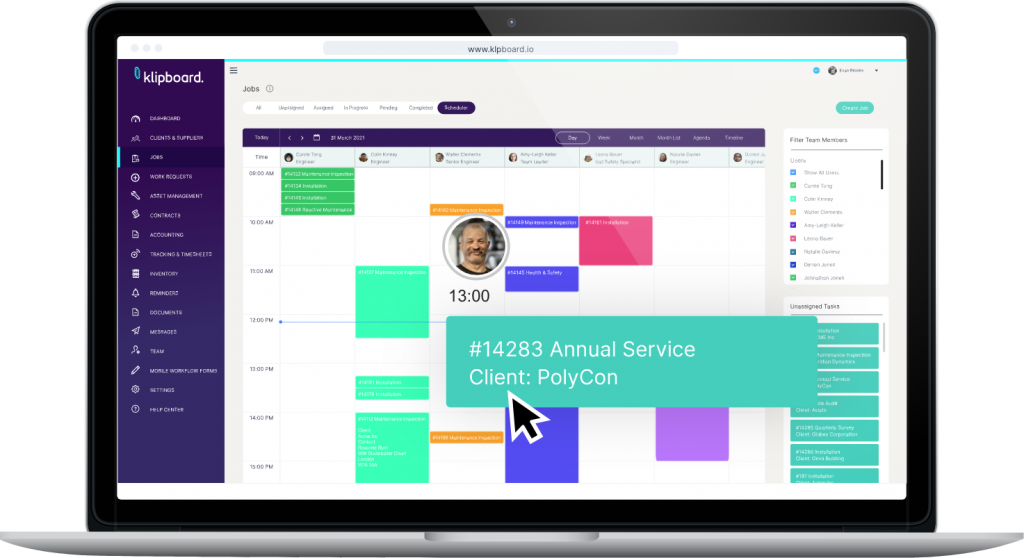 The biggest step you can take towards hitting your KPIs
You know what you need to do to grow your fire safety compliance business, you've established a set of KPIs you need to achieve to maintain a high level of customer service, increase cash flow and retain customers, so what are you going to do?
What to look for when choosing Fire Safety Job Management Software
Every Fire Safety and Compliance business will need a certain set of features in their Job Management Software such as:
Built-in Asset Management Tools
Mobile Forms for inspections and Reports in the field
Digital client sign off on the job
Training and Onboarding for your team
A Client Portal for quote acceptance and improved visibility
For more detail on this check out our guide to adding Fire Protection Job Management Software to your business.
Start a Trial or get a Demo of Fire Safety Compliance Software
Klipboard offers a Free Trial of our Job Management Software. It's easy to get started with a great onboarding walk-through and it will help you get started in a strong way. After that we're happy to give you a demo and show you around this better way to manage your jobs and improve visibility of your field service finances.