Drag. Drop. Done.
Klipboard's drag and drop Scheduler and Dispatch Board helps your field service business track and optimise the allocation of jobs to your field team. Your field service business can plan efficiently and confidently for today, tomorrow, next week and beyond whilst automatically communicating with your customer via SMS and email telling them when you will arrive. Our intelligent schedule optimisation, streamlines the process for dispatching jobs to your team. Simply point-and-click to create a job or re-allocated to a different date or time, or to a different team member by simply dragging and dropping.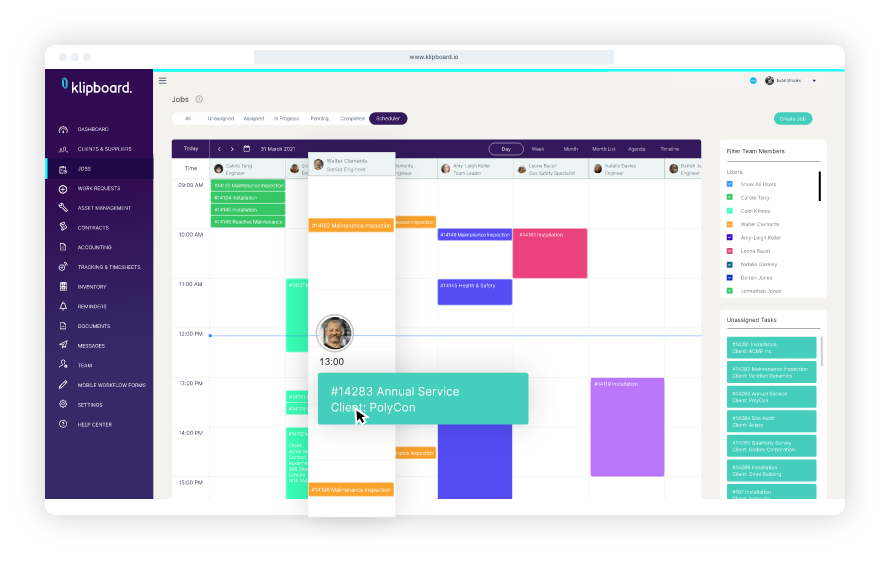 Categorise Jobs For Better Visibility.
We know how important it is for flexibility as each job in a field service business comes with its own specific needs and requirements. We ensure your field worker turns up to each job with everything they need to get started. Create and manage custom categories that can then be assigned to jobs. Jobs can be categorise for specific job types, special tools or equipment needed and more.
Need To Send A Team To A Customer Job?
No problem! With Klipboard's Teams functionality, your dispatchers can allocate a job to multiple field team workers. With Teams you can allocate a job to the lead field team worker who will complete the workflow forms, asset service records, etc, but if required you can add Support Team Members to the job when scheduling and dispatching. We run smart background algorithms and work out who is available to be selected as a Team Member for that specific job, making it much easier for managing jobs that require multiple people. Klipboard's Teams feature is perfect for project work, installations or jobs that simply require multiple people to know where they have to be and what they have to do.
Pick The Right Field Worker or Field Team For The Job.
Visibility of customer information, history, who previously completed a customer's jobs and more, will allow you to decide who is right for that specific job. Klipboard also allows you categorise team members by job role they perform, better allowing you to schedule and allocate jobs to your team.
Anticipate Availability In Real Time.
We know that field service businesses get many reactive or emergency jobs. These tend to be hard to manage on your schedule but not with Klipboard! If they're in the middle of their current job and still won't be available for sometime, we give you this visibility in realtime. Klipboard allows you to see where each field team worker is in their current the job cycle. With this visibility you can easily queue up new jobs for those about to finish up their current job and keep your customer informed through automated communication.

Keep Track of Holidays, Sickness or General Availability.
You will never have to be concerned with allocating a job to a field team worker who has no availability. With Klipboard's Events, you can create specific events for team members on the scheduler to identify if they are available therefore ensuring you dispatch jobs correctly and not mis-inform your customer with. Events can be used to block off dates and times for holidays, sickness or anything generally.
Try it for Free
14 Day Trial. No Credit Card. No Obligation.
Klipboard is the future of field service and can improve the way you work regardless of the size of your business. If you manage people in the field and you want to offer your clients a great experience, try our 14-day free trial today.
Latest Insights
The Knowledge Hub
Keep In Touch
Receive Our Newsletter
Access regular content from our
Klipboard Knowledge Hub
- inspiration and insight for operating your field service business better.