Fire Protection Job Management Software is vital if you want to free your team from the endless admin that's stopping your team from completing more jobs.
You can effortlessly add Fire Protection Job Management Software to your business and you're holding your business back if you don't.
Why you never seem to have any time
It's really tough finding the time to add new software or processes to your business. You're already stretched thin, your team has so many inspections and reports to write, how can you afford to take them away from that?
Inspection admin is getting in the way of achieving more
Fire Extinguishers, Fire Suppressions systems, Passive Fire Systems, Alarms, Fire Doors and more, all need scheduled inspections. How do you find the time to train your team on a new job management system when you've got a job to do?
It's incredibly likely that you don't have the time available because you're not using Klipboard. Our all in one job management software helps fire safety businesses complete more jobs and better manage their time by streamlining the processes you already do every day and digitalises your reports and data collection for increased accuracy.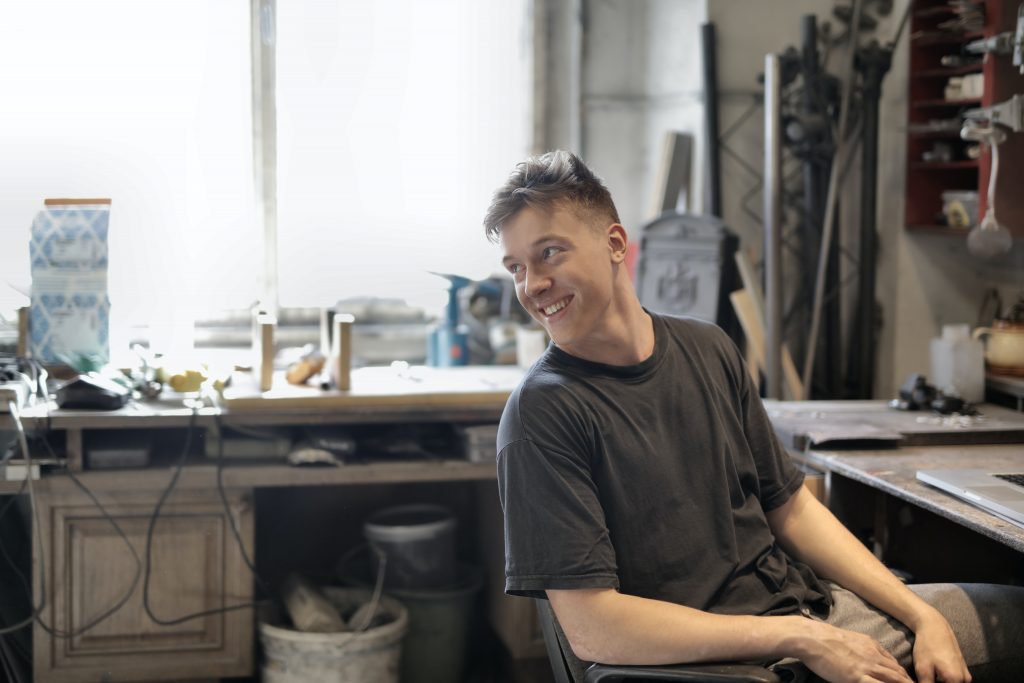 What will grow your fire protection business
You're much more likely to achieve your business goals if your team is able to complete more jobs and impress your clients.
The 'Big Three Tactics'
Here's three key tactics that will make a difference and help you grow your business, it will free up more time and your team will start to get more satisfaction from their work:
1. Release your team from their admin
How are you going to invoice for more work if you're spending as much time on your admin as you do on the job? Duplicating your admin, writing up reports, chasing quotes and payments will stop your team from completing more jobs.
Using Klipboard Fire Safety Job Management Software will streamline how you record data while on the job. That means when it comes to writing up reports later you've already done the work.
2. Building confidence with your clients will result in referral business
Referral business is key in safety related industries. Potential clients will need to believe you can meet regulations, perform consistently and look the part too. Your clients are much more likely to refer you if they are getting an impressive and consistent service from you. It's all about confidence and trust.
Klipboard not only encourages your team to use pre-determined workflows designed by you for a consistent service but also makes it easy to automate communication with your clients. It's one of the professional touches that will take your business to the next level.
3. Your team didn't join your business to do admin
Job satisfaction has a huge impact on the quality and consistency of the service your business provides. It's unlikely your team aspires to do more admin, they are far more likely to perform at their best when they are able to do their job, create professional reports and know they are exceeding the client's expectations.
Klipboard unlocks their potential allowing them to focus on the client and not the admin.
Pat Ryan from Fire Compliance Services explains how straight forward it was adding Klipboard Fire Protection Job Management Software to his business
Fire Compliance Services have reduced their admin by half since they started using Klipboard. Pat's team now spends more time completing jobs and collects more of the information they need while on location, helping them meet their third party accreditations.
Use Job Management Software that's built for Fire Safety Jobs
If you pick a software provider that can't meet the particular and specific needs you get in Passive Fire Safety inspections it will cost you time and money.
You need a system that expertly manages asset management, automated survey and inspection reminders for your team and the client and is able to handle the small details such as clearly identifying the locations of assets on site.
Klipboard excels at meeting these requirements, that's why customers like Pat Ryan from Fire Compliance Services are able to cut their admin and perform at a higher level.
Fire Protection Job Management Software helps you go paperless
In a competitive and highly regulated industry you've got to make the most out of the time your team has available and gathering accurate data is vital when producing reports needed later down the line.
When you use Klipboard you're digitising everything, your inspection reports, asset surveys and sign-off records are all recorded on your job management software. That means when you need to produce great looking reports for the client or quickly supply information for an audit you're able to do this at the press of a button.
This will save you hours of admin, in Pat's case that's how he's reduced his admin by half. Learn more
Start using Fire Protection Job Management Software for reports that impress your clients
When your clients have confidence in your team that can lead to big things for your business. They'll recommend you to other businesses and you'll get a reputation of delivering at an exceptional standard.
You can only achieve this level of confidence when the output of your work matches your effort. That's where Klipboard can help you. Not only does our Fire Protection Job Management Software streamline your business helping you complete more jobs, you will also gather more data.
This will empower you to build impressive, branded reports that are quick to put together and easy to share with your client. Learn more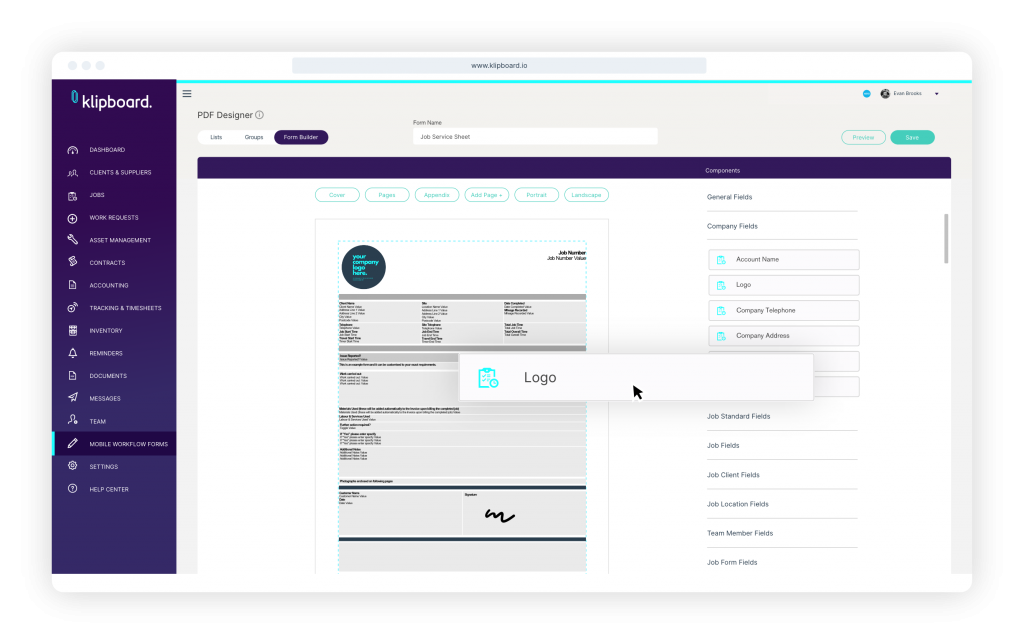 Recording Customer sign-off and capturing more on-site
Using Fire Protection Job Management Software to gather information at the source can save you a lot of time later. We've made it easy for your team to take pictures and add those details to the job records on Klipboard.
Have you replaced a key asset but the building manager isn't around? No problem, just take a quick snap of the new item and add that to the service or job record. You can send those details to your client in your report. Impressive.
What about signature sign off? That's easy with Klipboard, our fire safety job management app allows you to gather their signature sign off on site and authorise work that's been completed while on the job. Imagine how much time that will save you when you don't need to chase this later. Learn more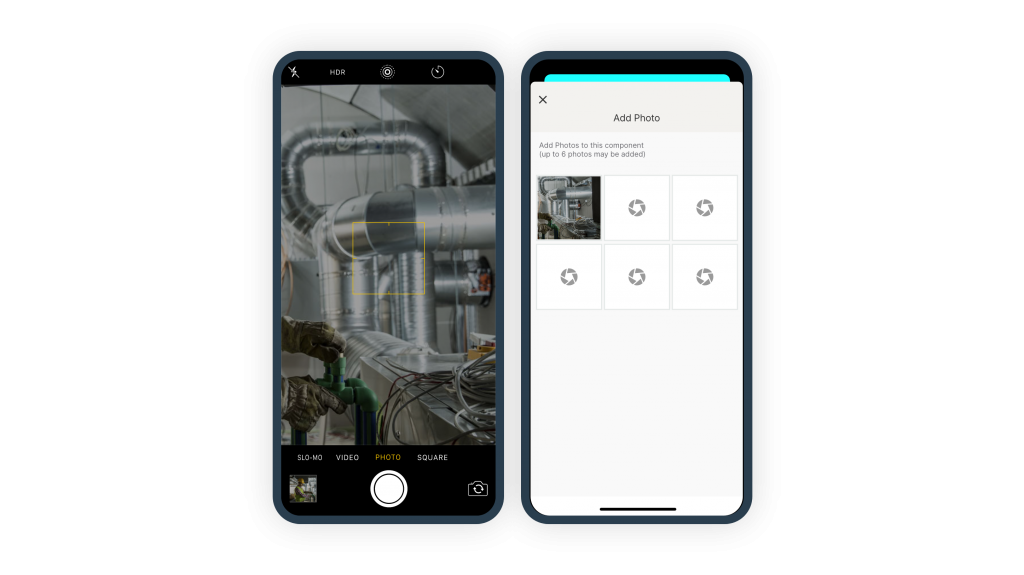 Well managed on-boarding is essential
Plenty of Job Management Software providers offer a free trial. Few ensure your team gets up and running as quickly as Klipboard.
Firstly, Klipboard is so easy to use, that's because we've tried to keep things simple from the beginning. It includes all the features you'll need to run a successful field service business but we don't overburden you or your team.
With a little help from us you'll be creating jobs, adding clients and scheduling your team with ease. You'll have the support from our team and our guides help you find what you're looking for if you need it.
Take your Fire Protection Business to the next level by adding Online Job Booking and a Client Portal
No more back and forth with your client, they can submit a request for more work directly from your Client Portal. All you need to do is add a login button on your website or social media channels and they can log into a Portal with all their jobs and your availability, clearly visible.
The Client Portal is another example of how you can perform above and beyond expectations and build confidence. Your clients can download service records for their assets and even action quote acceptance straight from the portal, another example of streamlining your processes. Learn more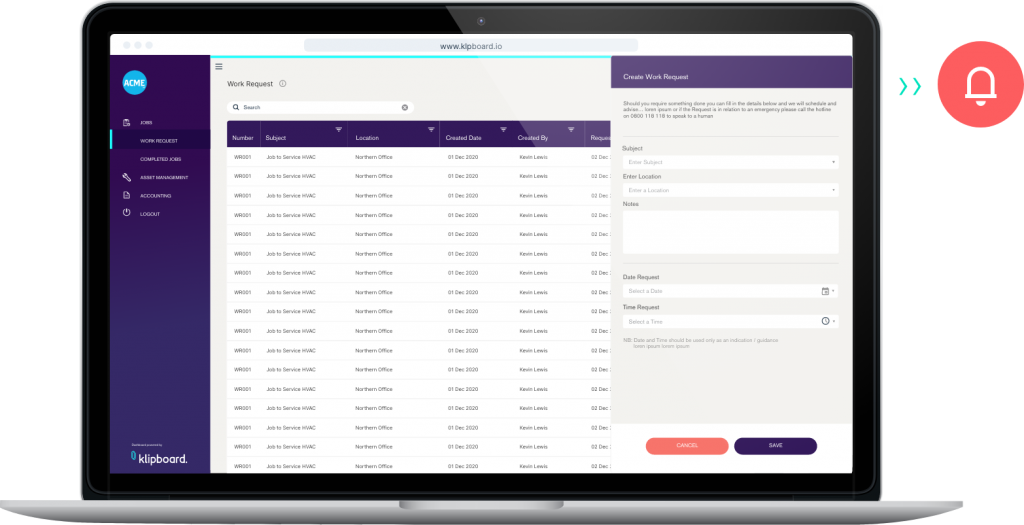 Summary: How to add Fire Protection Job Management Software to your business
The benefits of adding Fire Protection Job Management Software to your business are clear, finding the time to add the software to your business is easy to do when you pick the right software partner.
You don't have time for extensive and expensive training sessions. You won't benefit from using a system that doesn't quite work for your particular industry, there's no point trying to make it work.
Be like Pat!
Use Klipboard to better manage your Fire Safety business, increase the number of jobs your team can complete by reducing your admin. Your business will grow when you impress clients and win referrals.
Latest Insights
Trade Talk