Win more business.
Keeping track of the leads you get and ensuring you convert your quotes to new business wins is made easier with our quote dashboard. With a quick glance at high level stats you can see how your business is performing, identify follow up opportunities and track wins. The great thing is you can also create quotes from anywhere and add any supporting notes, files and images to your quotes. Your team can create quotes on the web dashboard or out in the field on the mobile app - maximising the opportunity to win business no matter where you are!
Real time insight on all Quotes and enquiries with our dashboard
Klipboard's real-time dashboard helps to streamline your field service operations by centralising all quotes and is perfect for for forecasting revenues and opportunities. Our field service quoting software also lets you review the status of your quotes that have been sent via email on Klipboard, giving you insight on potential wins.
You can simply filter down to Quotes awaiting approval and easily monitor if the quote email has been opened and the engagement rate. These insight can help you determine if their is a requirement to send a follow-up email to prompt your customer.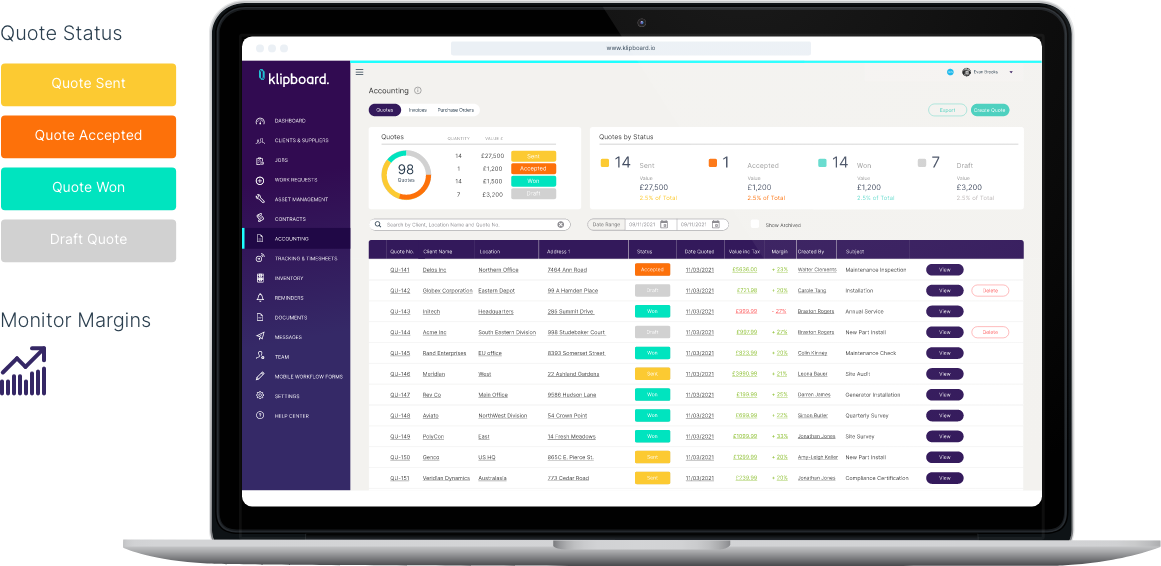 Try it for Free
14 Day Trial. No Credit Card. No Obligation.
Klipboard is the future of field service and can improve the way you work regardless of the size of your business. If you manage people in the field and you want to offer your clients a great experience, try our 14-day free trial today.
Automatically convert Quotes into jobs.
Klipboard allows you to instantly convert Quotes into new jobs, with all details from the quote copied across to the job removing considerable admin burden. As a result, jobs can be deployed to field workers in record time which allows for more work to be completed daily. Once the job has been completed, the details from the Quote copy over to the invoice eliminating any double entry.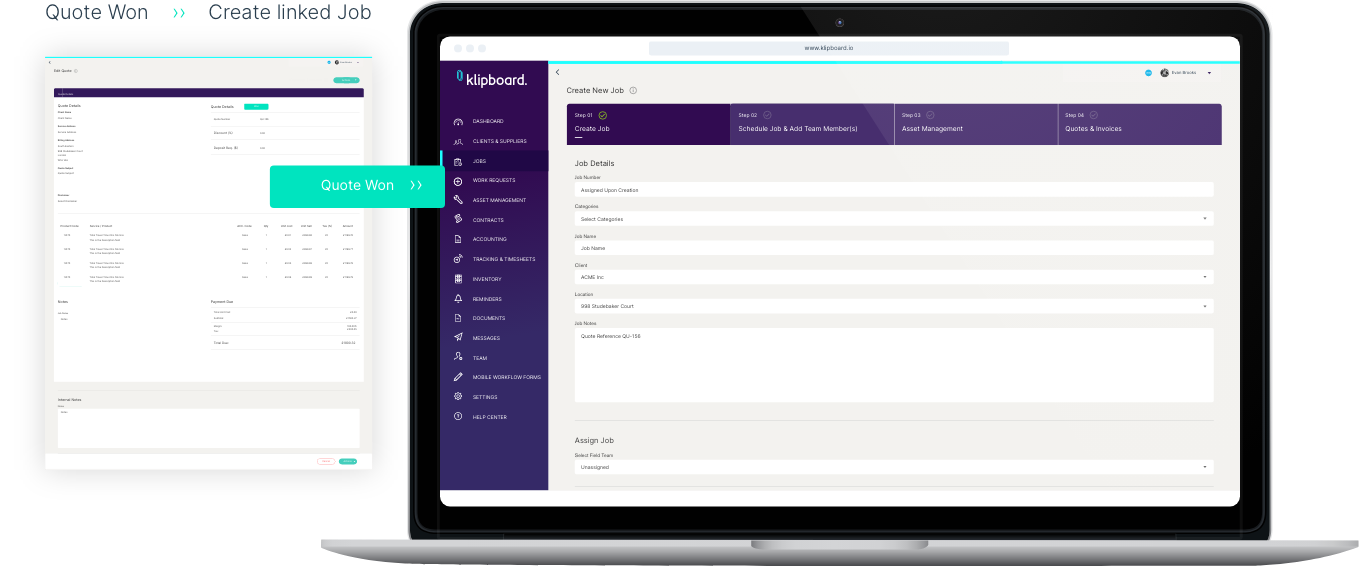 Clients can quickly and easily accept Quotes online
When you send your clients a quote they can easily approve it in your client portal, making it faster for you to win more business. Use automated notifications alerting your client when they have quotes requiring approval and be notified instantly when they accept. This gives your customer an Uber like experience whilst also minimising admin.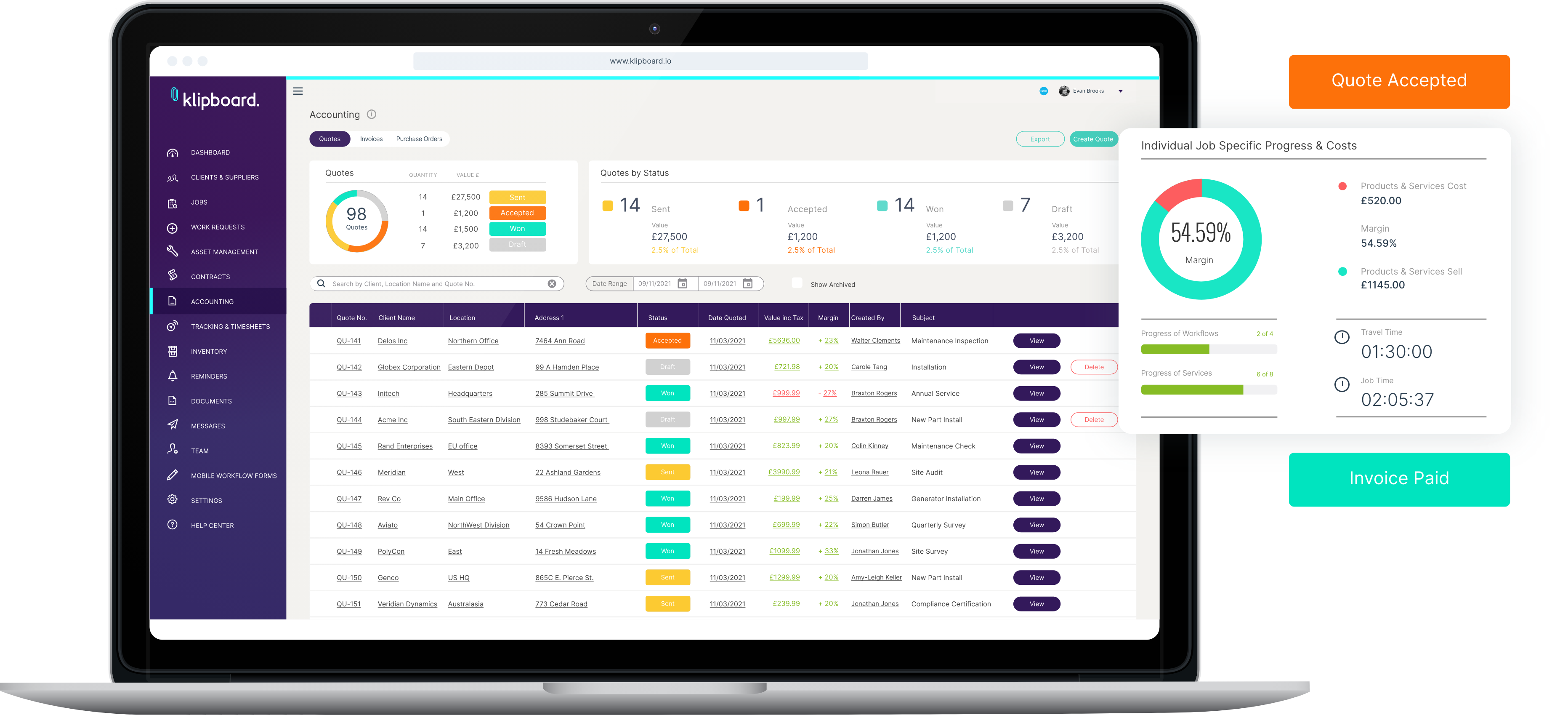 Easily track Inventory Products, Parts, Services & Labour
Making a margin on a job is incredibly important, that's why Klipboard's cloud quoting software lets you specify the costs of each line item added - whether it an inventory part, labour, etc, along with the ability to mark up the sell price when creating new quotes. Margins are automatically calculated and displayed accordingly, ensuring you know exactly what profitability you are making on that job. In addition, when you add an Inventory item from stock as a line item on a Quote, once the Quote is converted to the job, the allocated stock count for that item is updated accordingly.
Convert Quote line items to Supplier Purchase Orders
Quotes can also be easily converted to Purchase Orders. We work out what line items on a Quote are associated with the supplier you typically purchase those items from and copy those into a new Purchase Order - saving you admin time and ensuring you can get to ordering the required items for that winning Quote and job efficiently.
Professional & eye catching Quote templates.
Winning new clients can be highly competitive and that's why it's important to have professionally branded quotes. Klipboard enables you to set up all your templates for product and service descriptions, unit costs and line item details, eliminating double entry and speed up the process of creating quotes.
In addition You have complete control of what is displayed, including design, your company logos, branding and messaging - including what fields you want displayed on the output such as deposits, line items, quantities, line item tax, total, payment options, etc. With just a few clicks, your new, professional looking quotes can be sent directly to your customers quickly and efficiently.
What are the 5 key benefits of using Job Management software in your field service business?
Latest Insights
Trade Talk