Invoice jobs with a single click.
With Klipboard, you can minimise the administrative burden by streamlining the entire invoice process in your field service business - saving time, increasing productivity and improving your company cash flow.
Be notified instantly to invoice jobs once completed by your field team and approved back in the office. With a single click, seamlessly convert job costs into invoice line items and output on a customisable invoice template. Within Klipboard you can email a copy of your invoice to your client or send to the client portal with an automated notification alerting them to an invoice requiring payment.
With permissions granted, your team an also create Invoices from anywhere and add any supporting notes, files and images to your Invoices. Your team can create Invoices on the web dashboard or out in the field on the mobile app - maximising the opportunity to keep a healthy cashflow no matter where you are!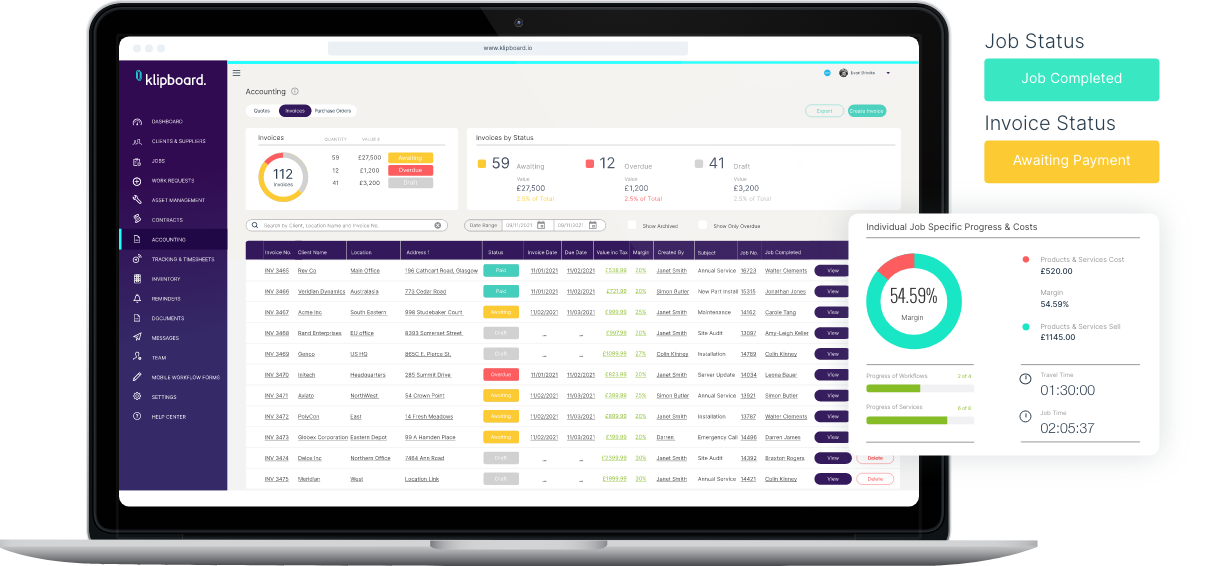 Connect to your favourite cloud accounting platform!
Connecting Klipboard with your favourite cloud accounting platform creates a seamless sync process that removes the need to create two invoices on separate systems. It reduces the risk of mistakes and allows you to gain additional time that can be utilised on growing your business. When you create an invoice in Klipboard, can sync directly with Quickbooks, Sage or Xero.
Try it for Free
14 Day Trial. No Credit Card. No Obligation.
Klipboard is the future of field service and can improve the way you work regardless of the size of your business. If you manage people in the field and you want to offer your clients a great experience, try our 14-day free trial today.
Keep track of payments & billing history.
Klipboard provides a dashboard with clear stats on all invoices sent, paid and overdue, ensuring you can track and manage cash flow for your business effectively. Enhancing management further, we provide a separate dashboard for each individual customer you set up, allowing you full insight into the status of invoices for that customer. A comprehensive search and filter functionality ensures you can access the billing history of your customer quickly.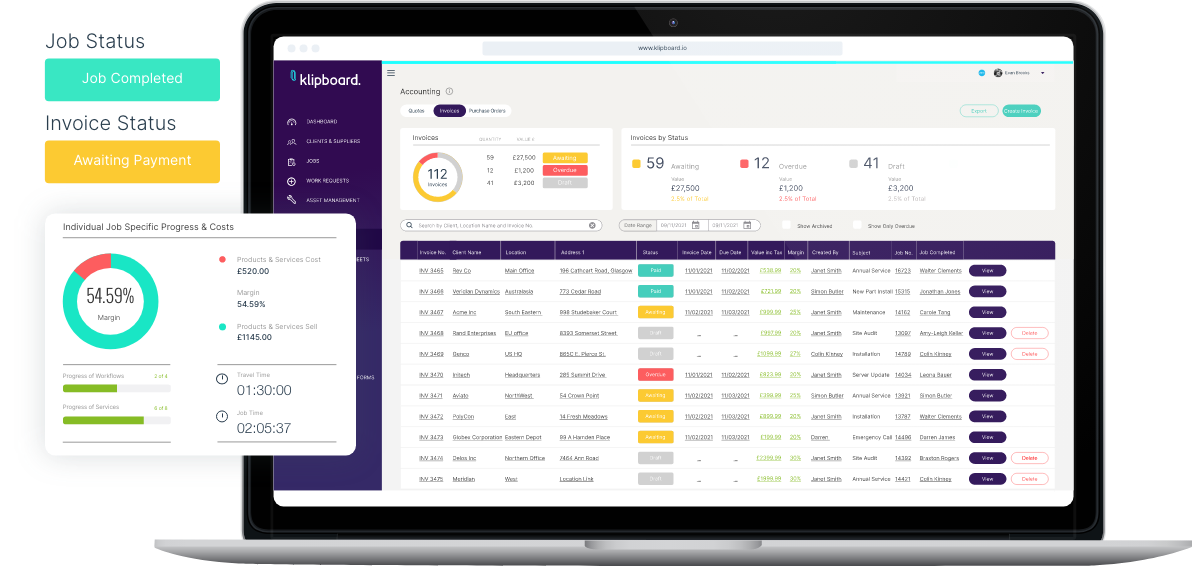 Give your customers convenient ways to pay.
Utilising Klipboard's Client Portal, it is an efficient way for customers to view invoices and pay your business. They can pay invoices via the online portal using credit or debit card payment methods, reducing the burden of chasing customer payment and saving your admin team's time. You will be alerted when invoices are paid and can be confident that you are reducing any potential cashflow issue.
What are the 5 key benefits of using Job Management software in your field service business?
Latest Insights
Trade Talk