Comprehensive Asset Management For Today's World.
With Klipboard you can easily manage and maintain any asset type for your customer. Klipboard's extensive Asset Management capabilities on the web and mobile app allow for asset surveying, asset registering and maintaining of assets on a pre-planned servicing schedule at multiple customer locations. Office and field workers can make sure an asset register is accurate and benefit from a clear overview of which assets are at a chosen location, the condition of those assets as well as the history and planned maintenance schedule of those assets.

Client Asset Registers Created With Ease.
Klipboard allows for a client asset register to be created with accuracy and ease. A customer's asset register can be easily imported or a field team member can perform an onsite survey capturing the relevant customer asset data on the Klipboard mobile app. Either way we ensure you can capture and store the correct asset data for your client with accuracy and speed. Asset serial numbers, manufacturers, product codes, equipment details, warranty dates, servicing prices, photos, documents, as well as a range of other useful details can be stored against an asset and all of which are customisable for your needs.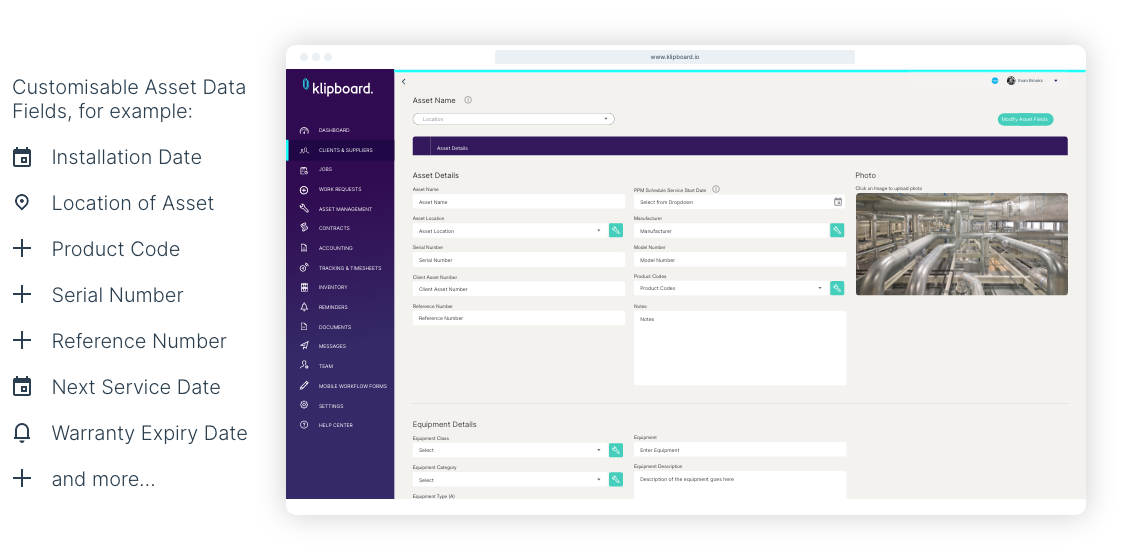 Never Miss A Customer's Asset Service.
Klipboard's range of automated customer asset service reminders can be sent out according to a frequency you desire ensuring your customers are notified when their assets are due servicing in accordance to the preventative maintenance schedule.
Get Instant Visibility of Your Pre Planned Maintenance Schedules.
Through our intuitive PPM Scheduler, you can create planned maintenance schedules for each asset quickly.  Schedules can be set for any frequency, be it daily, weekly, monthly, annually and Klipboard will let you know when those assets are due a service. We provide you with full visibility on a range of grids that show asset services Due Today, Due This Week, Due This Month or a specific date range  ensuring you can plan and schedule your customer's asset services easily.
Asset Photos, Documents & History At Your Fingertips.
Photos captured for an asset by your field team worker using the Klipboard mobile app will be added to the asset register automatically. Upload and store documents such as floor plans or manuals against an asset. These are then available to your field team when viewing an Asset on the Klipboard mobile app therefore ensuring they have everything at their fingertips. Our Asset History, provides a detailed audit log documenting any changes made to a Client Asset during its lifetime. You can filter and search the audit log and can export to Excel for reporting requirements therefore keeping your customer informed.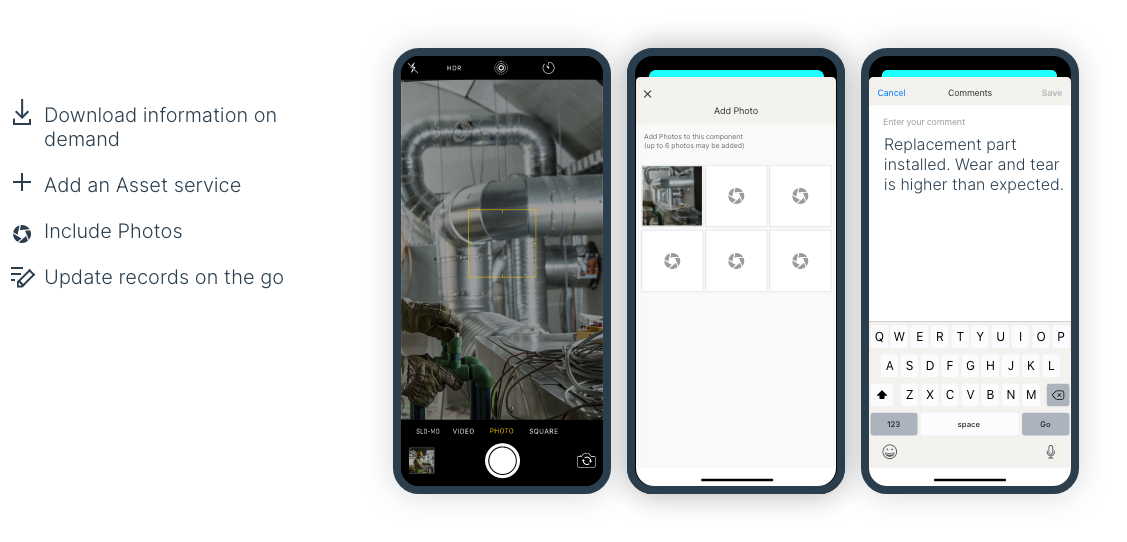 Try it for Free
14 Day Trial. No Credit Card. No Obligation.
Klipboard is the future of field service and can improve the way you work regardless of the size of your business. If you manage people in the field and you want to offer your clients a great experience, try our 14-day free trial today.
Latest Insights
The Knowledge Hub
Keep In Touch
Receive Our Newsletter
Access regular content from our
Klipboard Knowledge Hub
- inspiration and insight for operating your field service business better.