"Our all in one field service management software helps your office and engineers to quote, schedule, manage customer assets, complete job forms, organise customer profiles, invoice and get paid faster. Try Klipboard free for 14 days."
HVAC
No matter what services you provide, whether it be air conditioning, heating, ventilation, you need a system that will help you achieve profitability and growth. HVAC companies responsible for the installation, commissioning and maintenance of business critical equipment must ensure that their processes are managed as efficiently and proactively as possible.
Klipboard enables HVAC companies to effectively manage their field engineers by creating and scheduling jobs for installation, commissioning, ongoing maintenance and servicing. Jobs are sent to engineers using the Klipboard mobile app and contains schedules, customer information, customer history, customer assets, documents and location routing along with any industry standard forms, such as F-Gas or Gas Safety Certificates for completion in the field, meaning you are compliant at all times.
Our extensive Asset Management web and mobile app capabilities allow for asset surveying, asset registering and maintaining of assets on pre-planned maintenance schedules at multiple customer locations. Automated customer communication ensures servicing schedules are never missed and extensive service reports gives visibility ensuring you are meeting your customer obligations.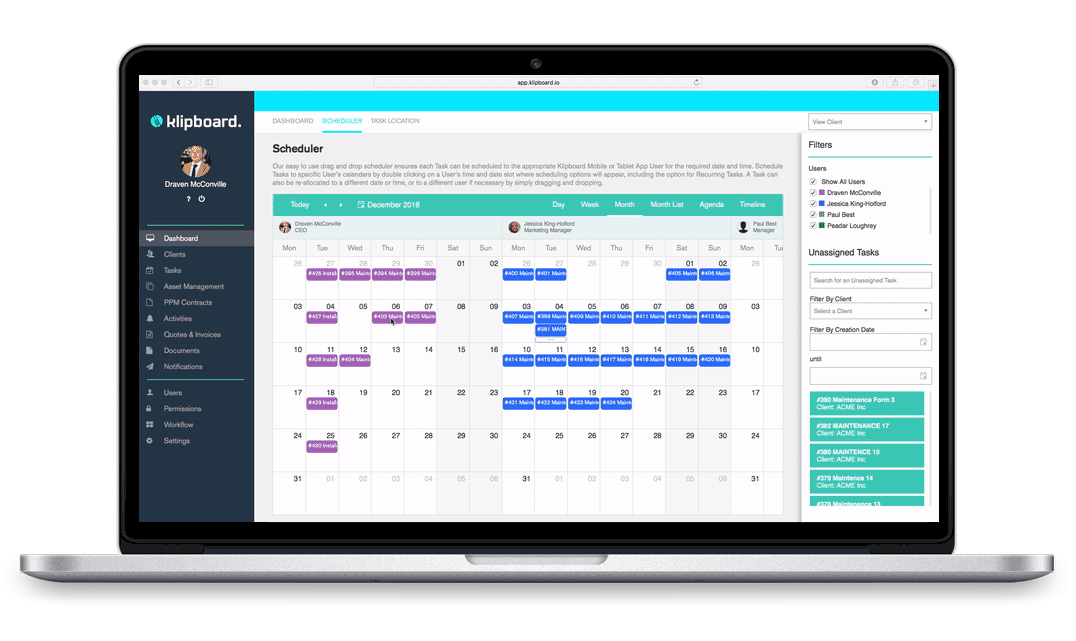 Klipboard can help deliver benefits to your industry:
Manage all your customers information through our intuitive Customer CRM, Document Management and Notes features
Manage engineers, create schedules and setup recurring jobs for planned maintenance programs for your customers
Contracts & Asset Management for surveying, recording and maintaining equipment at multiple customer sites
Quote your customers, get approval, convert to a job for your engineers and invoice upon completion. Seamlessly integrate with XERO Cloud accounting
Ensure F-gas compliance through tracking of refrigerant gas use and customer reporting
Industry standard compliance forms or certificates for completion in the field
Improve customer service by keeping your customers informed through the use of automated email notifications, calendar reminders and the ability to email reports with customers easily and efficiently
Real time tracking of your engineers on a GPS map along with their current status
Use our Workflow Generator to create any type of mobile workflow form or report such as Job Sheets, Risk Assessments, industry standard Gas safety certificates for completion by the engineer on the mobile app
Eliminate the risk of forms being lost, damaged or destroyed by utilising our secure cloud storage and comprehensive management features on our web admin dashboard
Our PDF Designer allows you to design the output of your final forms or reports as you wish and make sure they are directly in line with your company brand
Time tracking of your mobile workforce's hours and labour costs
Great Features, Expertly Organised For Ease Of Use
With Klipboard you get plenty of features presented in a user friendly interface allowing you to provide a seamless, quality service experience. Our range of features will bring many benefits to your organisation and employees, as well as your customers.
Drag & Drop Scheduler & Job Dispatch
Customer CRM & Document Management
Asset Management & PPM Service Scheduling
Inventory Management
Live Status Feed, GPS & Timesheet Tracking
Invoicing, Quoting & Purchase Orders
Job Progress & Insights Dashboard
Mobile Workflow Forms & PDF Designer
Automated SMS Text & Email Customer Communication
Signature & Image Capture