Create & Manage Your Client's Details & Keep An Organised Client History With Ease

Within the intuitive web dashboard you have the ability to create, update and manage your client details, including all their information, sub locations, logo and associated notes. Klipboard automatically works out the correct geo coordinates based on the address details you enter and plots the location on a map. These location details are then available for your field workers on their mobile or tablet app when assigned a client task, seamlessly enabling access to directions. 
Our notes feature allows you to capture important client information and store in a simple chronological timeline, just like a news feed. Next to this is the completed tasks percentage dial, giving you real time performance insight and number of outstanding tasks for that specific client. This ensures at a quick glance, you can see a simple metric and indicator of the progress for easier management.
The activities functionality allows you to schedule important reminders for 'to dos' to be completed by your employees. Describe the activity i.e 'Customer Follow Up', set the date and time of each activity with email reminders, associate with a specific client and select who it is allocated to within your workforce.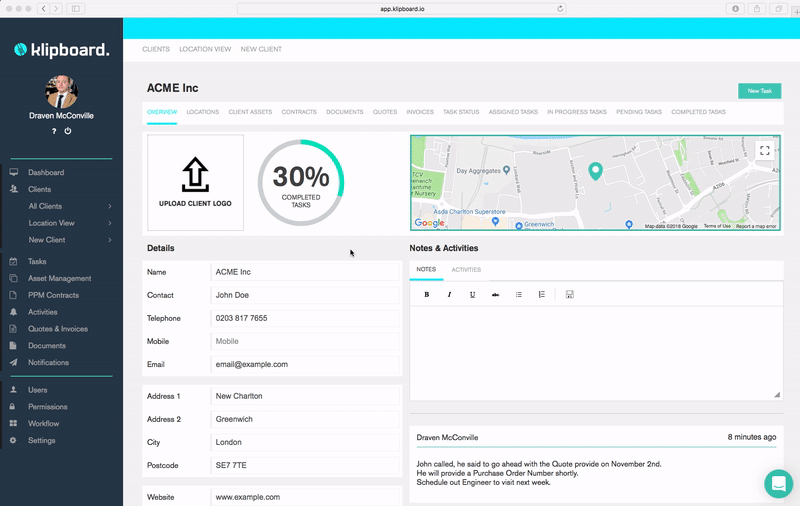 Comprehensive Search & Client History  
A full search and filter functionality makes it easy for you to find client information quickly such as quotes, invoices, billing history or to view tasks at various stages associated with each of your clients.  Any completed tasks will contain PDFs of any workflow forms or Service Reports completed on Client Assets. Instantly produce quotes or invoices that can be emailed directly to your client from within Klipboard.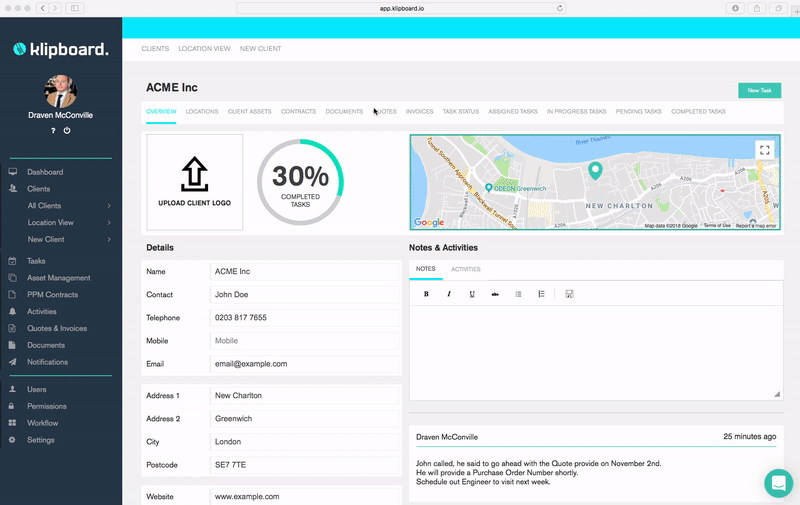 Email Built In
Simply share any documents such as completed tasks or service records through our easy to use emailing functionality.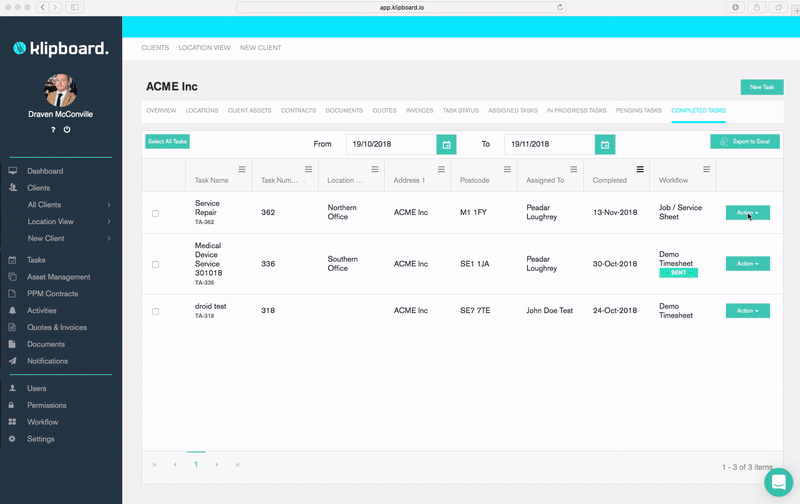 Simple PDF Document Management
The PDF document management functionality within the Client CRM area allows you to upload relevant PDF documents on the web dashboard. Simply associate with a specific client and they are then immediately available for any client tasks you create and assign to a field worker. PDF documents such as floor plans, user guides, certificates or basically any document a field worker requires to complete the task in hand.
Total Oversight With Our Task Status Dashboard
Not only can you view the high level percentage dial, we also provide you with a customisable task status dashboard. Perfect for managing client projects that you may be working on for a long period of time, the dashboard allows you to see the status of a specific task, ensuring tasks of a compliance nature reach completion.