Paper forms are so last year!
Create and manage mobile workflow forms for jobs requiring assessments, audit reports, maintenance records, inspections, surveys or just about any process you can imagine. No programming or coding required.
Klipboard's mobile forms software is a customisable form builder that allows you to create and publish your own electronic forms specific to your requirements. You are no longer limited to choosing from a default style library of forms that are no suited to the jobs that you perform.
Whether you require a form that is specific to your business or a particular workflow process, you can be confident that our mobile form builder is capable of delivering a form that's tailored to you requirements.

Extensive library of industry standard mobile forms & certificates
Our mobile forms is used everyday by thousands of field service workers who are involved in varied trade services. We've become experts in delivering a full suite of industry standard mobile forms for each individual field service sector.
Our extensive library can include Gas Safe and OFTEC Certificates; BAFE forms for the Fire Safety Industry; Water Hygiene and Legionella workflows; Electrical Certificates; FGAS and HVAC service sheets and EV service sheets and much more.
Guaranteed compliance & completion with our rules engine.
With our mobile form groups feature, you can create multiple groups which enables you to add a range of your mobile workflow forms to that group - along with configuration of rules for completion on the job or if they are mandatory or not. Perfect for jobs that require certain forms every time and for forms such as Risk Assessments that have to be completed before a job can commence. Utilising mobile form groups and the configuration rules will ensure you can be compliant and be confident that the required forms are completed before a job can be closed.
Try it for Free
14 Day Trial. No Credit Card. No Obligation.
Klipboard is the future of field service and can improve the way you work regardless of the size of your business. If you manage people in the field and you want to offer your clients a great experience, try our 14-day free trial today.
Mobile friendly & intuitive for your field team.
Forms are displayed in a mobile friendly manner on the Klipboard mobile app for your field team workers, ensuring they can complete fast and efficiently. Components such as mandatory fields, text fields, image and signature capture, dropdown lists, tabs, yes / no toggles and much more makes the capture of data in the field much more efficient.
Once all the relevant data in the field has been captured using the Klipboard mobile forms app, these can be synced back to the office in real time for review.
Voice dictate using Apple's Siri or Android Voice.
Your field team workers may not want to type text into the forms or reports so we have enabled the ability for voice dictation into the text entry data fields on the forms. Using the native voice dictation technology from iOS or Android ensures a very responsive experience and unparalleled voice recognition.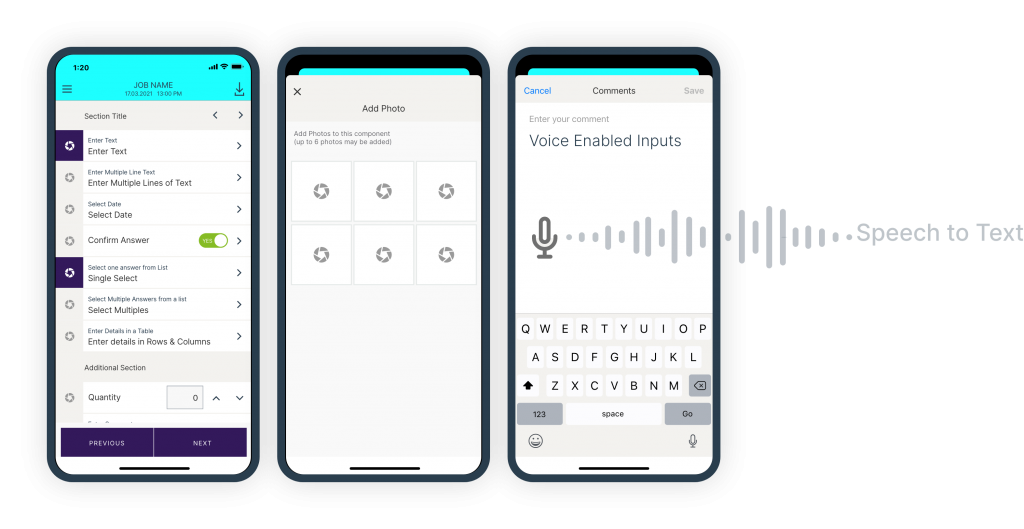 Design your own professional output.
Now that your field team worker can capture the data for your forms and reports efficiently, you will now want it outputted in your own styled PDF format! Our intuitive drag and drop PDF designer enables you to create your own styled output of data captured in the field through the workflow forms.
Once the form has been completed by the field worker and synced back to the office, a PDF is created using your designed template. Choose the layout, change fonts, colours and add images or cover pages to create the design you desire. No programming knowledge required and can be learnt in a matter of minutes!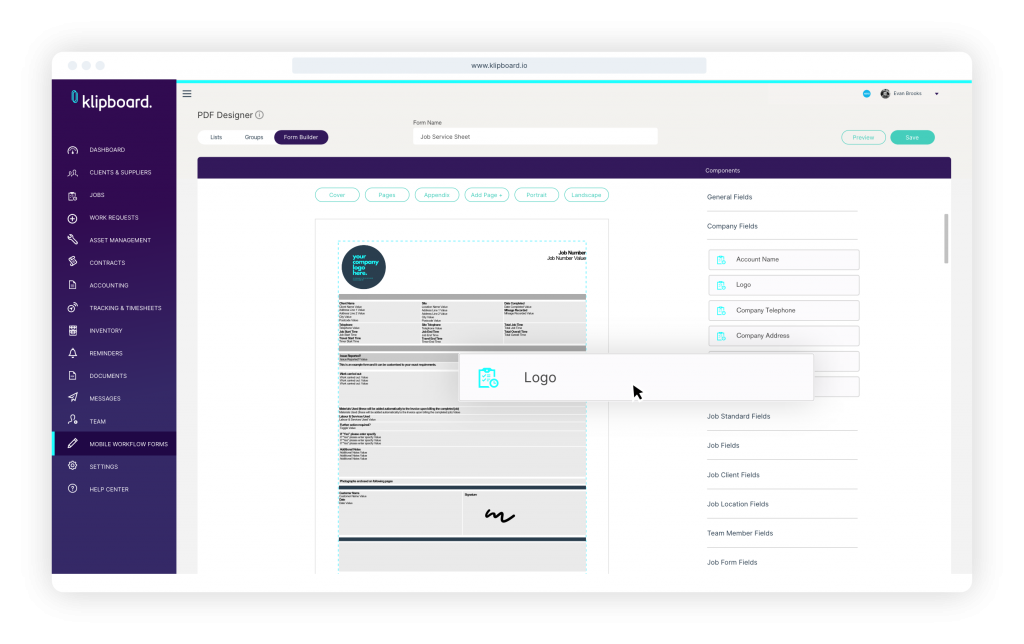 What are the 5 key benefits of using Job Management software in your field service business?
Latest Insights
Trade Talk