The frequency at which your team of engineers are able to identify a fault and carry out a successful repair during their first visit is referred to as your First-time Fix Rate.
Achieving a good First-time Fix Rate is challenging and without the proper support, training and technology in place your team will experience many hurdles in attaining it. In this article we identify the common challenges faced and how to overcome them.
Here are the key issues faced when trying to achieve a good First-time Fix Rate:
Ineffective inventory management
Service history unavailable to engineers
Poor customer and engineer communication
Incorrect fault diagnosis
Inconsistent quality of work
First-time Fix Rate (FTFR) Definition
First Time Fix Rate refers to the number of service requests an engineer resolves during their first inspection or client visit. The ideal goal is to fix the equipment in the initial visit, doing so has a significant impact on customer satisfaction and ensures the engineer is as productive as possible.
FTFR is a key performance indicator for engineers and will offer measurement which will help identify how the operation is performing helping you to grow your business with:
Increased Customer Satisfaction levels
Improved Engineering Competency
Efficient Asset Management & Downtime rates
Reduce Operational Inefficiencies
Many businesses include First Time Fix Rate into their SLAs and some contracts are bound by a commitment to maintain a minimum First-time Fix Rate.
What is a good First-time Fix Rate?
The average FTFR for Field Service businesses is 80%. However, the top 20% of fastest growing and most successful Field Service businesses have a First-time Fix Rate of around 90%.
Research from the Aberdeen Group has identified a direct link to the success of a Field Service business and their engineer's ability to identify and resolve an issue during their first visit.
Engineers can be scheduled on more jobs and reach more clients when they aren't continually returning to the same customer to repeat a repair. 
How to calculate your First Time Fix Rate
 To calculate your First Time Fix Rate you simply take the number of jobs completed on their first visit and divide it by the total number of jobs completed.

Top performing businesses spend less time repeating inspections and repairs. They have more time available to service more clients or spend more time with the clients they have leading to better business partnerships and customer retention.
How stock and inventory impacts First-time Fix Rates
Stock management plays a huge role in maintaining a high First Time Fix Rate for Field Service businesses.
If your engineer arrives on site to repair an asset, only to discover the parts they require aren't on site or in their vehicle, this will cause unnecessary delays leading to increased downtime of the asset.
Today's Field Service businesses need to be able to identify where their parts are even while working remotely.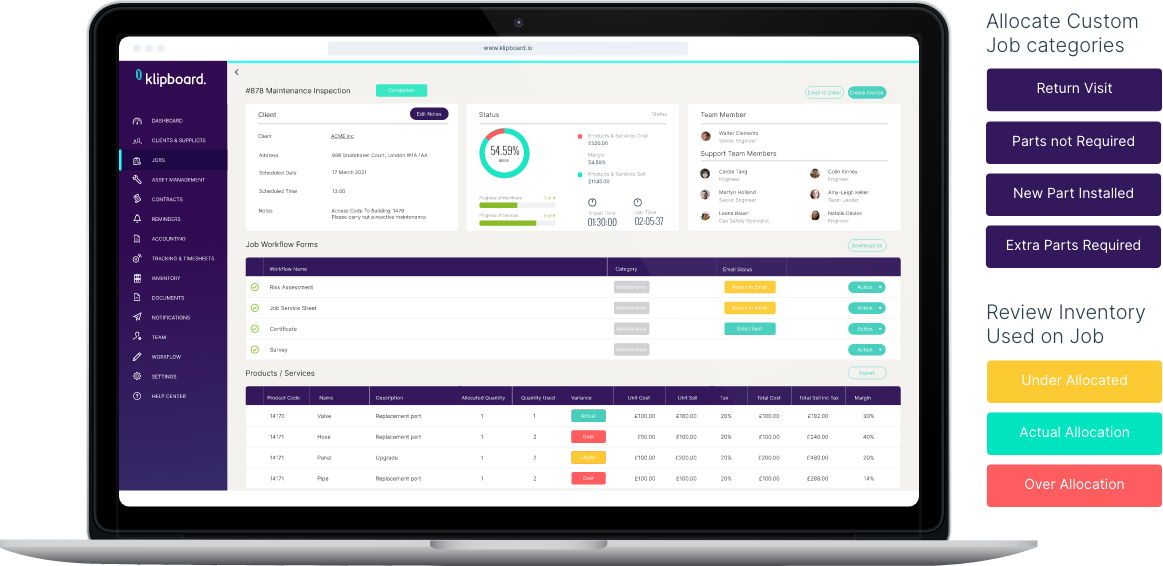 How to improve your FTFR inventory management software
Having better visibility of your inventory will mean your team of Field Service engineers are able to arrive at your client's location with everything they need. 
Klipboard's Job Management Software includes a robust Inventory Management tool which will allow you to budget more effectively, avoid over or under stocking of parts and even see the specific locations stock is held in such as depots, warehouses and even down to specific vehicles. 
Fore more on how to improve your Inventory Management with Klipboard click here.
How a lack service history affects your First-time Fix Rate
How much your engineer knows about a specific asset's service history can greatly affect the First Time Fix Rate. 
Many medium to large sized Field Service businesses find productivity suffers significantly when they grow because of the lack of knowledge sharing between teams. 
Often a different engineer may attend a service than the previous time. Without access to job notes and a full service history, it's very likely they will simply repeat the same repair which may not be addressing the main cause of a failure.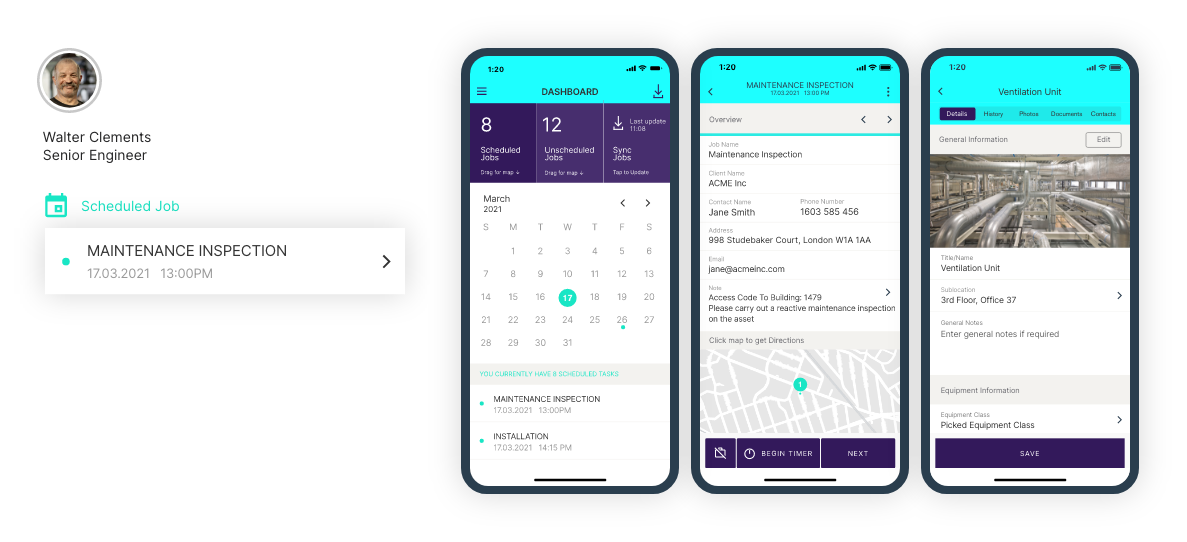 How to use online job notes improve Field Service First-time Fix Rates
Having a complete job history at their fingertips will mean your engineers can quickly identify repeat failures of certain parts. Spotting trends will give your team more options and information to work with.
It could be more sensible to completely replace the equipment than incur the on-going costs of call out charges, but without the service history notes and information to back that up your assumption, it's difficult to advise the client. 
Parts can have periods of increased failure rates. When your engineers can see what parts have been fitted previously it's easier for them to identify a common fail.
Using Klipboard your team will have instant access to the previous job history even while on the go,  will help improve your FTFR and ensure you continue to provide excellent service levels.
How poor communication with a client leads to First-time Fix Rate problems
One of the main ways your FTFR is affected is the ability to access the asset that needs repairing. 
Not being able to effectively schedule a repair is a key reason an asset will experience a prolonged period of downtime. This is normally due to ineffective communication between the Field Service business and their client.
Clients may miss your emails informing them of a need to attend planned maintenance on an asset or even miss a notification that you are due to arrive for a scheduled service.
Without a proper system in place you'll miss jobs and even make wasted journeys where your engineer arrives but cannot be given access to the asset.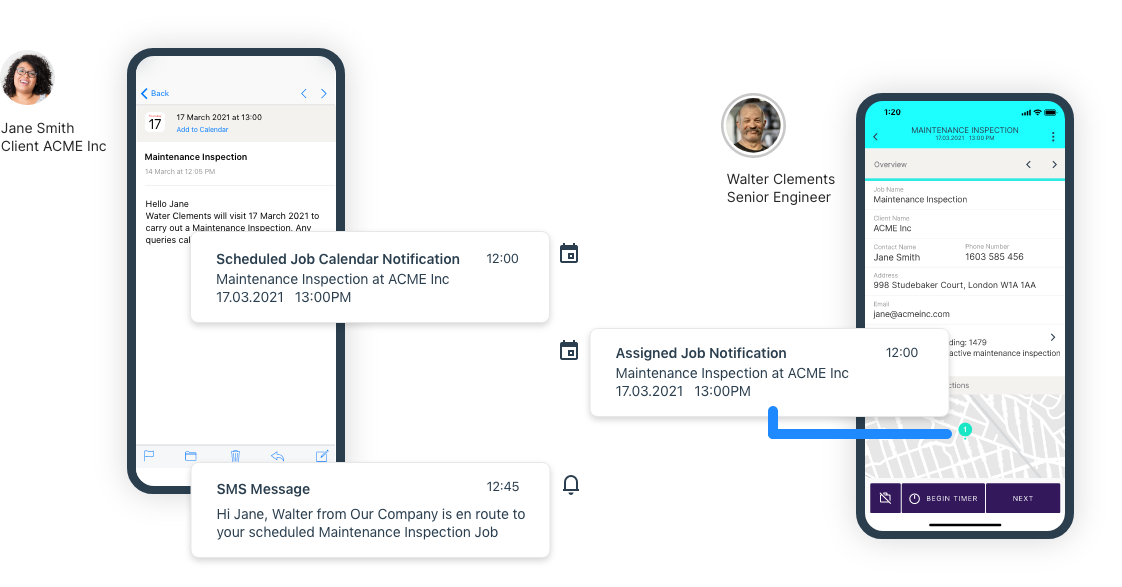 How to improve your client communication to increase your First-time Fix Rate
When you and your client have a clear picture of what requires repairing you're much more likely to achieve a positive customer experience and improve your FTFR.
By using Klipboard you can ensure you and your clients are notified when an asset is due a service with automated communications. If the repair is an emergency call-out then Klipboard will tell them who is coming to repair the asset and when they are likely to arrive.
This means when your engineer arrives on site they are expected and can access the asset which needs repair instead of it being just another wasted journey. This is particularly important for some clients with strict security procedures in place which prohibit unexpected visits.
How incorrect diagnosis affects your First-time Fix rate
ncorrect diagnosis of a fault is likely to happen for one of two reasons. Either the engineer hasn't had the sufficient training to correctly identify the fault or the engineer isn't given the correct information on the equipment.
Without the correct training or documentation available it's difficult to accurately identify what's causing the fault.
How to avoid incorrect diagnosis of asset failures
Equipment and technology changes at pace so it will pay to keep up with changes in your particular industry. Every engineer needs to be aware of the new equipment in circulation and feel confident repairing it.
Obviously, most of their knowledge will be built over time but in the short term you can ask them to attend training sessions and webinars. These are often hosted by the manufacturer and are mostly free to attend.
Visit the websites or social media channels of the suppliers you work with and see what training events are available to your team.
Encouraging communication between your team on the assets in circulation will go a long way to make sure that knowledge is shared around your business. By doing these knowledge sharing sessions you'll be less reliant on a handful of more knowledgeable people in your business. 
You can read more on sharing information around your team in our article on that subject. Learn more.
Another way you can ensure your team can correctly diagnose a fault is by making sure they have all the manuals and documentation for the asset to hand. 
Field Service engineers who use Klipboard can access this information from their phone or tablet while on the go. You can read more about that here. Learn more.
How inconsistent quality of work affects First-time Fix Rate
Inspections and repairs are far more effective if all the necessary checks are made. Engineers who follow comprehensive lists of checks are much more likely to catch a common fault before it occurs. 
The issue a lot of Field Service businesses have is the consistency of work between different engineers. 
How to use Workflows to improve consistency of your work
With a system in place to ensure all the necessary checks are made you can ensure that all the important measures are in place to reduce the failure rate of an asset. 
Field Service businesses use Workflows and Mobile Forms to ensure their engineers complete all the checks they need to. Klipboard's Workflow system is an excellent way of ensuring the important things get done and nothing is skipped or forgotten.
You can easily create your own Workflows and Mobile Forms to ensure your team completes an inspection or repair to your standards. 
Unlike many other Job Management Software providers, Klipboard doesn't charge you to make these forms. We can train your team to create them and then you're free to create whatever you need with our easy to use form builder.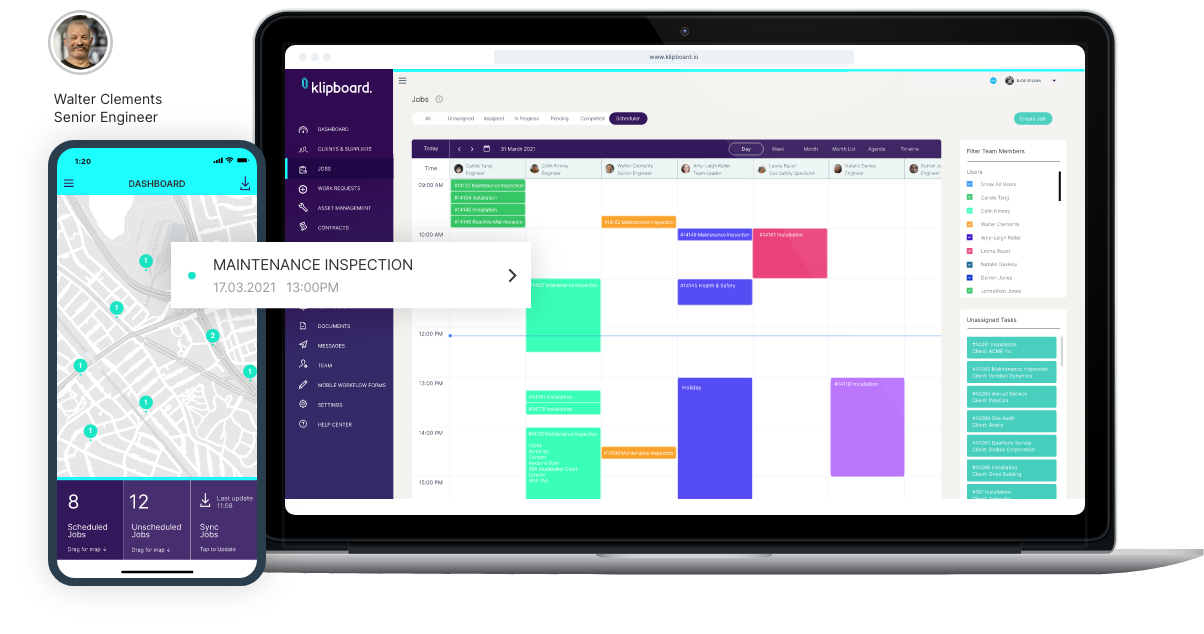 5 quick tips that will improve your First-time Fix Rate
Start a FREE trial with Klipboard
Use a real-time inventory systems to ensure you never run out of stock when you need it
Use Automated Communications and Service Notifications
Share knowledge around your team so everyone can be more informed
Use workflows to ensure consistency in your team's work
Latest Insights
Trade Talk