Help your customers stay on top of their asset servicing appointments.
Klipboard allows you to automatically record when your client's assets are due a service. Our automated servicing reminders eliminate the need to chase customers to schedule servicing jobs for planned maintenance on their assets. Automated asset service reminders increase job revenues from your existing customer base by providing an effortless booking experience. Reminders are sent before the service is due ensuring an opportunity is never missed.
Schedule more service jobs with less admin required.
Your will notice an increase in your team's efficiency, enabling them to focus on other high-value tasks within your business and importantly more revenue from recurring service jobs. Ultimately you can stay ahead of your competition and never miss a customer asset service again.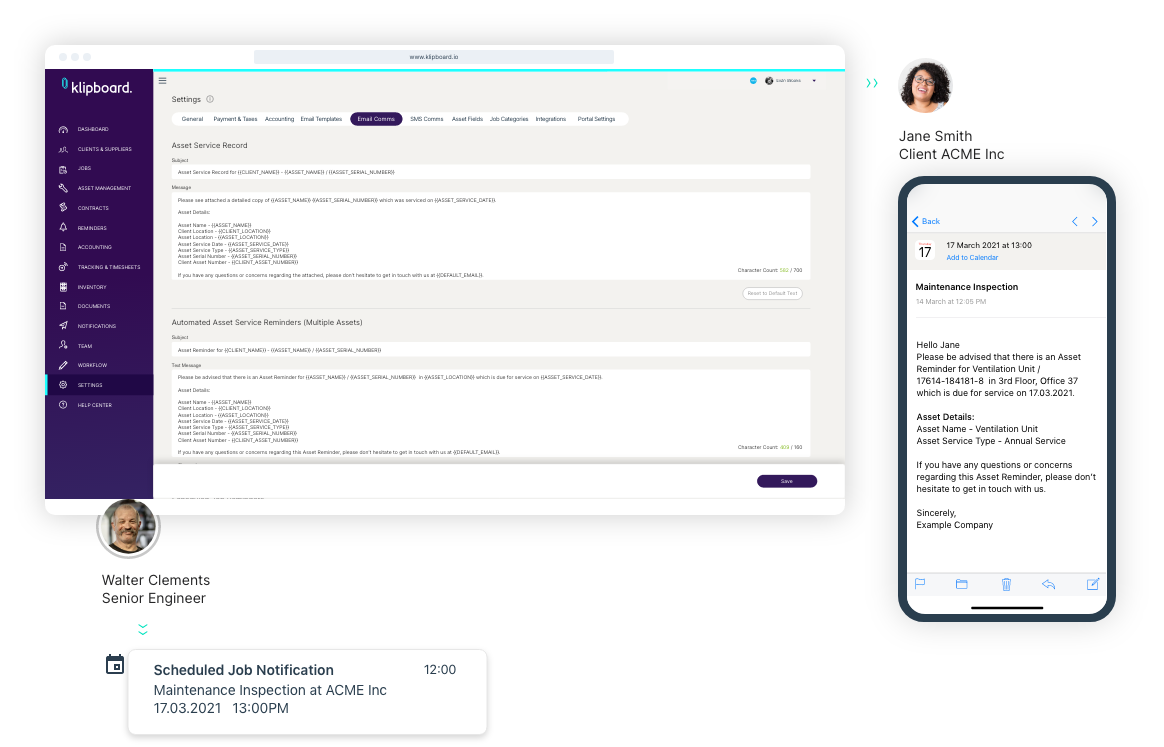 Try it for Free
14 Day Trial. No Credit Card. No Obligation.
Klipboard is the future of field service and can improve the way you work regardless of the size of your business. If you manage people in the field and you want to offer your clients a great experience, try our 14-day free trial today.
Personalise your reminder message & let customers help themselves.
Our asset service reminders are fully customisable, enabling you to create a unique template along with variable tags that will generate and include the right information for the customer receiving the reminder. Your customers will receive the service email reminders and prompts them to schedule in the service. It gives them greater control too as they can choose to call, email or book via the client portal.
We do more than just annual reminders.
Whether you're creating an annual service reminder for a boiler or a monthly fire alarm panel check, with Klipboard you can easily customise the time frame for each service reminder. You simply define the number of days, weeks, months or years you want to set for automatically sending the service reminder via email to your customer. This can be defined per customer asset and in fact each asset can have more than one schedule for different services if required!
What are the 5 key benefits of using Job Management software in your field service business?
Latest Insights
Trade Talk