Budget With Confidence.
Easily track the products, parts, materials used and labour ensuring job budgets are adhered. Klipboard provides a comprehensive job overview dashboard for each customer job allowing for visibility of job costs, margins, inventory allocated and used.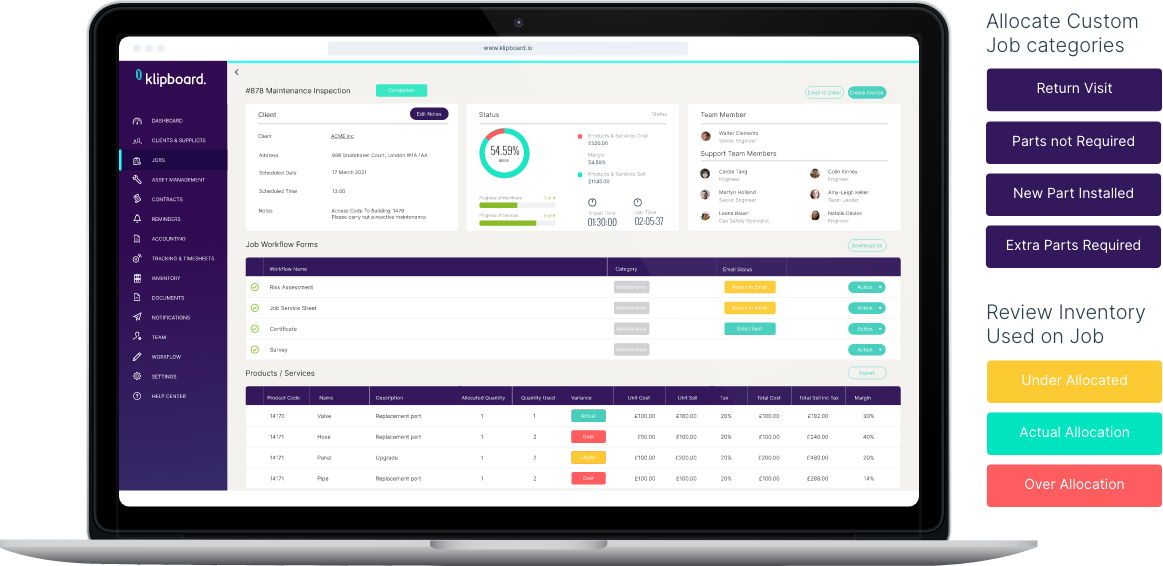 Multiple Inventory Stock Locations? No Problem.
Klipboard's comprehensive Inventory Management features enables you to create multiple stock locations, such as warehouses, vans or regional depots. Each location displays a real time stock count along with the ability to set the minimum hold quantity therefore ensuring you are alerted and can re-order accordingly. Inventory can be easily transferred between locations ensuring it is where it needs to be for the relevant job.

Mobile App Visibility Of Inventory Allocated To Jobs
When a job has been assigned and synced to the mobile app, it will display any inventory stock allocated to that job therefore ensuring the team member knows what products, parts or materials is required / allocated for the job. Using the Klipboard mobile app, team members can easily confirm the products, parts or materials used on the job and Klipboard will auto-deduct the items from the relevant inventory stock location. For any ad-hoc purchases in the field, these can be easily added therefore updating the office on any additional costs on the job and therefore billed to the customer if required. A permission option on the Klipboard web dashboard can be enabled to hide or show any financial information displayed for the inventory allocated to the job.
Raise A Purchase Order & Replenish Stock
Create Purchase Orders and email directly from Klipboard to your suppliers and track delivery progress and costs. Once delivered, allocate purchases to inventory stock counts allowing for allocation to specific customer jobs. Manage Inventory stock locations, actual stock count and also the count for stock allocated to jobs. This ensures full visibility of what you really require before purchasing - no more under or overstocking of inventory.
Try it for Free
14 Day Trial. No Credit Card. No Obligation.
Klipboard is the future of field service and can improve the way you work regardless of the size of your business. If you manage people in the field and you want to offer your clients a great experience, try our 14-day free trial today.
Latest Insights
The Knowledge Hub
Keep In Touch
Receive Our Newsletter
Access regular content from our
Klipboard Knowledge Hub
- inspiration and insight for operating your field service business better.