Simplify asset surveying & creating asset registers in the field.
The Klipboard mobile app provides an easy process to survey assets when tendering or planning maintenance jobs. Our field asset management software allows your field team to quickly record the details of each asset on the mobile app during a site survey. Your field team worker can quickly record details of each item including any serial numbers, manufacturers, product codes, installation date and condition of the asset, as well as a range of other useful details during a survey.
Once the field team worker has finished recording the asset details, the captured asset data will be synced and stored against the chosen customer and instantly available on the web dashboard. An asset register for a client site can be exported to an Excel spreadsheet though you can also enable your customers to have access to their asset information via Klipboard's client portal software. This allows your clients the ability to view all of their sites and assets, service history, upcoming services as well as log work requests and monitor planned maintenance work in real-time.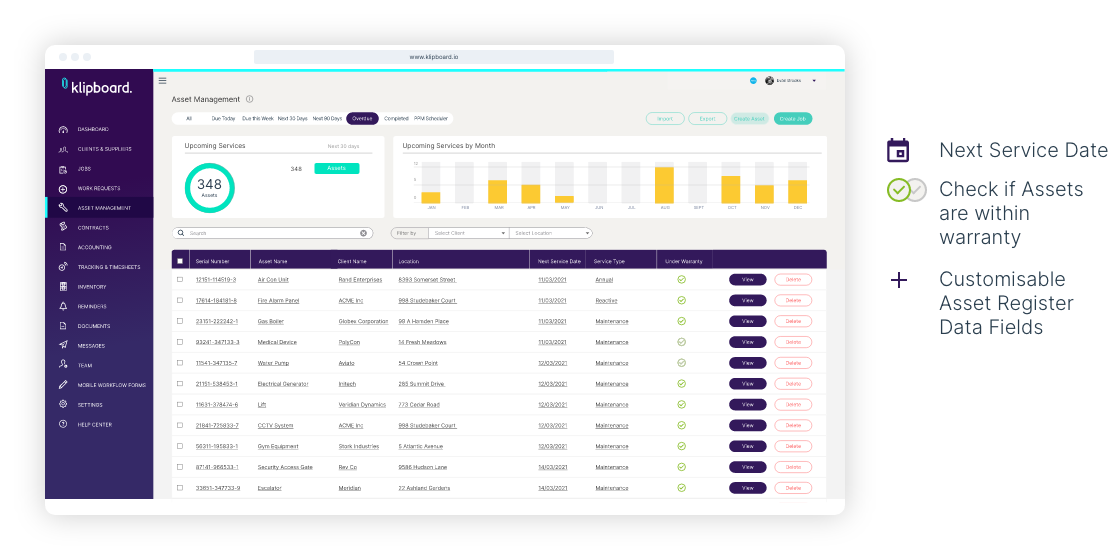 Try it for Free
14 Day Trial. No Credit Card. No Obligation.
Klipboard is the future of field service and can improve the way you work regardless of the size of your business. If you manage people in the field and you want to offer your clients a great experience, try our 14-day free trial today.
Never miss a planned maintenance visit for a client.
In accordance with an Asset's PPM schedule, a field team worker is notified of any planned maintenance visits and service records to complete on a scheduled job.
These will appear as a notification on the job menu informing the field worker of planned maintenance required on that job visit. They will have complete visibility of what assets are requiring servicing, where the assets are located on site, what type of service needs completed, along with access to any photos, history and documents related to those assets.
Once the field team worker has serviced the assets and completed the relevant service records, these will be synced and stored against the asset on the web dashboard, whilst also updating the planned maintenance schedule to the next service dates for the assets.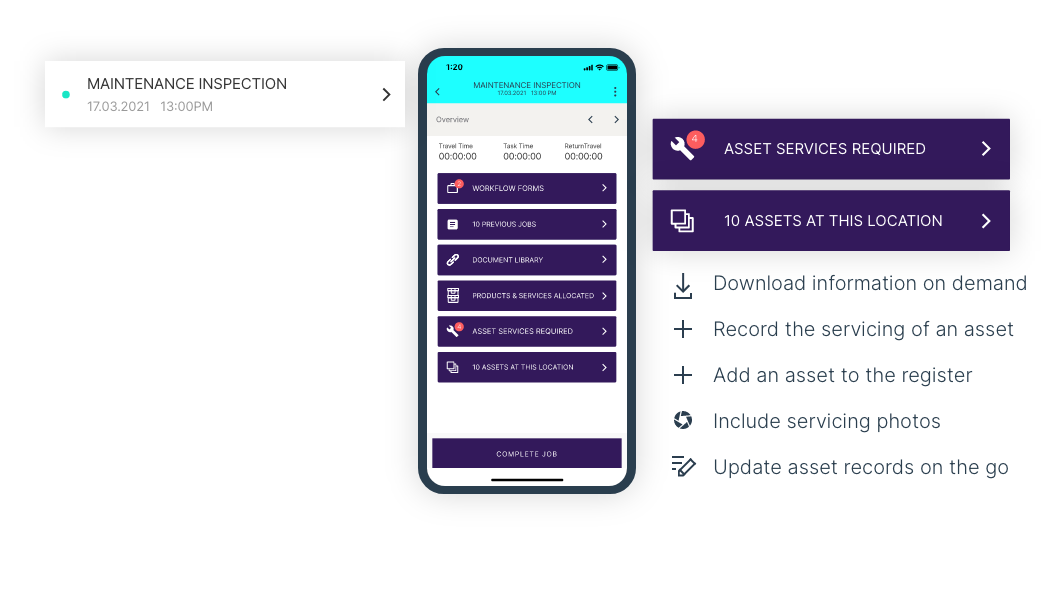 What are the 5 key benefits of using Job Management software in your field service business?
Latest Insights
Trade Talk