A Client Portal will create total 360 degree visibility of your field service jobs for you and your clients.
Here's five ways a client portal will help your business grow by streamlining some of your admin tasks and by providing your client with a better view of what's happening.
1. Streamline Communications with a Client Portal
Your working week is full of distractions. Sales emails, finance admin, new quotes and the constant back and forth email tennis you get between your team and clients.
These distractions cause delays. The constant communication needed to manage your business takes you away from the activities that will grow your business, such as completing more jobs or finding new clients.
Remove all the noise by providing a destination your clients can go to which will have all the information they need on their jobs.
Klipboard's Client Portal is a smart looking dashboard, branded with your logo and only visible to clients you wish to view this information.
You client will be able to see all upcoming, completed and unpaid jobs on their account, helping your team focus on the jobs and not their emails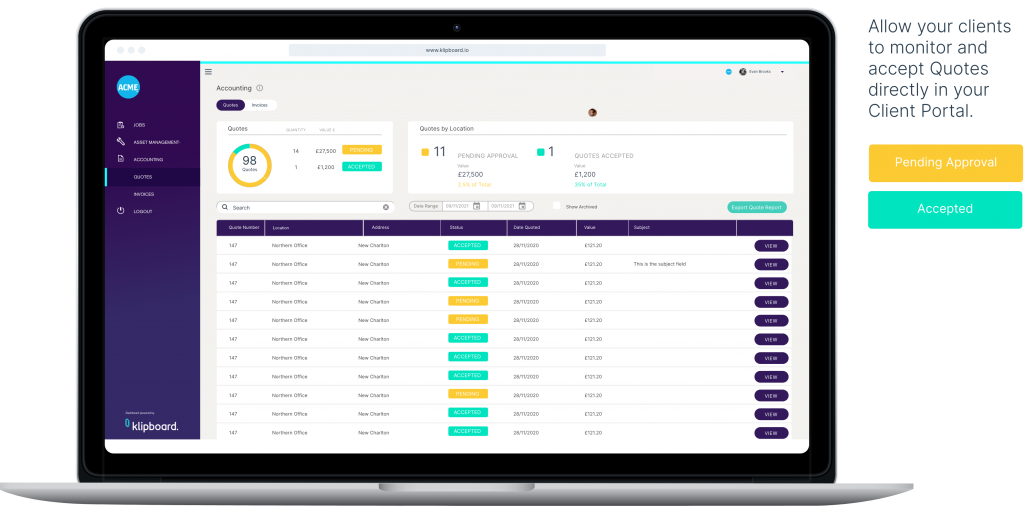 2. Online Quote Acceptance through a Client Portal speeds everything up
When your clients view their Client Portal they can quickly and easily see all the quotes needing approval.
To get the ball rolling on your next job all they need to do is approve it directly from their Client Portal, this greatly speeds up your quote acceptance process and will help you win more business.
Automated notification will alert your client when they have quotes requiring approval and you'll be notified through Klipboard when they accept.
This is your Field Service finances simplified.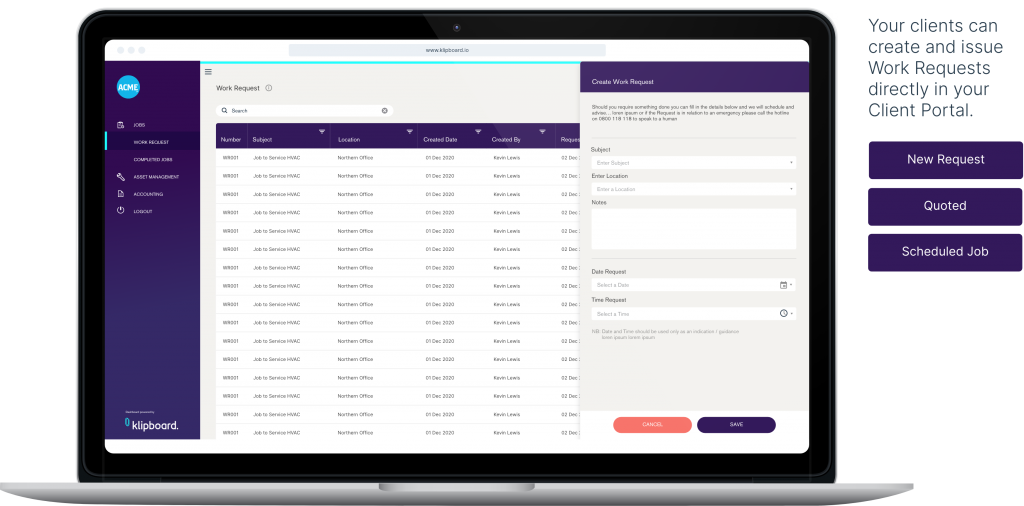 3. Client Portals give a self-service experience
Your clients expectations have changed a lot in the last few years. They expect an 'Uber-like' experience from all business partners and suppliers.
It's becoming increasingly more common for your clients to use services with total visibility in their personal lives. Amazon Prime deliveries, UPS, DoorDash, Deliveroo and similar services have become an ever present part of their life.
Klipboard helps meet that expectation by giving your field service clients a place they can view all their jobs, in a safe and secure cloud based destination.
For on why your Field Service Business should use cloud based technology click here.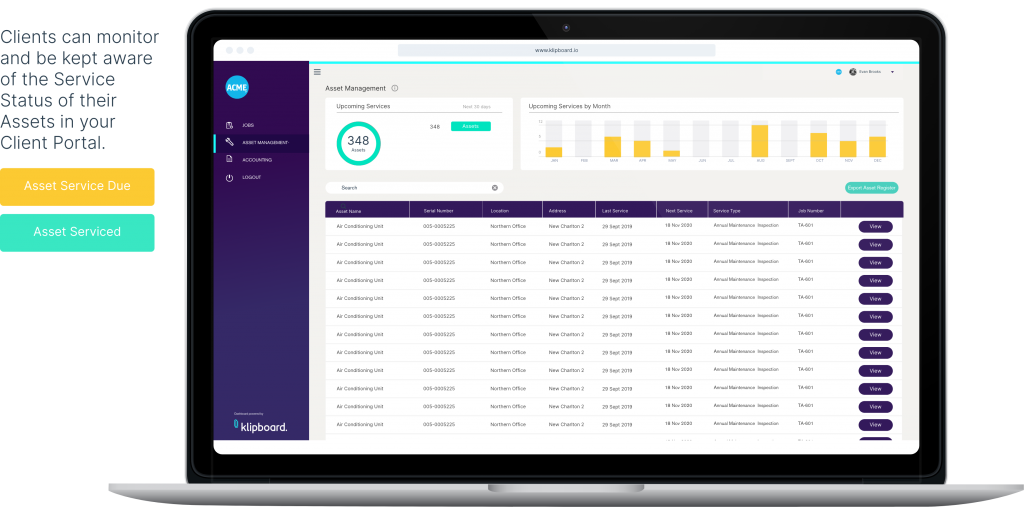 4. Client Portals build confidence
You're working in highly competitive markets. Failure to meet expectations or drops in performance can seriously harm your ability to retain customers.
Your ability to ensure your clients equipment and assets meet compliance will play a big role in customers retention.
You can build trust and reassure your clients that their business critical equipment is being correctly maintained by using Klipboard for planned preventative maintenance (PPM) schedules.
Your client can quickly and easily view these PPM schedules through their Client Portal. They can download service records relating to their assets and clearly see upcoming services by month.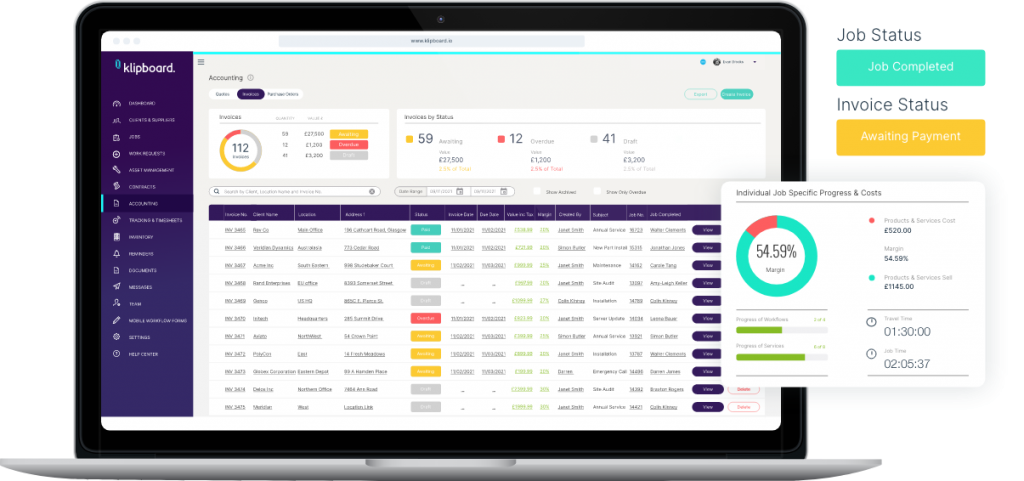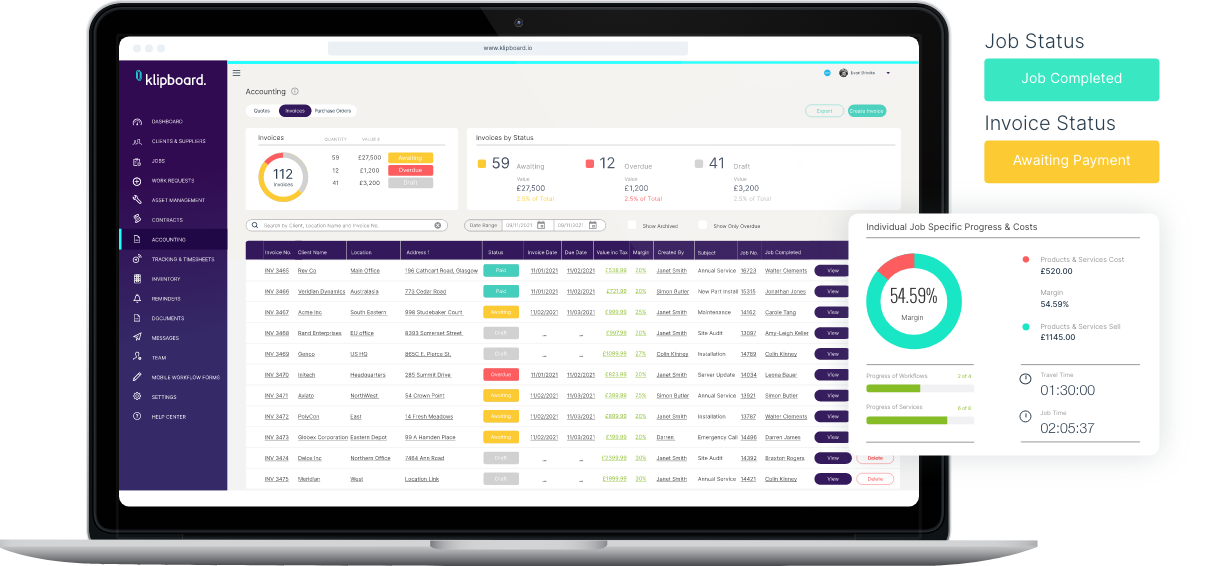 5. Get Paid Faster with Client Portals
Get paid faster by using Klipboard. Our Client Portal will help you speed up your cash flow and greatly improve your field service finance processes.
Automatic notifications will inform your client of outstanding invoices requiring payment. This notification will direct them to view their field service job finance records.
With Klipboard in your corner you and your client can easily view outstanding, overdue and paid invoices, helping you build long term and beneficial partnerships with your clients.
For more tips on how to improve your cash flow check out our article. Learn more.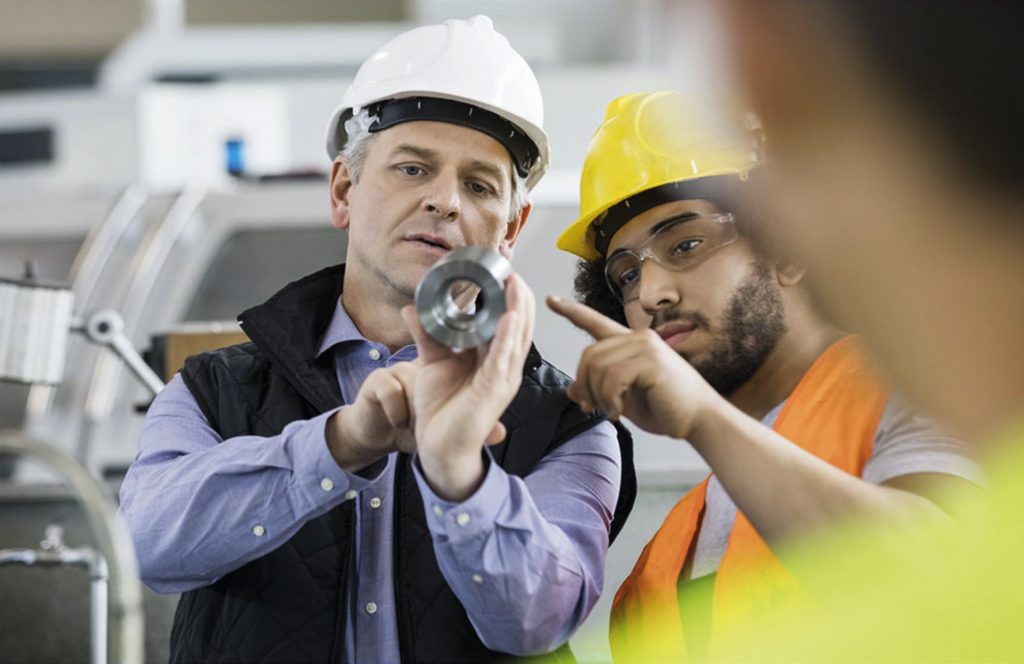 Grow your business by using a Client Portal from Klipboard
Klipboard is the future of field service. Improve the way you work and encourage your teams to work more efficiently with greater visibility of what's happening in your business.
The Klipboard Client Portal for Field Service businesses will give your client more visibility of the jobs you have with them and encourage them to send fewer emails and pay more invoices!
Click here for more on the Klipboard Client Portal. Learn more.
Start a 14 Day Trial. No Credit Card. No Obligation. No Worries.
Supercharge your Field Service business by starting your Klipboard trial today. Start now.