The key to growing any business of any size is cash flow. When you have more, you can invest more, but getting the money rolling in can be a significant challenge.
Luckily, there are a few things you can do to speed up the process of bringing in that hard-earned cash. They are easy to implement and will have long-term benefits beyond just getting a few invoices paid a little quicker.
1. Sharpen up your quotes and Invoices
Everything to do with cash flow starts with your quotes and invoices. If you're still using a paper-based system, then it's no wonder you're struggling with your cash flow. You could be losing track of your quotes, outstanding invoices and you might even have unpaid work that's fallen off your radar.
It's time to shape up and sharpen up.
Using a system like Klipboard can get you moving in the right direction immediately. You can quickly produce your own branded quotes, manage your jobs easier and record all invoices through one platform.
It's understandable how you can lose track of what's outstanding, you've got countless other jobs to finish, you could be organising your team's schedule for the next week and you're still getting demands from your current customers that need your urgent attention.
Our Accounting Dashboard for Klipboard users will give you everything you need at a glance:
Quotes Sent
Quotes Won
Jobs Completed
Jobs Awaiting Payment
2. Improve inventory management
Having a clear picture of which parts and products you have in stock will help smooth out the process of completing a job and avoid having a frustrated client.
Cash flow can get tied up while you're waiting for a part to come in. That's why we created our Inventory Management feature.
It's a lot easier to assign parts and complete jobs when you can see exactly what's available to your team.
Multiple Inventory stock locations can be a real headache for businesses that don't use a system like ours. With Klipboard can clearly see the location of your parts. Warehouses, vans, regional distribution centres, each location displays a real-time stock count.
When your engineer arrives at a location you'll be confident they have access to everything they need to finish the job.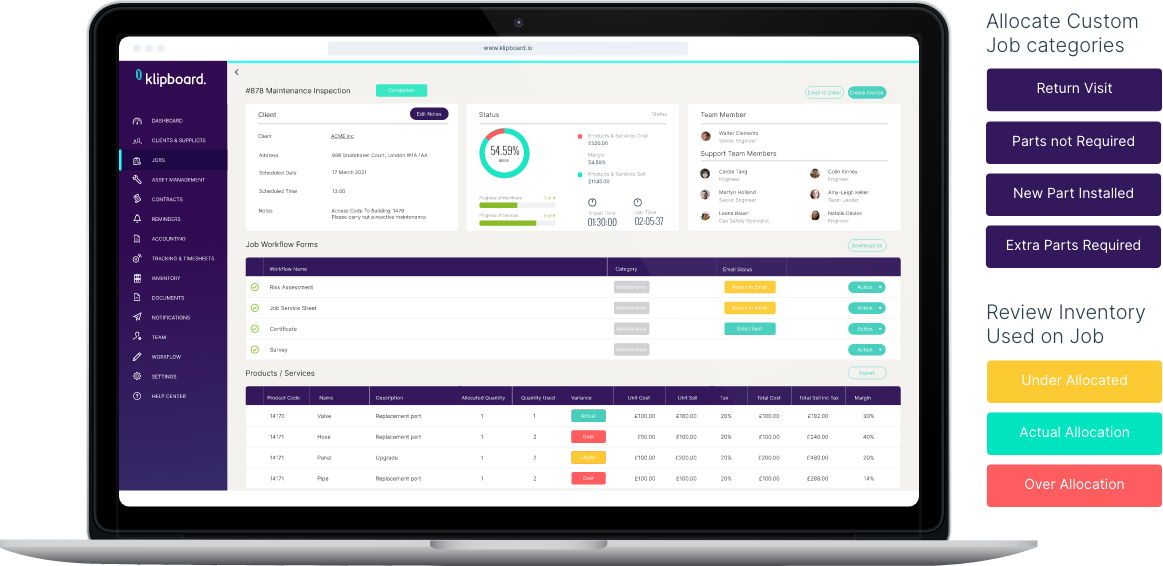 3. Stop entering your finance admin twice
Klipboard seamlessly integrates with Xero to remove the double-entry of finance admin. This removes the need to create two invoices on separate systems.
Reduce the risk of mistakes and save yourself time, that's better spent speaking with your current customers and finding the next one!
Our Xero integration gives you a real-time view of your finances. From Klipboard you can see your profit and loss report and clearly see what's overdue.
4. Improve your communication
A great way to increase the speed at which you get paid is to improve your communication. We've created a unique Client Portal which is a link you can share with your customers. This link will show them which invoices are outstanding, they can even see when you're next available to book in future work.
With Klipboard, not only will get paid faster for the work you've done but you can line up future revenue too.
Our Automated Service Reminders are a great example of how better communication can lead to more revenue. If you manage client assets you can set up personalised communications to your clients, reminding them of a service that's due.
Picture this, you're on a busy job, you've got a few members of your team away so you're a little stretched and you've got inbound requests from your current customers and you know when you get back to the office you'll have to write up today's reports. That Probably sounds very familiar, Klipboard will not only help you easily keep track of what jobs are still awaiting payment, but your automated communications are quietly keeping on top of future work and you completed the reports in the field with our mobile forms, no more extra admin when you get back.
It's hands-off new business generation.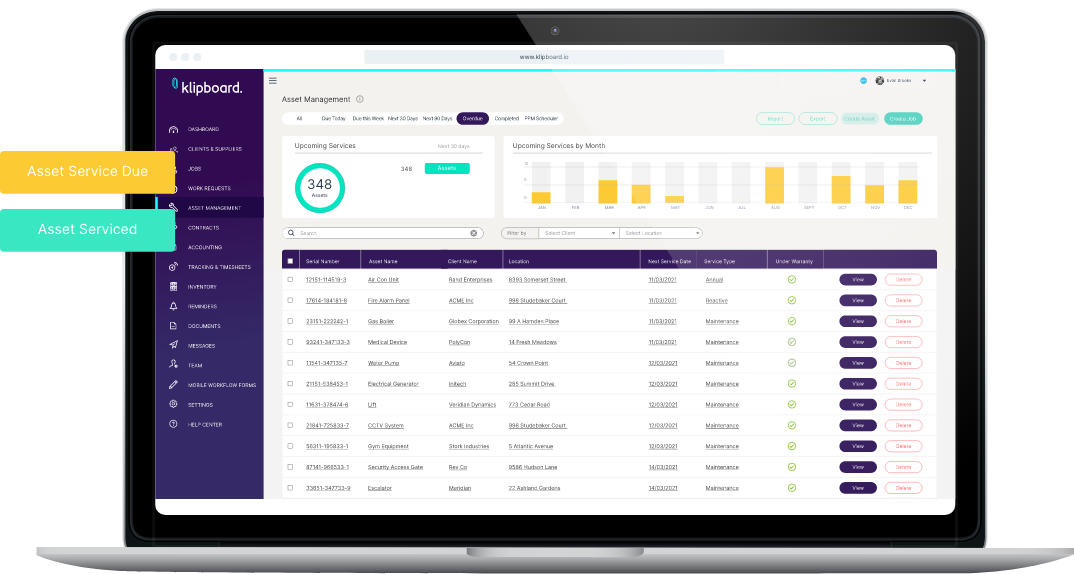 5. Get to grips with Field Service Management Software
If you've not used FSM (Field Service Management) software before and you'd like a bit more information, check out our guide to what it offers businesses like yours.
https://klipboard.io/what-is-field-service-management-software/
Moving your operation online with easy job scheduling, better client communication and reducing your admin will help you grow your business.
Try it out for yourself
The best way to see how it could work for you is to try it out for yourself.
It's simple to get started and if you like what you see we have a simple, straightforward pricing plan. It's complete clarity, better job management, faster cash flow.
It's Fields Service Simplified.