The CP12 Certificate is also known as the Landlord's Gas Safety Certificate. For a Landlord to legally rent out a property it's a legal requirement. Here's everything an engineer needs to know about CP12 certificates.
Here's what's covered in this article:
What is a CP12 certificate?
The Gas Safety Regulations in 1998 outlined the rules for landlords when letting a property.
In order to let a property a Gas Safe Registered Engineer needs to first conduct an inspection to make sure the property is safe. They ensure all tenants are protected against harmful gases such as Carbon Monoxide and the equipment such as the boiler is in good condition.
Once the engineer has made their inspection and ensured everything is safe they can issue a CP12 certificate.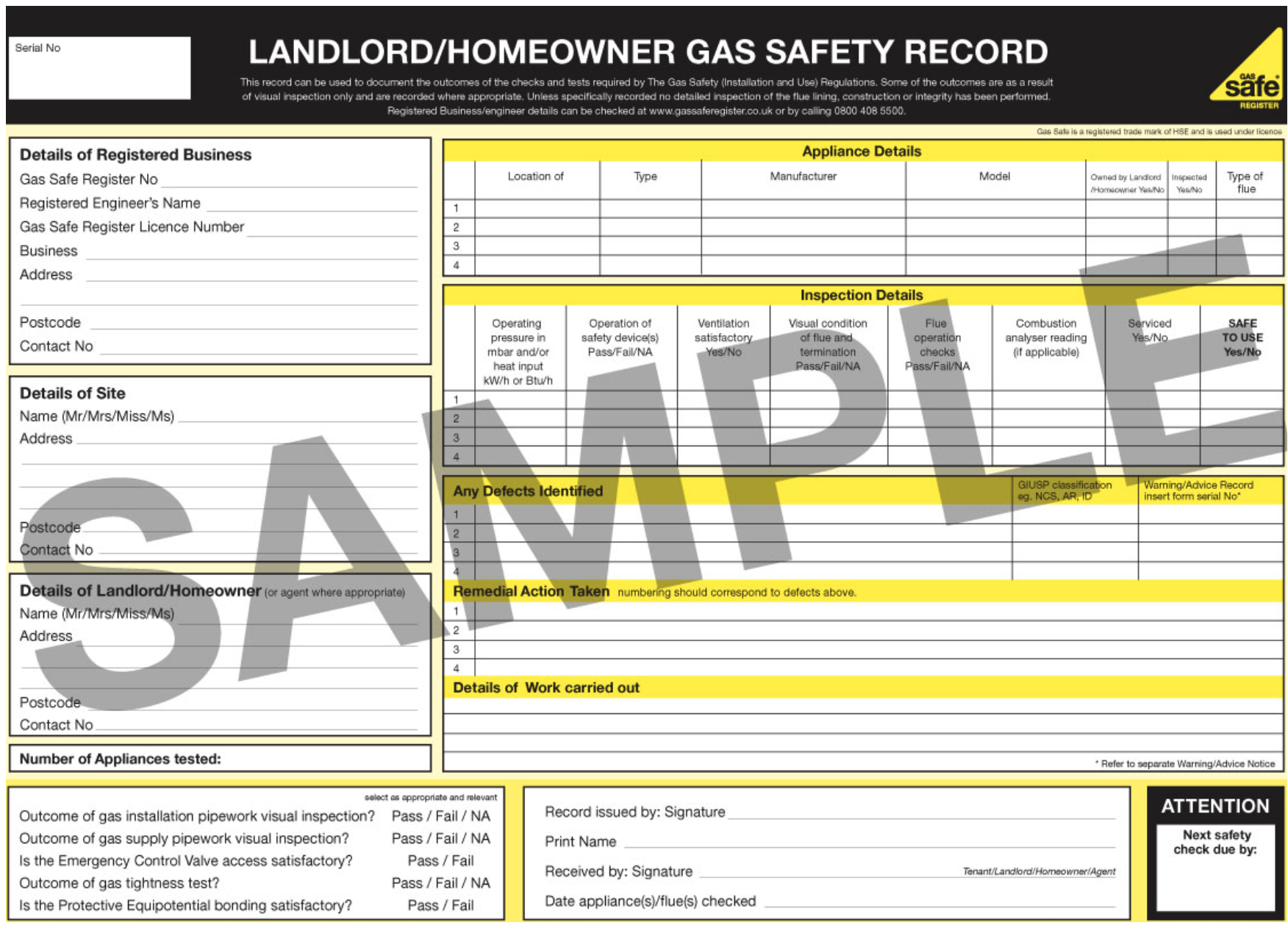 How does an engineer become Gas Safe Registered?
All gas engineers in the UK, Isle of Man and Guernsey are required by law to listed on the Gas Safe Register. Once on the list they are issued with a licence to work on gas and can complete a CP12 certificate inspection.
How to become Gas Safe registered so you can issue a CP12 Certificate
First you'll need to apply with Gas Safe you can do that by visiting their website www.gassaferegister.co.uk. 
You'll need to complete and pass the relevant training and qualifications to be approved and provide evidence of your competence when working with gas.
A list of suitable evidence you can supply which is recognised by the Gas Safe Register can be found here.
Where to go for Gas Safe Training
There are plenty of options for engineers who wish to complete the Gas Safe training. Here are a couple of providers who offer the skills and training to get your licence.
Remember, it's crucial that the training programme is Gas Safe accredited. Without the approval from Gas Safe you won't qualify for the licence this will stop you from being about to perform the inspections to issue a CP12 certificate.
Top tip: Look out for the Gas Safe Register logo and if you're still not sure visit their website for more information on training provers.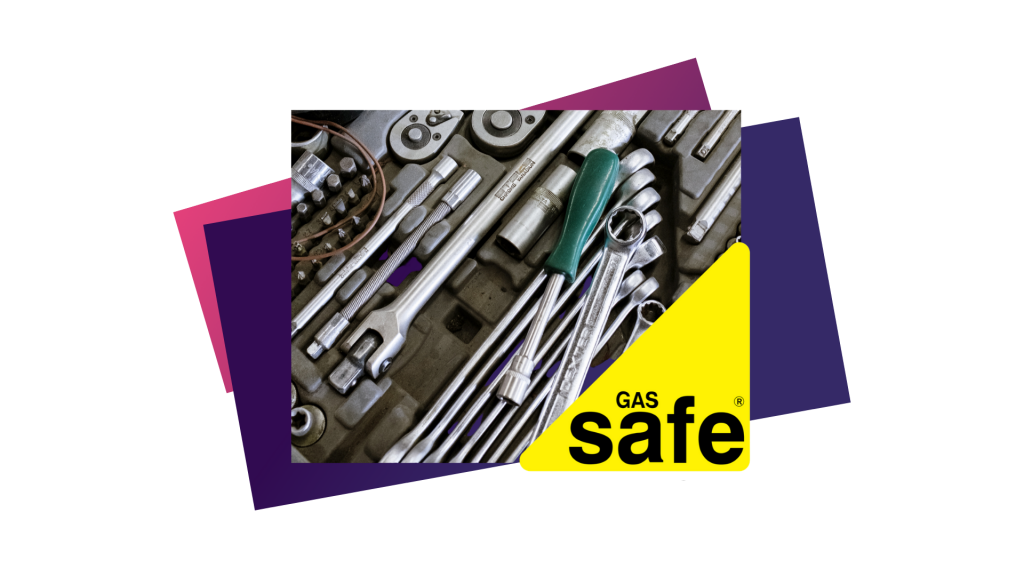 Finished the Gas Safe training, so what's next?
With your training complete you're now well underway to be Gas Safe approved, which means you are a step closer to completing CP12 Certification inspections. All you need to do now is register with Gas Safe and you'll be placed on a probationary status, but first there are some requirements:
Your probation period will last three months.
You are required to keep records and show examples of your gas work to Gas Safe.
Should you be unable to supply evidence of gas work during your probation period your probation will be suspended.
Businesses will successfully complete their probation period once they have demonstrated their competence in working with gas
Gas Safe reserves the right to extend the probation of any individual
Do you need to renew your Gas Safe Registration to complete CP12 Certificates?
Once you're registered it will last for 12 months. You will need to renew every year so having documented evidence kept to hand will greatly help you with your renewal.
Top top: Digitalise and document as much as you can. Klipboard Job Management Software will help you keep photo evidence and detailed notes on your jobs. This greatly assists you when you need to provide evidence to your client or regulatory organisations such as Gas Safe. Learn more.
For more on the Gas Safe ID card click here.
What's included in a CP12 Certificate gas safety inspection?
The Gas Safe registered engineer will need to ensure the following details are checked and records are made on each appliance before issuing a CP12 certificate:
Appliances are working with the correct gas pressure
Gas burn is appropriate
Gas tightness is ensured
Adequate air supply is available
Chimneys and Flues safely pass gases and fumes out of the building
All safety devices on the appliances and gas equipment are operating as intended
Document any evidence of unsafe usage and report to the landlord
How long does it take to do a Gas Inspection for a CP12 certificate?
Gas Safety checks can typically completed in around 30 minutes. This is dependant on the building and the number of appliances the engineer needs to check. If accessibility to the assets and equipment is difficult this can also increase the time it takes.
Top tip: You can reduce the time it takes to complete the inspection by prepping the customer ahead of time. Sending a communication over to the client asking them to ensure the space around the equipment is cleared and should the gas meter be 'pay per use', ask them to ensure they have enough credit to use the gas.

What happens if there's a gas safety issue?
Should the equipment fail your inspection you will need to advise the landlord to repair it, ensuring it's safe to use otherwise you won't be able to issue them with a CP12 certificate. If you can't repair it for any reason while you're there, you are obliged to make sure the appliance remains out of use for the safety of the occupants this is vital.
This instance is where documenting is critical. Keeping your records accurate and up to date protects everyone involved and you should keep these records for at least a minimum of 2 years. With a digital Job Management System achieving is made a lot easier.
How long does a CP12 Gas Certificate last?
The CP12 Gas Inspection certificate is valid for 12 months. The Landlord must renew this before then to ensure the appliance can continue to be used.
You can use Klipboard to set up automated service reminders for clients. This is particularly helpful for clients who have multiple locations and appliances. 
You are able to view all assets/equipment at a glance and see the last service date and be reminded when it's due a service in the next 30/60/90 days for example.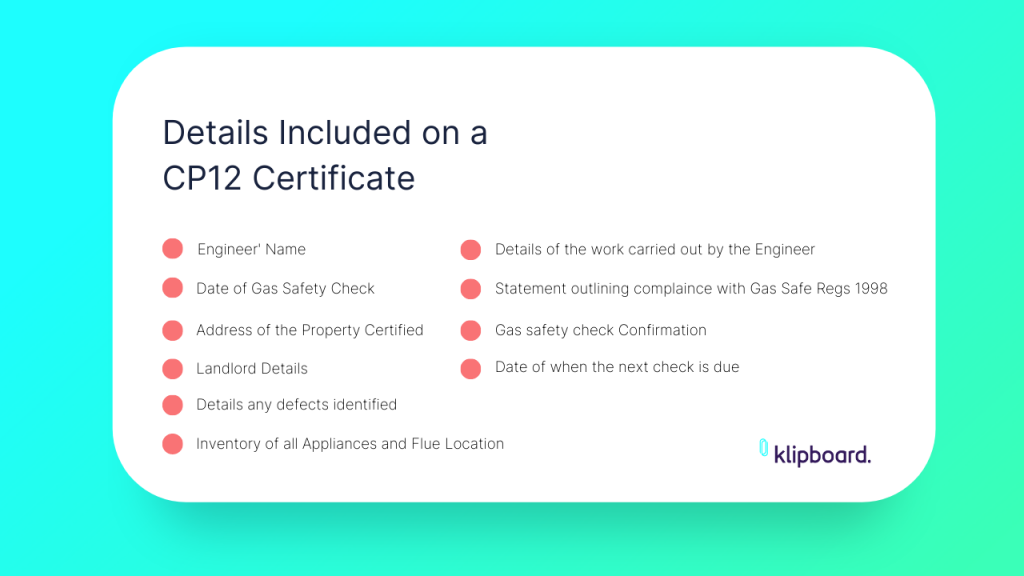 What details does an engineer need to include on a CP12 Certificate?
The CP12 Certificate is a legal document so an engineer must ensure its filled out entirety and is clearly legible. They will need to include the following:
The engineer's Name
Date of gas safety check
Address of the property certificated
Landlord details
Inventory of every appliance and flue location and condition
Problems that have been noticed by the engineer
Statement confirming the gas safety check has been completed
A statement outlining compliance with the Gas Safe installation and use Regulations 1998
Tenants should be provided with a copy of the certificate within 28 days of the inspection before they move into the property
Top tip: Using digital mobile forms to complete CP12 certificate inspections has four big advantages over paper forms:

No more scruffy handwriting you'll be able to see exactly what's entered.
Mandatory fields mean the engineer must enter details so nothing is missed.
Paperwork can be easily lost, but not when it's recorded on your mobile app and then synced to your office.
If the regulations or check lists change you can change all the forms at once at the click of a button – nobody will be using old forms.
Has COVID-19 changed the rules for CP12 Certificates?
Landlords have a legal duty of care for their tenants. They are required to maintain gas pipework and ensure repairs are carried out annually. 
There is some flexibility in carrying out these inspections but only under certain conditions – refusal of access due to tenants self-isolating is a situation where the landlord must prove they have taken every possible step to carry out the inspection but have been unable to do so.
Remember advice may vary depending on regional/national variations people of Scotland, Wales and Northern Ireland should follow specific rules for their part of the UK.
Gas Safe has some more information on this which you can read here.
Do you need to use the CP12 Paperwork?
No, you can use a digital form instead. For such an important piece of documentation, completing the CP12 certificate on triplicated paperwork opens you up to risks of it being ruined on the job or wrong information being collected.
This results in mistakes being made or even a revisit to the client to repeat the inspection. More businesses are turning to digital mobile forms to ensure consistency and accuracy, not to mention it looks more professional.
Klipboard includes a CP12 Certificate template for completing inspections
You can use the Klipboard mobile form builder to collect exactly the information you need and even customise it if there's additional details you need to collect for a specific client. Copies are instantly uploaded to the office and can even be sent directly to the client.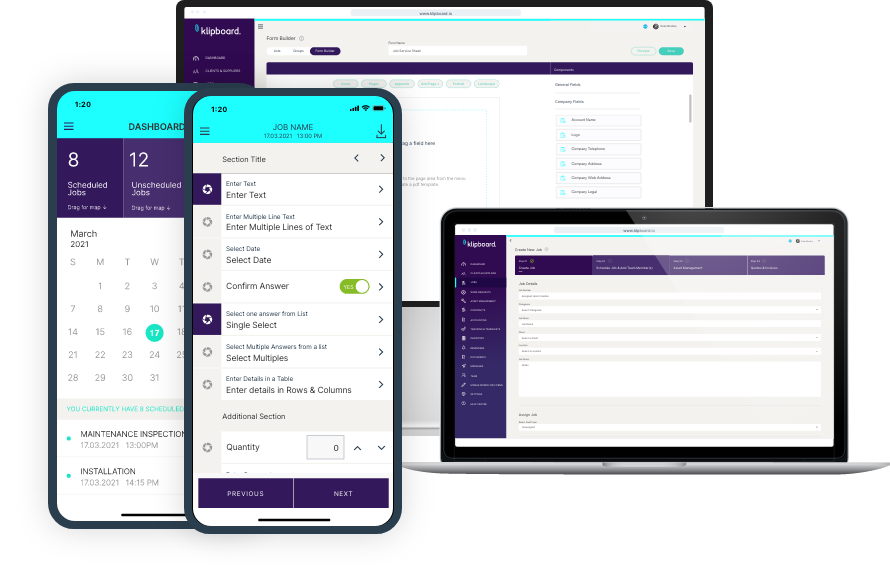 No paperwork, no mess, no mistakes.
Going digital also means going green. You can greatly reduce the carbon footprint of your Field Service business by going paperless, some businesses may even insist they work with business partners who consider their environmental impact. Learn more.
How Field Service businesses use Job Management Software to complete CP12 certification
Many Field Service businesses are turning to more modern approaches when it comes to scheduling jobs and completing Gas safety and CP12 certification. Job Management Software allows you to more efficiently schedule your workload and allows your team to use digital forms to collect information gathered on your inspections and services.
This has several benefits such as the ability to quickly access service history in a click of a button or instantly gather the information you need should you be required to offer it in an audit. You can find out more on the benefits of using Job Management Software for Gas Safety inspections and services by clicking here. Learn more.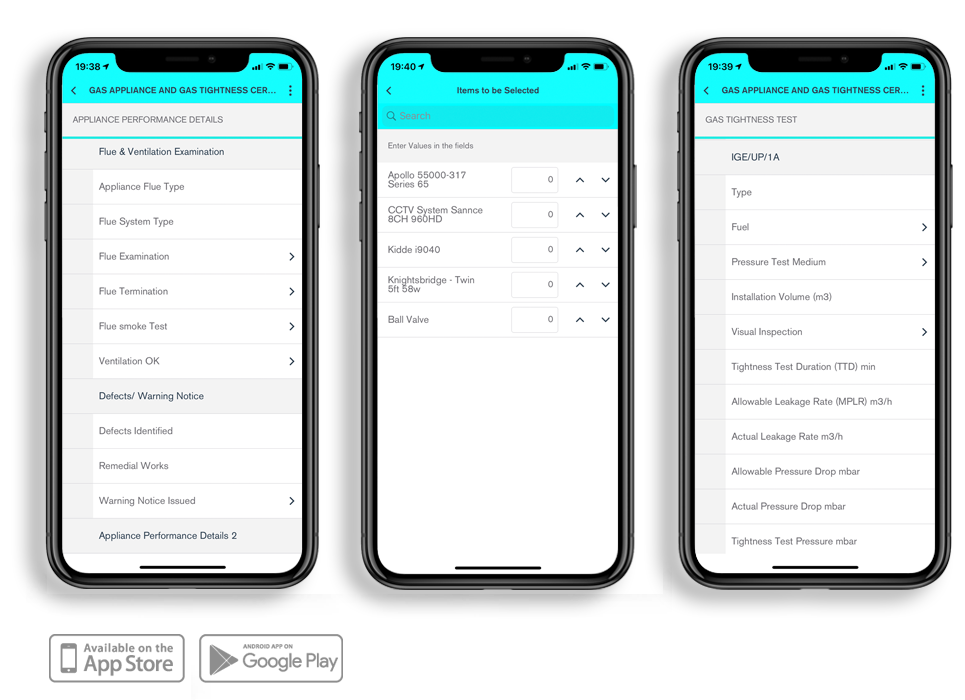 Can you use a Gas Certificate App to complete CP12 certificates?
Many Gas and Heating Engineers are using Job Management Apps to simplify how they manage their jobs. Gas Certificate Apps allow engineers to book jobs, complete the digital 'paperwork' and send the client an invoice, all on one system.
Klipboard's mobile app allows Gas Engineers to use CP12 templates to complete their work on site without the need to complete paper forms which can be easily lost or damaged.
When they are allocated a job they can retrieve the details from the Job App allowing them to see the client details, location and the equipment they need to service, repair or replace.
Gas Certificate Apps store the information gathered on site and then is quickly synced back to the office so you only need to enter the details once.
How to accurately complete more Gas Safety Inspections
Receiving the appropriate training recognised by Gas Safe is the most important task. Understanding the risks and maintaining consistent standards when inspecting gas equipment is critically important.
Once you've achieved your Gas Safe Licence, you can ensure you accurately gather the information you need, in a much more efficient and faster way by using Klipboard.

How Klipboard helps you manage your Gas Safety inspections
Klipboard helps you manage your team's schedule, accurately collect information in the field, store evidence for client reports and easily view all the assets on your client's jobs.
Our Drag and drop scheduler makes planning out your team's schedule simple. It's easy to assign your engineers to each job and they will have all the information they need at their finger tips. Learn more. Automated Customer Text and Emails
You can provide an 'Uber-Like' experience for your customers while improving your job management. Klipboard helps you send out Automated Communications to your customers when a job is booked, completed or even when the engineer is on the way. You can personalise the message then Klipboard does the rest. Keep your customer in the loop while you concentrate on getting the work done.
Asset Reminders mean you never miss an inspection or repair
It's a lot easier to keep up with your CP12 Certificate inspections and boiler maintenance, when you and your clients are reminded when they are due. It's hard to keep track of the due dates when you have so many assets and so many different locations.
For those who use Klipboard, we keep that information stored for you and you can send out reminders to your client or your team when a service is due – happy team, happy client.
Start a FREE Trial of Klipboard today
Try Klipboard out today for FREE and see how you can streamline your plumbing business. You'll be able to carry out more jobs, complete more inspections and produce CP12 certificates with ease.
Latest Insights
Trade Talk