Effective scheduling software / diary management is crucial for field service businesses to ensure an organised and efficient workforce and that management of customer jobs can meet SLA requirements. However, lack of an adequate system for scheduling and dispatching jobs can negatively impact revenues and overall performance. Fortunately, the use of intelligent and modern Field Service Management (FSM) software like Klipboard can help businesses stay on top of their schedules, team performance and general operations.
Below we have detailed some of the top benefits of using field service management software for scheduling your team and customer jobs:

Faster Job Scheduling in just a few clicks
Scheduling software can help streamline the scheduling process, reducing the time it takes to assign work orders to engineers. This can help reduce the time and resources required to manage and complete field service tasks, improving overall operational efficiency.
With Klipboard's job scheduling and dispatch features, dispatching work can be done in a couple of clicks, improving overall productivity. The drag-and-drop calendar feature allows your scheduling team to quickly create a job, select a customer, and assign an engineer – completely hassle free and streamlines the overall process. Jobs are readily available for assignment to engineers the moment they are logged in the mobile app, while unallocated jobs can be grouped together by location, priority, or customer ready for dispatch to available engineers. Various calendar views are available, including weekly or monthly, grid, list, or map views to avoid overbooking engineers, ultimately giving complete oversight.
In general a field service business can increase productivity of field service teams by implementing scheduling software. Engineers will be assigned to the most appropriate job based on their skills, location, and availability. This can help reduce downtime and ensure that work is completed more quickly and efficiently.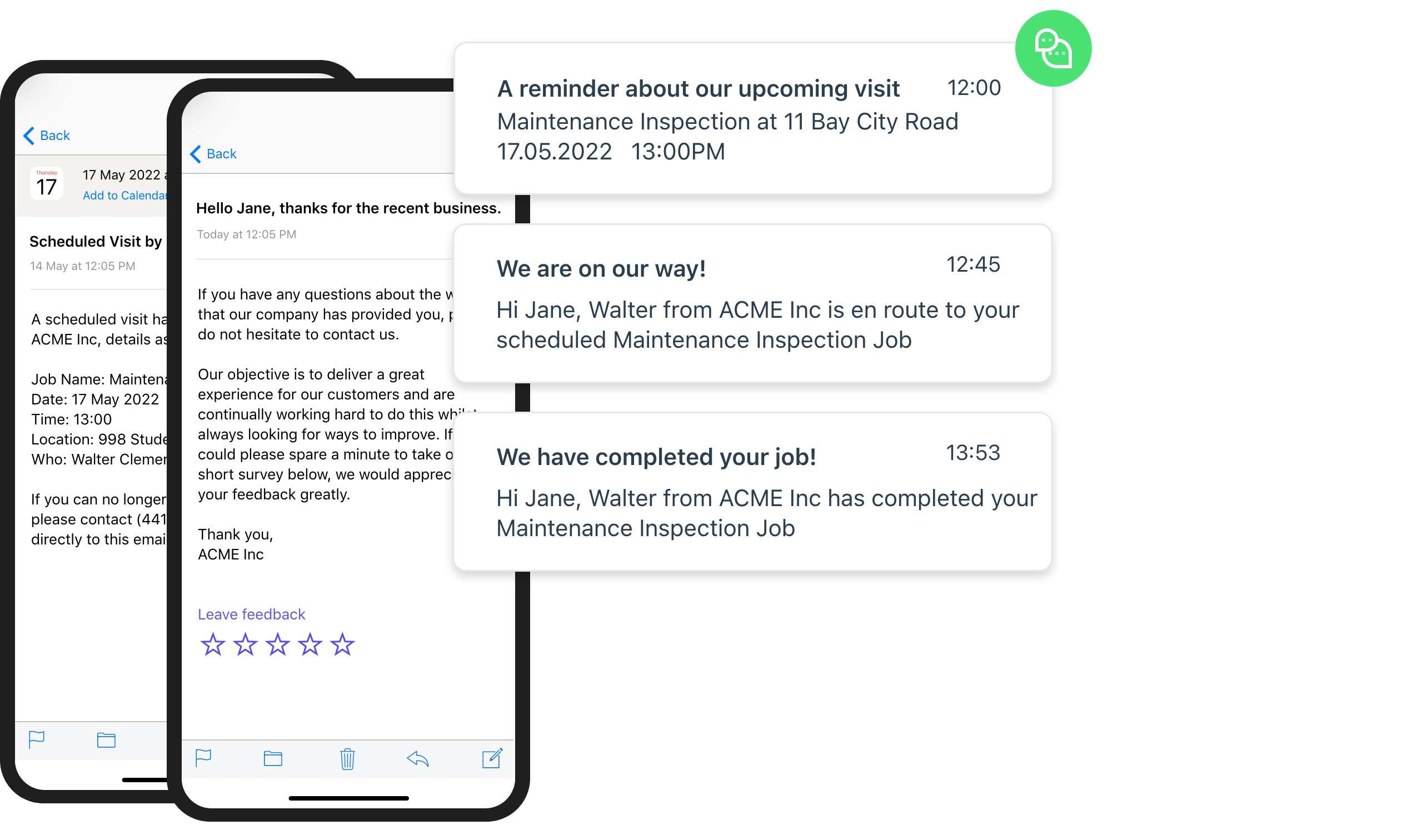 Uber like service and communications
Improved customer service can be achieved by implementing scheduling software as it will enable companies to respond more quickly to customer requests and emergencies whilst also sending automated communications to customers throughout a job. This can help increase customer satisfaction and loyalty, leading to higher retention rates and increased revenue over time.
Klipboard's range of customer email and SMS notifications help businesses manage customer experience and expectations effectively. We offer the ability to send automatic reminders to customers for job allocation, engineer travelling, arrival, visit reminders, job completion, cancellation, and invoicing.
For example, your customers can be alerted ahead of time that an engineer is on their way, reducing the potential of customer no-shows and preventing the job from being completed by the engineer. Notifications can be pre configured within the scheduling / diary management software against each individual client contact ensuring the right person is informed at each stage of a job.
Each template for communication can be customised ensuring you can personalised the messaging to your customers and align with your brand.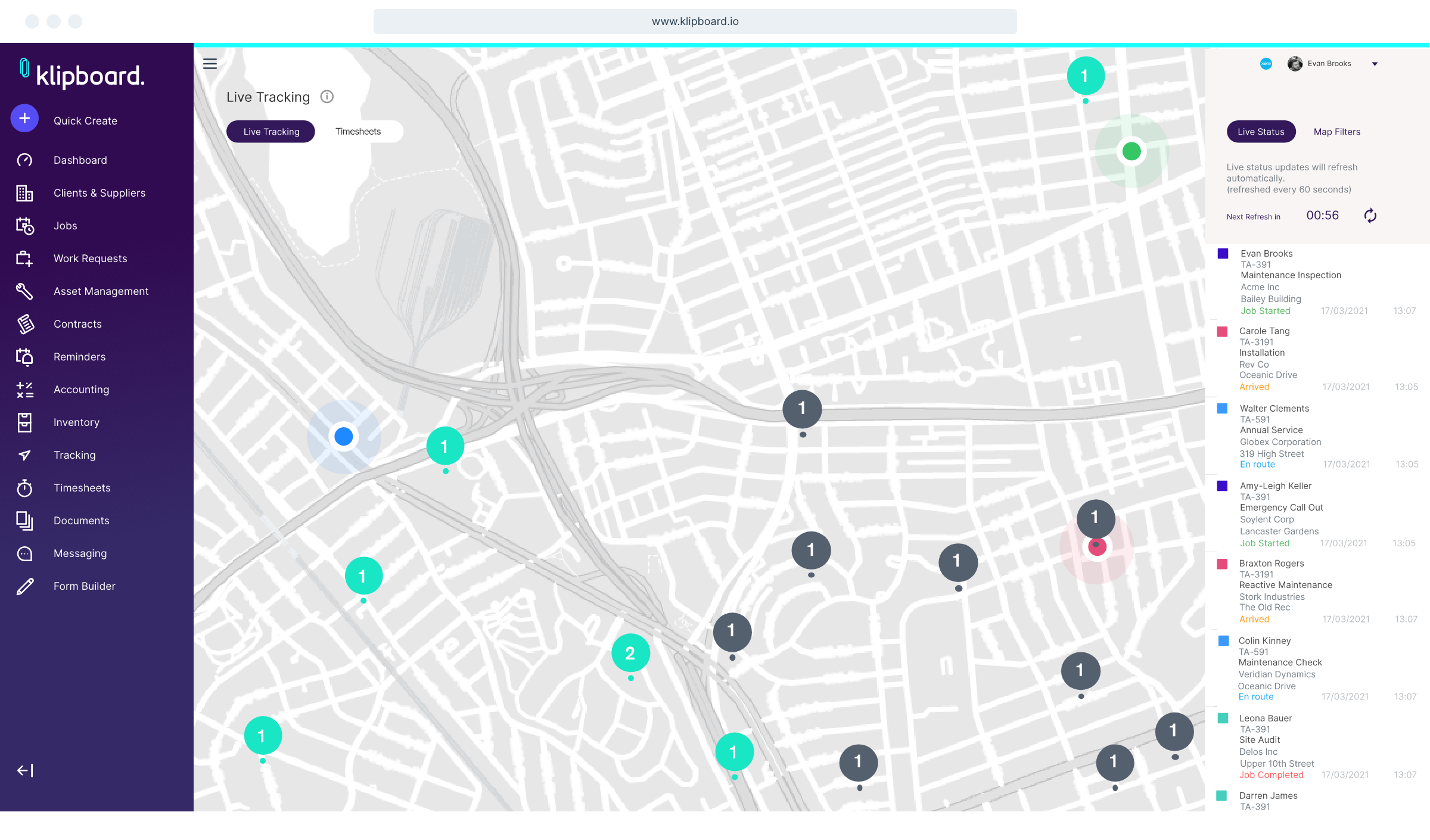 Real time Engineer GPS Tracking
Scheduling software with integrated GPS tracking will provide field service businesses with greater visibility into their field service operations, including the status of work orders, engineer  location, and other key metrics. This can help managers make better decisions about how to allocate resources and prioritise work orders to maximise efficiency and productivity
Klipboard's integrated GPS tracking allows field service businesses to determine the best routes for engineers in real-time. The Klipboard mobile app tracks engineers by using the device's GPS functionality which provides location updates visualised on a Google map on the web dashboard ensuring the office is constantly informed.
The map visualisation of an engineer's route helps businesses make quicker and more accurate scheduling decisions – for example the ability to dispatch reactive jobs to the nearest engineer to the job. In addition to engineers being displayed on the map, a real time feed showing the current job status is directly next to the map, giving a more granular view of what is happening.  Each real time job status triggered by the engineer on the Klipboard mobile app is GPS stamped, showing the exact position of each engineer – perfect for verification that an engineer visited a site if ever queried by a customer.
Overall, scheduling software can be an invaluable tool for field service operations, helping companies improve efficiency, productivity, communication, customer service, and visibility into their operations. Many field service businesses are adopting scheduling software to improve their operations. In fact, the use of scheduling software has become increasingly popular in recent years as more and more field service businesses recognise the benefits that it can provide.
There are a variety of different scheduling software options available on the market today, ranging from simple scheduling tools to more advanced platforms that incorporate features such as real-time tracking, automated scheduling, and advanced reporting and analytics. Many businesses are investing in these tools to help them improve their field service operations and stay competitive in an increasingly crowded marketplace. Klipboard is suitable for various field service industries, including HVAC maintenance, facilities management, water treatment services, EV installers, medical device servicing and many more. To see how Klipboard can optimise your scheduling and job management capabilities for your business, book a demo with one of software consultants who will walk you through our field service management and scheduling software.
In today's highly competitive business environment, field service scheduling software has become a crucial tool for businesses that rely on field engineers to deliver services to customers. Whether you are a small business or a large enterprise, scheduling software can help you improve operational efficiency, increase productivity, enhance communication, improve customer service, and gain greater visibility into your operations. It is key to staying competitive in an increasingly crowded marketplace.
Latest Insights
Trade Talk