If you manage the installation and planned maintenance and repairs of your customer's alarm and security systems, then you've probably looked at Alarm Installer Management Software or at least considered it for your business. It's no surprise you're considering ways to more efficiently schedule you jobs, manage your field service accountancy and your inventory. With a million and one tasks to complete a week, the last thing you need is to be bogged down in admin.
That's where Alarm Installer Management Software can help by providing the means to schedule your jobs more efficiently and greatly reduce the amount of admin you have to complete.
What is Alarm Installer Management Software?
Alarm Installer Management Software provides installation and servicing businesses with a suite of job scheduling tools, a more streamlined process for creating and managing their quotes and invoices and improved visibility of their inventory.
It's a more streamlined and efficient method of managing your team of installers and Alarm Technicians than using paperwork and emails to book and complete jobs. 
Most modern Job Management Software platforms use a combination of Desktop and Mobile apps. Alarm Installer Management Software are no different to this software widely used in the Field Service industry.
Job management tasks such as creating, assigning and dispatching jobs are all managed from the office using the desktop platform, while the Mobile App provides the technician or engineer with everything they need to complete the job, such as:
Client Details
Job Location
Job Routing information
Asset Details
Service History
Inventory
Previous job notes
Digital Mobile Forms to complete
Supporting materials such as Floorpans and Drawings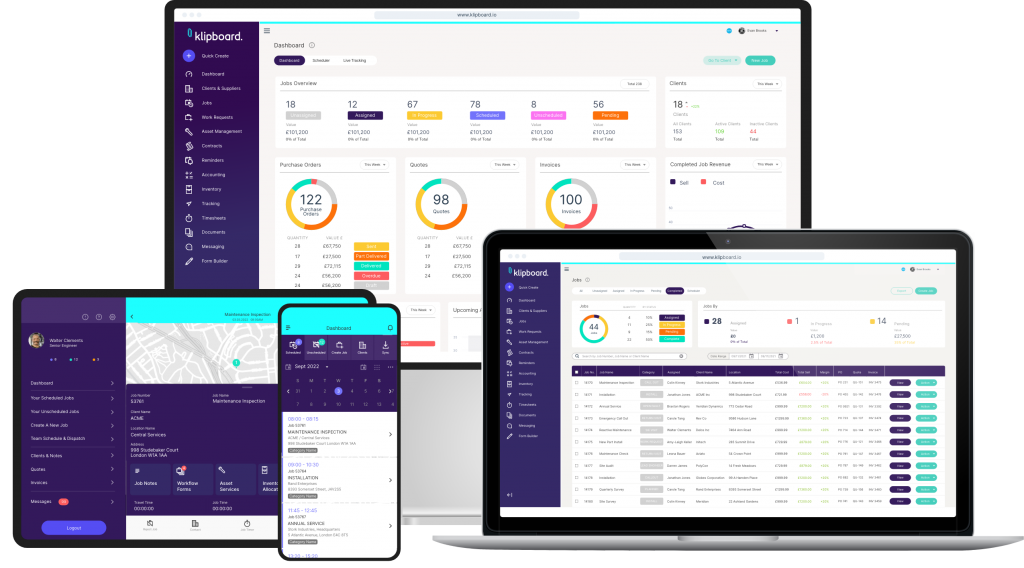 Features you need from your Alarm Installer Management Software
With so much choice out there where do you start when looking for an Alarm Installer Management Software provider? 
When you carry out your research to find the right Alarm Installer Management Software system, make sure it includes the following features.
Smart Scheduling for Alarm Installation and Servicing jobs
Job scheduling takes up a considerable amount of time and creates a lot of admin for your support teams. It can also be where you'll experience a lot of human error, double bookings, miscommunication and mistakes leading to fewer jobs being completed.
Smarter Scheduling for Alarm Installation businesses means having greater visibility across your whole business of who is available for your scheduled and responsive jobs. If your customer requires your services due to damaged or tampered security equipment then you'll need to be able to react quickly. Alarm Installer Management Software will show you who in your team is the best person for the job.
With a Job Scheduling and Dispatch Board you can easily view the work schedule of your team and quickly assign them to the urgent job. Give your customer peace of mind be empowering you team to provide an immediate response.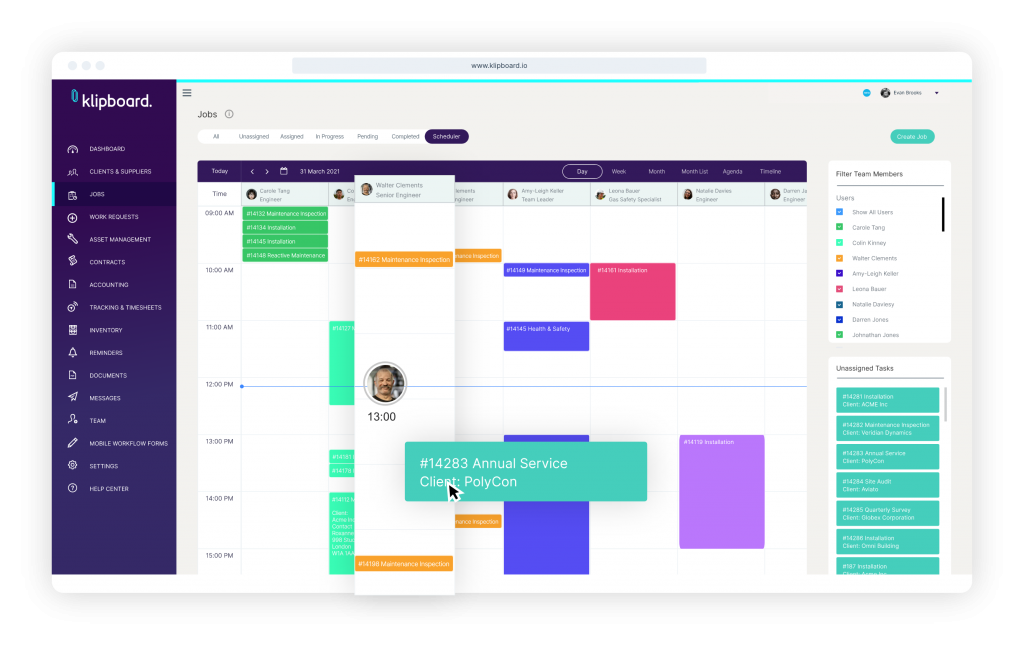 Visibility of Alarm and Security System Service dates
Alarm and Security systems have to work when they are called upon. That requires planned maintenance, servicing and repairs on the equipment, so your customer can be sure when it's needed, it works. 
Many Alarm and Security Installation business provide this much needed aftercare and they often use Alarm Installer Management Software to keep on top of these services. This requires a comprehensive suite of Asset Management tools that not every Job Management Software provider can offer.
Asset Management from Klipboard means knowing exactly which assets under your responsibility are due a service over the next days, weeks and months. With a click of a button you can quickly view all your assets and even filter the results by client if you choose to do so.
Your customer is automatically informed when they have an upcoming service so you can prompt them to book a service in without having to manage the calls and emails this would normally require.
Your servicing team will be working on a variety of different equipment from suppliers such as Visonic, Eaton, Honeywell, Risco and Texecom to name a few. Klipboard can store all the relevant manuals, drawings and installer notes they may need and have them available at the tap of their app.
Save time and empower your team to perform at their best by giving them all the information they need to do a great job by using Alarm Installer Management Software with Asset Management Tools.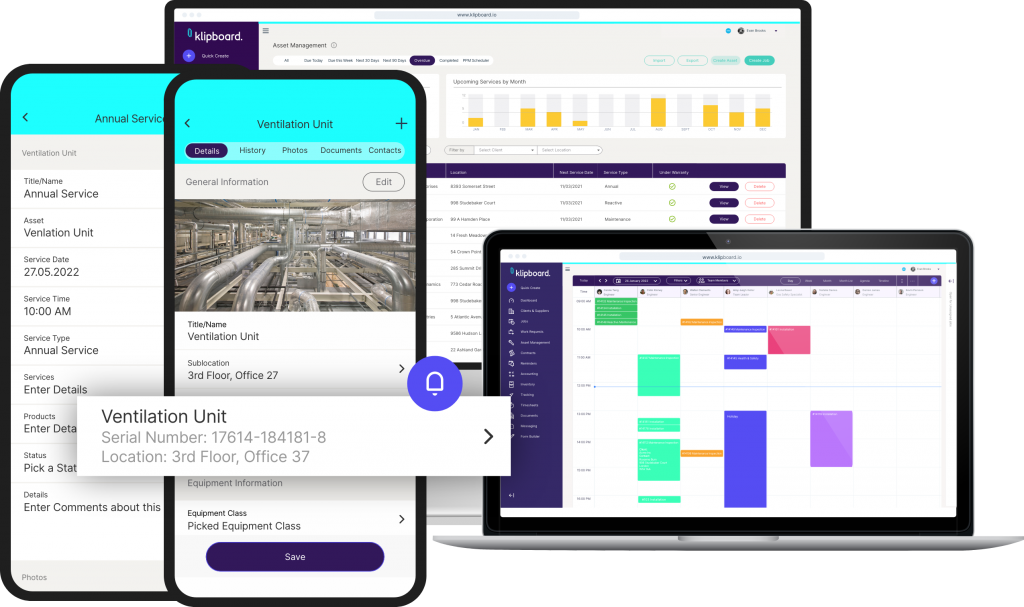 Streamlined quotes, Invoices and Purchase Orders
Cash flow is the life blood of your Alarm and Security equipment installation business. Many servicing businesses struggle with cash flow because of inefficient billing processes. Long delays in responding to a quotes will mean you miss out on the jobs and slow processing of finance admin will extend the time it takes to get your invoice sent and paid.
Alarm Installer Management Software puts an end to unnecessary delays by streamlining the process of creating a quote, completing the job and raising the invoice. Being able to quickly see which quotes have been accepted means you can start the work sooner. Digital mobile forms enable your field team to record job details on site and instantly send this back to the office when the work is signed off.
Reduce the delays in raising invoices and gain greater visibility of your field service finances with Alarm Installer Management Software.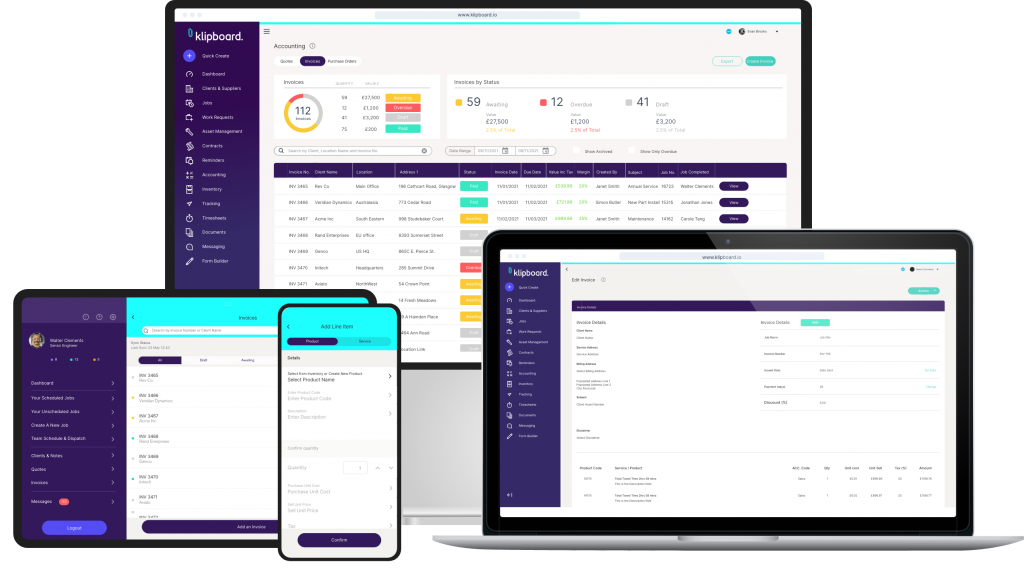 Alarm and Security CRM
Having a client CRM system is vital and it's one of the most sort after features for Alarm and Security installation businesses. Being able to quickly gather critical information at your fingertips as soon as the phone rings can go along way towards providing a superior customer experience.
Alarm Installer Management Software that includes features such as lead categorisation, client notes, reminders and to-do lists, help ensure your team are able to provide a first class service.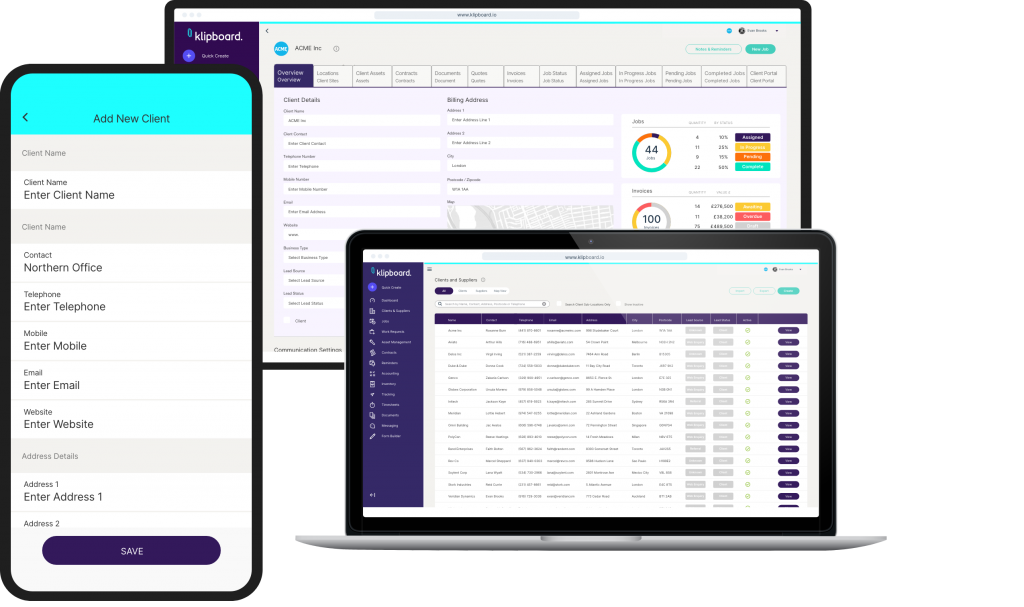 Better Alarm and Security Equipment Inventory
Not having a clear and accurate picture of your stock levels and where that stock is held will get in the way of your team being able to complete their jobs.
With better Alarm and Security Inventory Management and Purchase Order Management you can easily track deliveries, costs, margins and more. 
Ensure your team has what they need to carry out their repairs and installations. Simplify the process of replenishing stock by creating alerts for low stock items that are always in demand and better inform your team of when items are likely to be back in stock.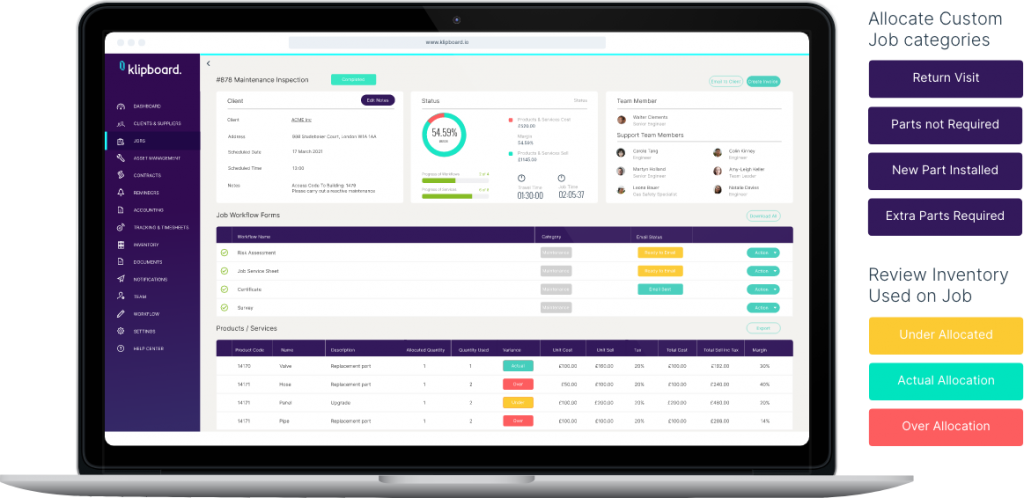 Web based freedom for your Alarm Installers and Maintenance Engineers
Having an Alarm Installer Management Software system that's built on Cloud technology or is Web-based means that when your field team members access your customers job details, they are getting all information updated in real-time.
All the new jobs, new assets, customer notes and updated job schedules are updated as soon as they sync their device. Working from archived or older information could mean that work is carried out that isn't required or specific checks that are needed are potentially missed. It gives your Field Team the freedom to work on location and know they have all the information and insight they need to perform at their best.
Work offline
Your team will occasionally operate in locations or buildings with limited wi-fi or mobile signal. In these instances Job Apps that are solely accessible when connected to the main service will be unusable.
Give your team the ability to work offline with Klipboard. When the technician or engineer syncs their mobile device before the job they have all the details they need at their fingertips. They can carry on working regardless of the limited phone signal or lack of wi-fi.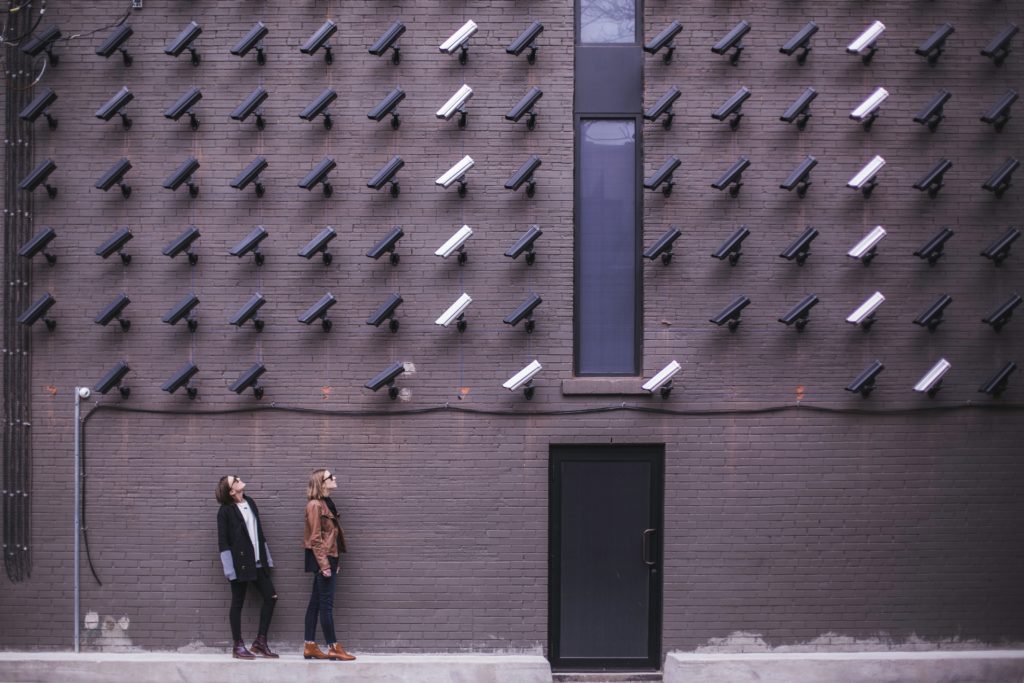 Who uses Alarm Installer Management Software?
Alarm Installer Management Software is widely used by businesses who provide Alarm maintenance, servicing and repair services on a range of intruder alarm systems.
This software is also used by professionals who install and maintain physical security devices such as entrance and egress points, barriers and gates.
Alarm and Security business are dedicated to providing reliable, trusted and cost effective security measures and Alarm Installer Management Software helps them achieve this goal.
How your customers benefit from you using Alarm Installer Management Software
The benefits of using Alarm installer Management Software systems go beyond ensuring you can run a more efficient and reliable service to your customer.
Your customer will notice the benefits offered by having a servicing partner who can quickly respond to emergency call outs and you'll be able to complete more scheduled maintenance and inspections jobs because of improved jobs scheduling.
When you use Klipboard you are able to offer a Client Portal. This has huge benefits for your customer as they will have a self-service portal to all their jobs and assets.
You'll have fewer emails to write, less calls to make and your customer will get an instant answer to their questions. 
Frequently Asked Questions about Alarm Installer Management Software
Do you need to have any specific equipment to operate the software?
Some software providers will only offer their Alarm Installer Management Software for IOS or Android devices. At Klipboard we appreciate that some businesses use a range of devices or even encourage their mobile workforce to use their own phones so it's important to be flexible.
What if my Security and Alarm installation team use their own phones?
The license followers the Engineer or Technician on whatever device they use so they can log into another smartphone or tablet as long as they download the app.
Does it use a lot of mobile data?
Syncing with the software to collect jobs uses a very small amount of data. Most commonly your engineer or technician will be using their app to update their job schedule and collect forms needed for the job. They can choose to sync when they have a Wi-fi signal if they are uploading a lot of images, in most cases it's not needed.
Do you get a trial period?
It depends on the provider. Klipboard offers a Free 14-day trial which is great for having a good look at the software and see the benefits it can offer you before committing to changing to Job Management Software. 
We would recommend having a Demo from one of our team, that way you can have a guided tour and ask any questions you might have on how it can benefit you.
You can book a demo by clicking here.
Latest Insights
Trade Talk