What stands between you and being able to complete more of your customer's jobs?
Most likely it's time or the lack of it. At the moment Field Service businesses are focused on delivering a quality, dependable, value added service to their customers whilst also trying to find ways to introduce efficiencies into their business.
Job Sheet Software has offered a neat solution to a lot of the causes for lost time. By digitalising paperwork with a Job Sheet App, Field Engineers are able to streamline their day to day, reduce the amount of admin the back office has to complete and ensure the expectations of their customers are met.
What is a Job Sheet App?
A Job Sheet App offers a digital way to collect data from the field. Paperwork, forms and reports are replaced with digital versions, accessible via a smartphone or tablet and once completed instantly uploaded to a shared piece of software.
This greatly speeds up the process of collecting data and removes the need for duplication. It's entered once and uploaded for each department in a Field Service business to access. Finance, Operations, Customer Support and other Field Team members can all have access to the same information.
What is a Job Sheet used for?
A job sheet provides mobile workers with the ability to record information such as details from inspections, surveys or repairs on assets. It's used across many different industries such as engineering, manufacturing, facilities management and has found a particularly good use case for Field Service and Trade businesses.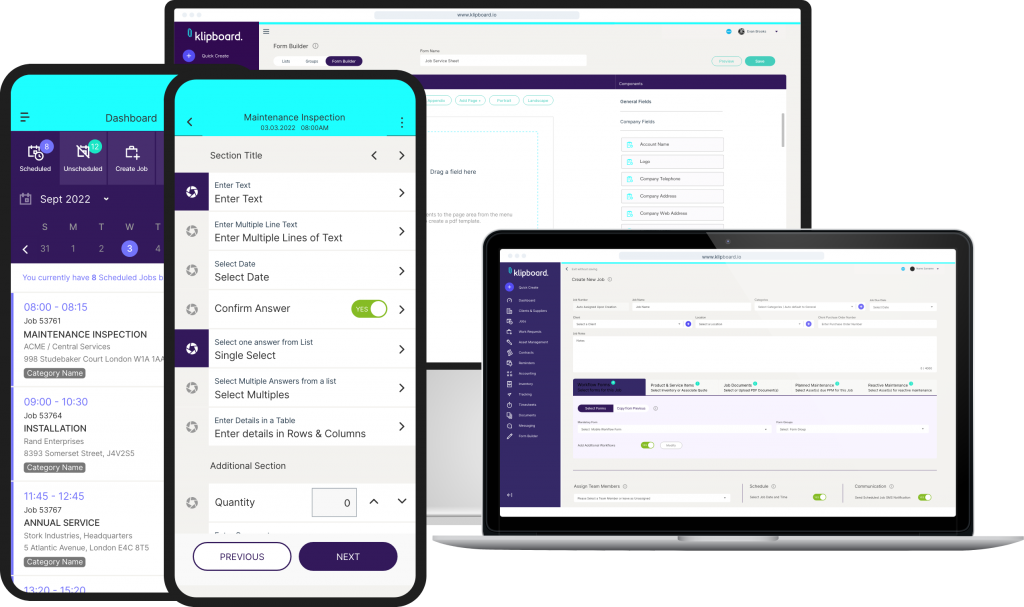 What use a Job Sheet App over paperwork or paper forms?
There are plenty of advantages that workers get over using Job Sheet Apps instead of paperwork. Here are a few of the key reasons field teams are switching from paper based methods of data collect to digital mobile job sheets.
Fewer trips to the office
Field Team members who use a Job Sheet App simply sync their smartphone or tablet with their Job Management Software and they will retrieve all the details and relevant forms for the jobs they have been assigned to.
Previously, they may have needed to come into the office to collect the job sheets and paperwork. Even if the details of their jobs were emailed to them it still required a member of the back office to produce emails for each team member and ensure mistakes weren't made.
With the rising cost of fuel and the time it takes to travel back and forward to the office, Job Sheet Apps provide additional cost savings by removing the need for these journeys.
No more lost paperwork
One of the key reasons invoices are paid late is due to lost paperwork. Losing paperwork causes long delays and can provide your customer with a poor experience, especially if they need to sign the forms again.
When you use a Job Sheet App these forms can be instantly synced back to the team in the office. This means paperwork isn't lost, there is a digital record of it stored.
Reduced mistakes
When you have to rely on your support team to send the mobile workforce all the details of the jobs they have been assigned to, plus the accompanying paperwork and forms, you increase the chance of human error.
Mistakes cost time, they hold back your ability to invoice and be paid on the work that has been completed and can create a poor customer experience. If Field Team members are sent to the wrong job or have a double booking then your customer is affected.
This is easily avoidable with Job Sheet Apps as all the job details and correct digital forms are sent when a scheduled job is assigned to a field team member.
Ensure compliance
If you operate in an industry or with equipment that is highly regulated, meeting compliance and standards will be your highest priority. For these Field Service businesses ensuring the correct checks and inspections are carried out is vital.
Asset Management to meet compliance is made a lot easier by using Job Sheet Apps. By standardizing the Digital Forms you send to your field team you can ensure they are completing the most up to date checks.
It's even possible with some Job Management Software or Job Sheet Apps to create your own bespoke forms.
Not only do you have access to templates that provide the forms required for the most common compliance checks such as F-Gas for HVAC technicians and Fire Safety for Fire Compliance Specialists, custom forms allow you to build exactly what you need.
Read more: How to create your own paperless job sheets
Evidence Capture
With the Digital Mobile Forms you get with Job Sheet Apps you're able to capture more than just the details of a job. You're able to collect photo evidence of the work you're carrying out with your smartphone or tablet. You can instantly attach any picture you take on site to the asset or job record.
Onsite client signature capture through your device will speed up the sign off process allowing your team to get to the next job while your back office team can complete the reports or raise the invoice.
Traceable data
Retrieving information from a previous job can be a time consuming chore without digitalising paperwork. Job Sheet Apps provide you with a way of instantly accessing details from a previous job. This can be particularly useful for audits or to spot trends in failures and repairs.
Greatly reduce the amount of hours you team is occupied collecting information for a customer by providing it in seconds.
Real time updates
When a situation changes and you need to provide up to the minute information to your mobile field team, you can use your Job Sheet App. By being able to update the job notes your engineer can have all the information they need when they need it.
This goes both ways as the field service engineer or technician is able to leave notes on asset and client records, providing the office with real time updates.
Reduce invoicing times
When data is able to flow faster, paperwork isn't lost and you've removed the need for duplication it greatly speeds up the time you can go from quoting for a job, to completing the job and raising the invoice.
Improve cash flow by streamlining your field service operation with Job Sheet Apps.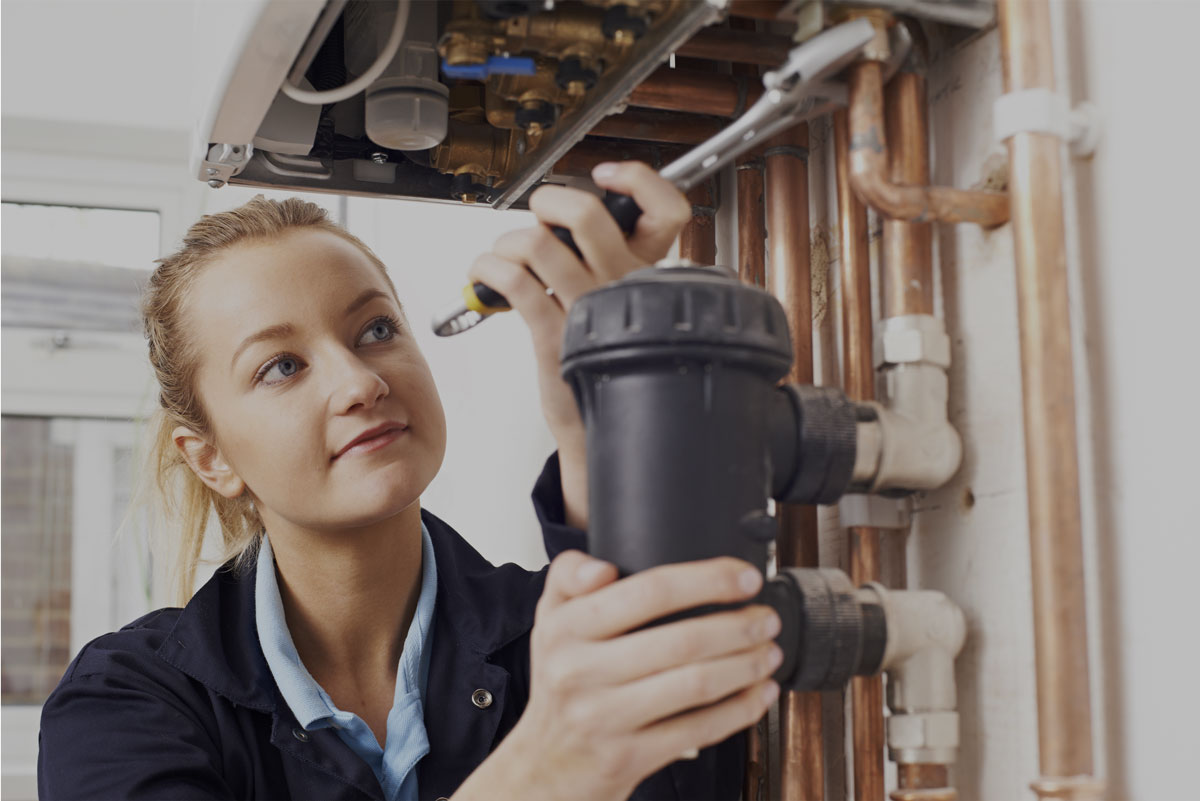 Who uses Job Sheet Apps
Job Sheet Apps can be used in a variety of different situations and industries. Mostly commonly they are used when details need to be collected for an inspection, repair or service of mechanical or electrical equipment. They are also used in specialist fields too such as Plumbing, Heating and even Healthcare Device Maintenance.
Here are some Field Service Industries who use Job Sheet Apps:
Automatic Door Maintenance
Building Maintenance
Construction Contractors
Catering Equipment Servicing
Drainage Contractors
Electrical Contractors
Electric Vehicle Charger Installation and Maintenance
Facilities Management
Fire Protection, Safety and Security professionals
Healthcare Equipment Servicing
HVAC Servicing
Plumbing and Heating
Telecoms Infrastructure
Water Hygiene and Treatment
Many more…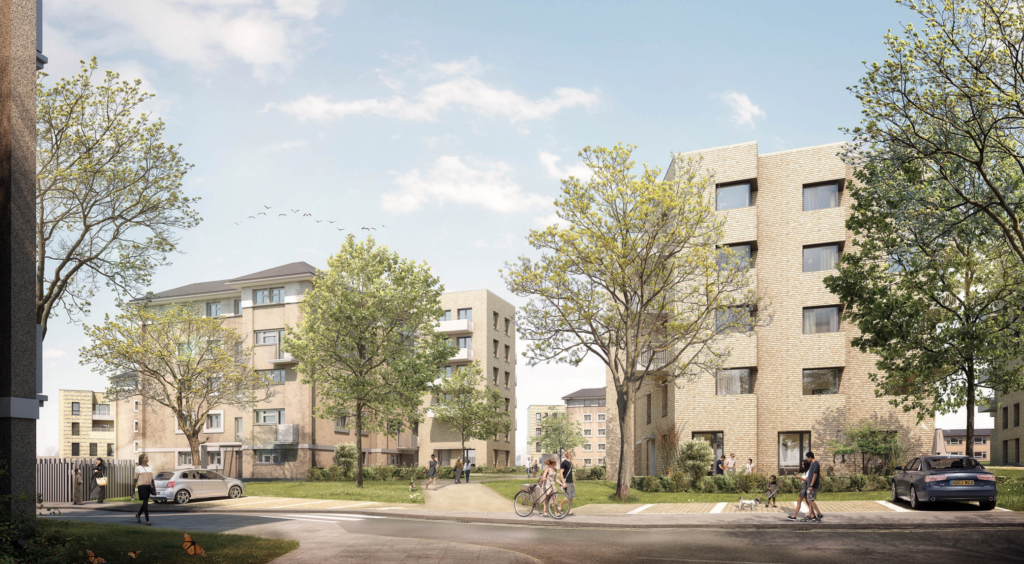 How Woodford Heating and Energy used a Job Sheet App to remove paper from their business
Woodford Heating & Energy provide electrical building services to their customers across London the South East of the UK. They handle large scale, complex projects and their high quality service has helped them grow significantly over the last few years.
Previously, they relied on paper based methods of capturing compliance information, such as air pressure tests and mechanical equipment monitoring. The time spent completing all of this paperwork was affecting their ability to quickly report back to their customer. As they grew this did the need to find a more efficient way of managing this paperwork.
They switched to digital job sheets through Job Management Software and eradicated the need for paperwork in their business. Their engineers quickly adopted the technology and it solved many of the challenges they faced on a daily basis.
Digital Forms and Job Sheets have removed the need for manual data entry, reduced the amount of hours spent on admin and greatly improved how quickly they can produce a report for their customers.
Read their story: How Klipboard empowers Woodford Heating and Energy
Frequently asked questions (FAQ)
Does a Job Sheet App work on any device?
Some software providers will only offer their Job Sheet App for IOS or Android devices. At Klipboard we appreciate that some businesses use a range of devices or even encourage their mobile workforce to use their own phones so it's important to be flexible.
What if my engineer changes their device?
The license followers the user on whatever device they use so they can log into another smartphone or tablet as long as they download the app.
Do these apps use a lot of mobile data?
Syncing with the software to collect jobs uses a very small amount of data. The engineer or technician is mostly updating their job calendar and collecting forms to complete. They can choose to sync when they have a Wi-fi signal if they are uploading a lot of images, in most cases it's not needed.
Can you use a Job Sheet App offline?
It depends on the provider. Klipboard allows you to log in and sync your device, then you'll have access to all the information you need to continue working, regardless of phone or Wi-fi signal. Others may require an internet or phone signal to access job details.
How secure are Job Apps?
Very secure. One of the big advantages of using a Cloud Based Job Management Software is the extra App Security. Your Team Members can attempt to log in up to 5 times, after that they will be locked out into your administrator unlocks the account. This is an important security measure as your Job Sheet App will contain sensitive information about your client and their jobs.
You can use this feature to your advantage when tendering for work that requires certain security precautions.
Do the back office team use the App too?
The App function is mainly for your mobile teams, it allows them to access job information and asset details on the go. Your back office team uses a Desktop platform which includes a great number of features allowing them to schedule jobs, assign to team members, create new clients, asset registers and automated customer communications.
Your team effectively uses a combination of the Desktop platform in the office and Job Sheet Apps in the field.
Can we design the Digital Forms ourselves?
Of course! You can add your own fields and even include your own branding to suit your needs. Each form can be built to service a specific type of job or even specifically for a client. When looking for Job Sheet App providers consider that some don't include a Form Builder feature and may charge you to create the forms you need.
Klipboard's form builder is really easy to use and with little training you'll be creating everything you need.
Do you get a trial period?
Again it depends on the provider. Klipboard offers a Free 14-day trial which is great for having a good look at the software and see the benefits it can offer you before committing to changing to Job Management Software. We would recommend having a Demo from one of our team, that way you can have a guided tour and ask any questions you might have on how it can benefit you.
You can book a demo by clicking here.
Latest Insights
Trade Talk