Whether your field service business is thriving and you've got more jobs on the board then you have time to complete, or things are pretty quiet at the moment and the phone hasn't rang much. One thing that field service businesses all have in common is the need to reduce costs and meet their client's expectations.
Start saving money by automating more of what you do everyday
Plenty of field service businesses are realising how easy it is to take some of the admin off their team and empower them to complete more jobs. With smart and easy to use Job Management Software your team can accomplish more in their week, finish more jobs every day and win future business.
An easier way to plan out your week
One of the most crucial tasks to get right to ensure your field service business is successful is how you plan out your working week. It may sound simple but If you're still living in a world of excel spreadsheets and texting your team, you're holding your business back and not giving your clients what they need and expect.
Use a team planning tool that lets you clearly view and share where everyone should be each day. Klipboard job management software helps you easily manage that even communicates the allocation of jobs to each team member for you.
Using our Drag and Drop Scheduler for Job Management you have the ability to plan out your week and make changes when you get an unexpected call out.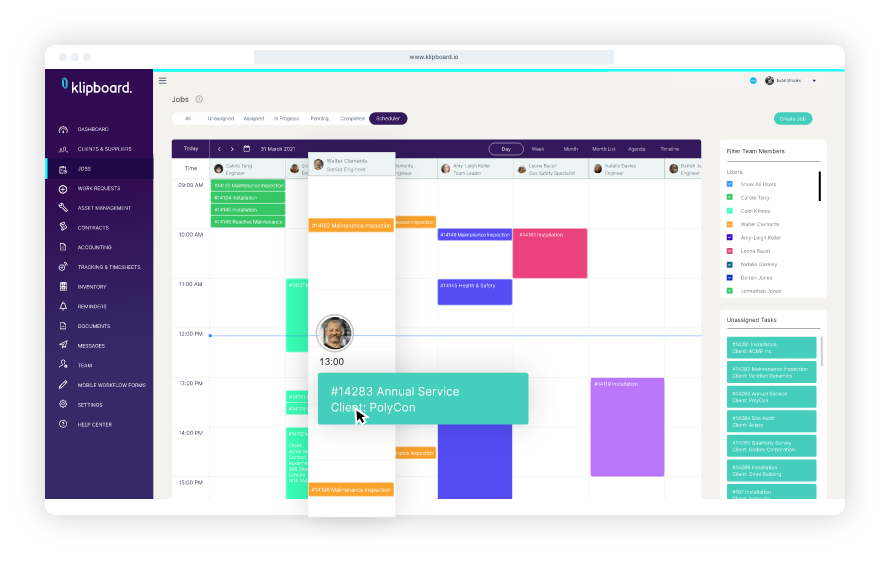 Set automated reminders for asset servicing
Automatic service reminders through Klipboard, will tell you and your clients when a service is due, leaving you to focus on completing the jobs you're working on, safe in the knowledge you've got future work lined up.
Personalised Asset Servicing Reminders messages can be sent by SMS or Email to your client, reminding them they have a service due with you. It's a great experience for the client as they will feel confident you've got them covered and avoids equipment down time if the asset fails.
It's quick and simple to do, just set a reminder for when the service is due, today, tomorrow, next week, in the next 30 days, whatever is appropriate. Just a minute or two setting up your reminders could generate months of revenue and will help you provide a great service to your client.
Planned preventative maintenance is simplified when both you and your client know exactly when their assets are due their next service.
Jobs on your mobile not the printer
Stop printing jobs. It's the 21st century. It's time to go paperless so your engineers can instantly bring up their job sheets on their phone before they head off to site. 
No more travelling to the office to pick up or submit their jobs, that's one less journey they need to make. Your team will be more efficient with their time and maybe spend a little less time chatting in the office and a bit more time catching up with your clients.
Here's how Klipboard customer Sarah Betteley uses Klipboard to ensure her team has everything they need all in one place:
Having everything they need at their finger tips, updated automatically in real time will mean fewer surprises when they get to your client's location and if they need a few extra details such as manuals, floorpans and product designs, it's all right there for them.
Automatic stock alerts save everyone's time
Klipboard is field service management software that updates your inventory in real-time. Unlike some systems housed on a dedicated server, it's cloud based. This means when you have an inventory item that's out of stock you don't have to wait until you need it to discover you can't find it. 
See the actual stock count in real time and allocate stock on the go with Klipboard. At a glance you'll see the real number of parts available. This also avoid overstocking items too saving you money and storage space.
We sent your client a 'thank you'
Reviews are becoming ever increasingly important when it comes to winning new business. That's why we've introduced a feature to automatically send out 'thank you' messages and follow ups with your clients after a job is completed.
A lot of field service businesses don't have the time and resources to gather reviews, they are off to the next job and can't spare the time.
We can automatically attach links on your job  for your client to complete trust pilot reviews and even include your thank you messages when the job is complete.
Set calendar reminders for booked jobs
With Klipboard you can choose to set automated calendar reminders for booked jobs. Your clients will receive a calendar invite by email for their scheduled job with all the job details enclosed. 
No more surprises when your engineer arrives unexpected on site, the office, the engineer and the client has complete visibility of what jobs are planned and who will be attending.
Automated communications to let your client know you're on the way
In addition to automated communications ahead of a scheduled job, we can also set up SMS communications with your client to let them know when your field service technician is en-route. 
It's reassuring for your client to know who will be attending, when they will be getting there and see real-time updates in case they get stuck in traffic or experience a delay on an earlier job.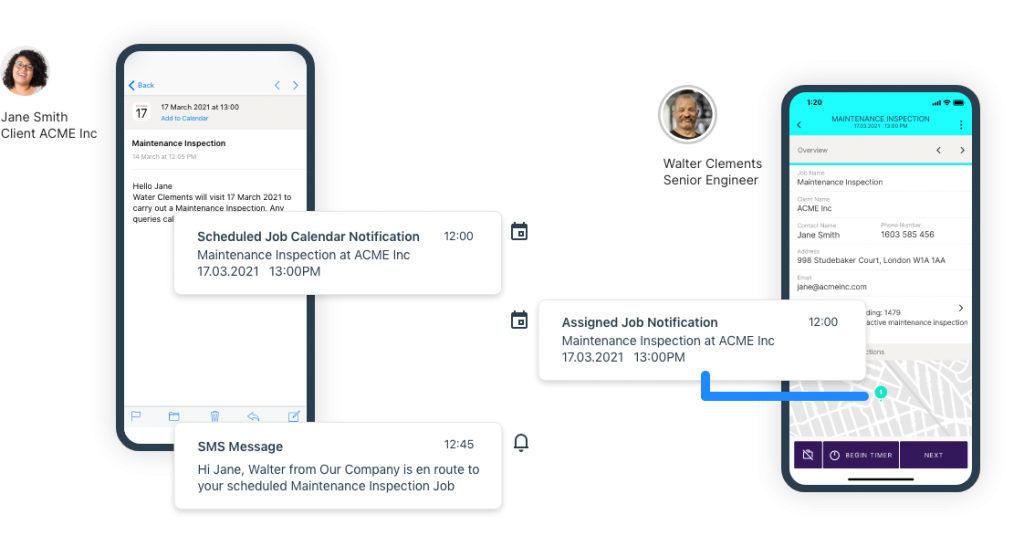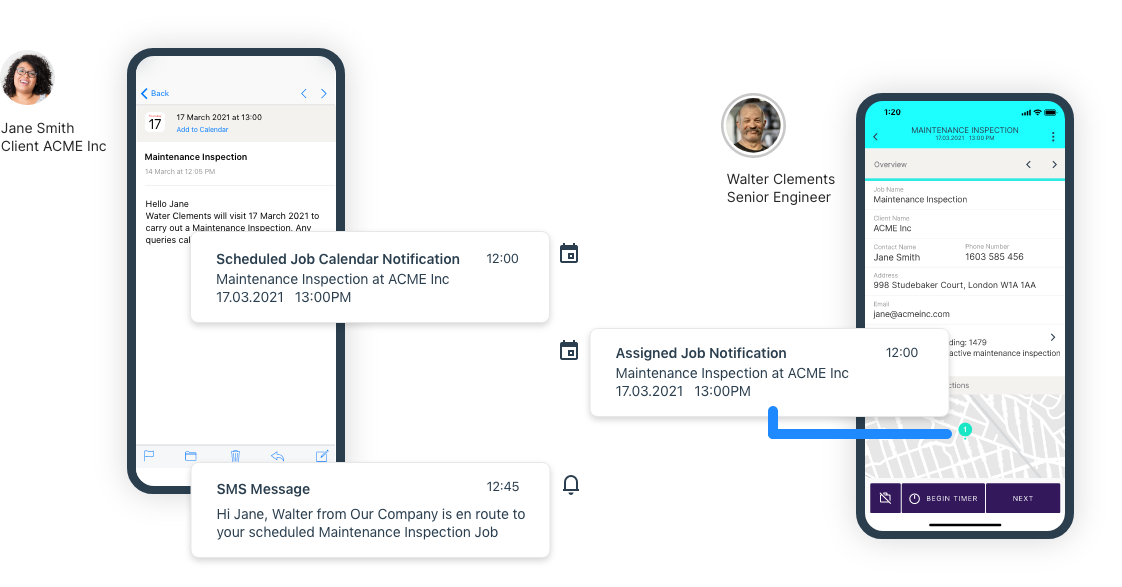 Try Klipboard Field Service Management Software for yourself
You can try Klipboard out for yourself, start today with our free trial. Our super fast onboarding will have you planning jobs and setting up client communications in minutes.
Latest Insights
Trade Talk