Field Service Dashboards provide powerful insights into a business they display the key metrics and performance indicators that previously would be hidden or take a considerable amount of time to gather.
With this insight business owners are able to monitor and improve the operational efficiency of their Field Service business. They can do this by cutting down the time it takes to gather job data, by reducing duplicated admin and quickly review finance performance information.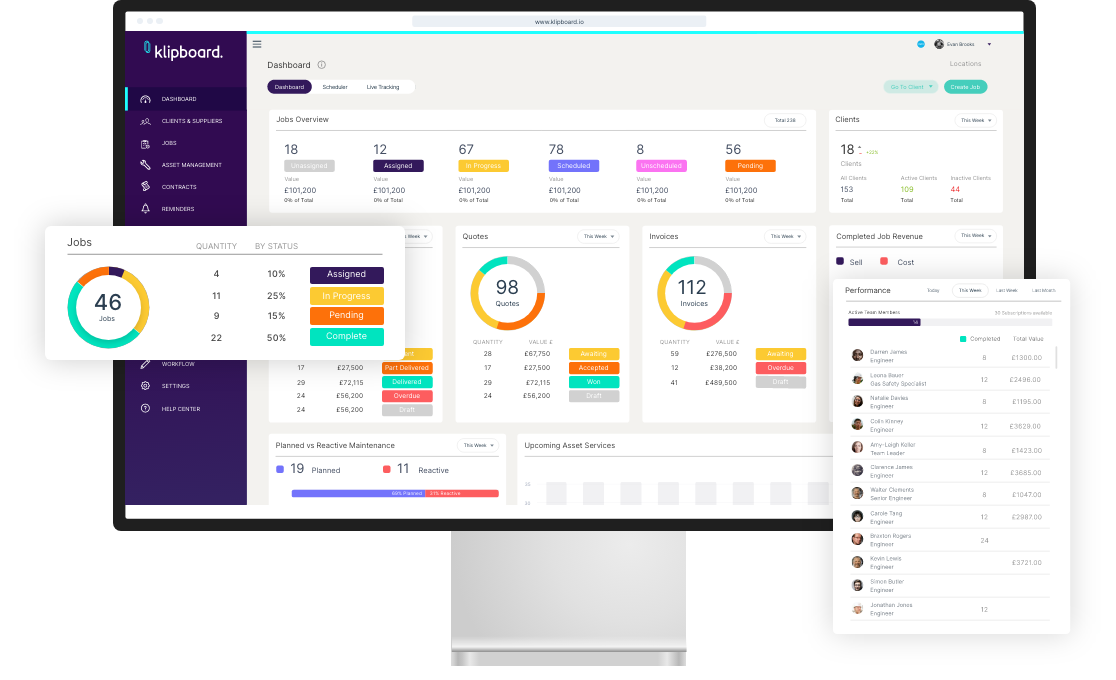 What is a Field Service Dashboard
A Field Service Dashboard displays key performance metrics of a service business to allow improved decision making, visibility of team performance, expected workload and financial performance.
Job Management Software gathers job data, planned maintenance job schedules, reactive job information and Field Service Finance data such as quotes, invoices and purchase orders, then displays all of this in Field Service Dashboards.
Often these dashboards are customisable or provide the ability to filter the results to drill down onto the information that's key for business owners and decision makers.
The value a Field Service Dashboard brings to your business
Business owners are looking for ways to bring increased efficiency to their service maintenance, inspection or repair service operation. There are two key reasons for the push to find more effective ways to work:
Increased competition putting pressure on pricing
The rising cost of operating a business
The two of these issues combined are putting pressure on margins and every hour of work has to be worthwhile and add value to a business. Your team can't take inefficient routes to jobs, waste too much fuel, leave too much time between jobs, miss jobs completely or work on customer jobs with poor margins.
It's these reasons that field service businesses are turning to real time dashboards to provide clarity and insight.
View Individual job progress and costs
Working on jobs with small profit margins will hold back your business. Perhaps these Field Service jobs take too long to complete or they use parts that are expensive to purchase and hold little mark up value.
Previously, gathering all the information to get a clear picture of the profitability of a job would have taken too long. The time would have been better spent working on more jobs or finding new business.
By using Field Service Dashboards you can see this immediately, saving hours of gathering job details and allowing you to make data driven decisions. See the cost of the products you have used, their margin, total travel time to the job and the time to takes to complete the work in an instant.
View your Job Progress
How many jobs are you working on right now? Do you know how many are waiting to be assigned, in progress and pending completion?
Field Service Dashboards paint a clear picture of the work you have schedules helping you spot trends, act when you need to assign more jobs or push for completion on jobs 'in progress'.
Asset PPM Schedules
With Field Service Dashboards you are able to quickly see at a glance the number of Asset Planned Preventative Maintenance schedules that are due over a time period you choose.
Quickly see how much planned work you've got lined up over the next few weeks. You can more easily plan ahead, which is particularly useful as you enter peak seasons for your industry so you're not caught out by a larger volume of assets that require servicing.
Read more: https://klipboard.io/how-managing-your-hvac-business-changes-in-the-summer/
What industries use Field Service Dashboards?
Field Service Dashboards and Job Management Software is widely used across many Field Service industries, such as:
Automatic Door Maintenance
Building Maintenance
Construction Contractors
Catering Equipment Servicing
Drainage Contractors
Electrical Contractors
EV Charger Installation and Maintenance
Facilities Management
Fire Protection, Safety and Security
Healthcare Equipment Servicing
HVAC Servicing
Plumbing & Heating
Telecoms Infrastructure
Water Hygiene & Treatment
And many more…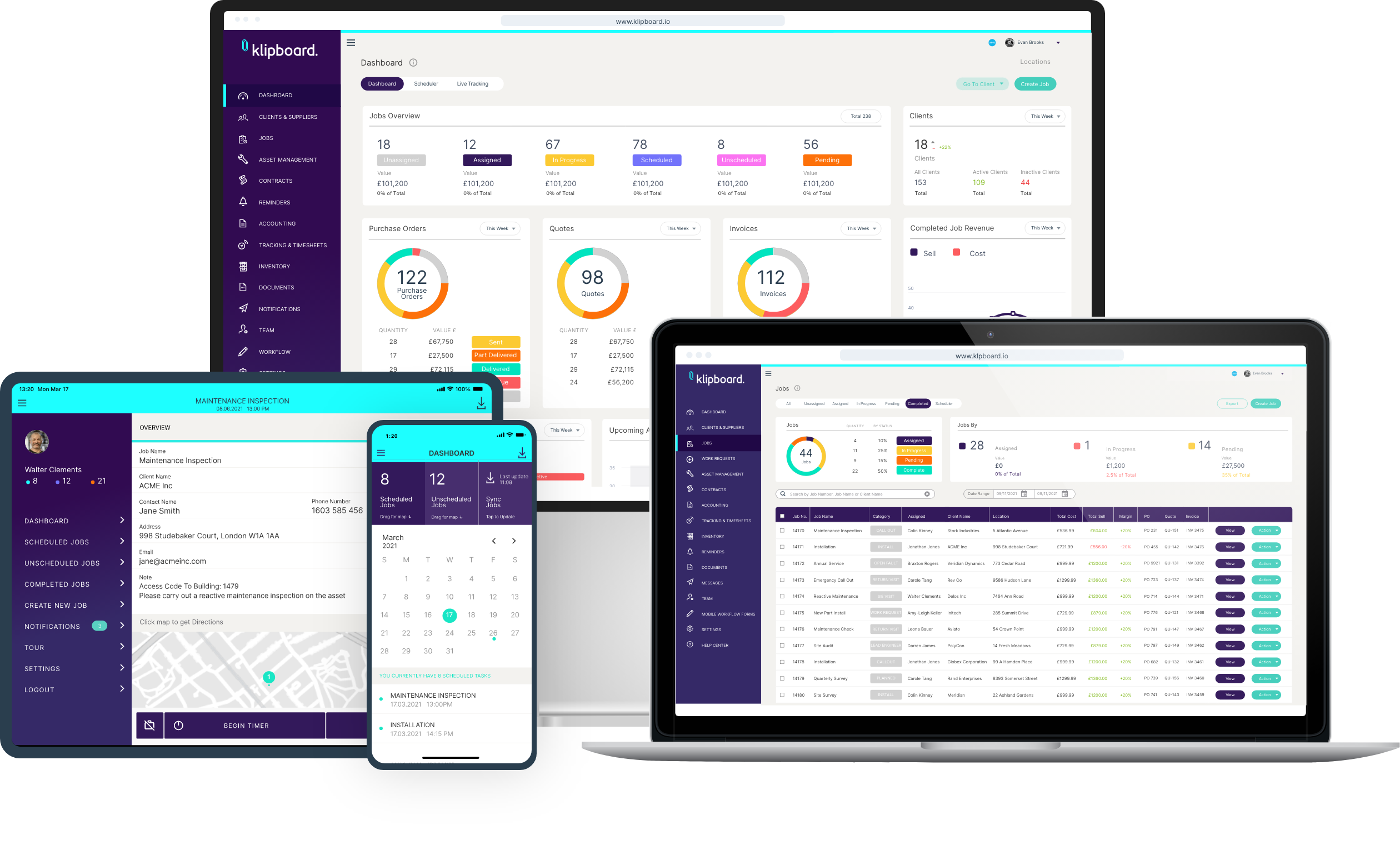 Five time saving benefits of a Field Service Dashboard
There are many benefits to using Job Management Software from cost reduction, operational efficiency and winning new business with better looking quotes and impressive features such as Client Portals.
If saving time or using the time you have available more effectively is your main priority then Field Service Dashboards will provide an excellent addition to your business. Here's five time saving benefits you will experience from using these smart dashboards.
1. Gather job data in seconds rather than hours
If your job is to make sure the assets you service are compliant and working at peak condition, then you need to be able to quickly access important information such as the next service date or details of the last service.
With Field Service Dashboards you can get a complete picture of your client's asset PPM schedules by clicking a button. Rather than spending hours gathering the details you can now do this in seconds.
 "Before we kept details of the next service on the invoice. Finding it wasn't easy and you couldn't say in the next month we would expect this many services. Now we can do this in seconds" – Chris Hysinger, Land Sea & Sky
2. Easily Review team performance
Real time data has been revolutionary for the Field Service industry. Now service businesses can easily see which engineers in their team have completed the most jobs and the value of that work.
Field Service Dashboards have enabled smarter job scheduling, it has helped operations managers or project managers to more evenly distribute jobs or more easily give recognition to those high performers in a team.
3. Reduce time spent planning workload
Being able to see the total number of jobs in the pipeline, what jobs are unassigned and in progress, helps managers to plan out the workload for the next few weeks.
By using Field Service Dashboards you can see at a glance your job progress, helping you efficiently plan out your week so you are unlikely to miss jobs and you'll get the most productivity from your team.
4. Focus on jobs with more profitability
An hour spent working on a job with little to no profit is a wasted time. Job Management Software which includes Field Service Dashboards allow you to quickly see the value of the work your team carries out.
You can easily see which jobs are the most profitable for your business and prioritize this work. Increase your revenue, spend fewer overheads on low profit jobs and grow more beneficial accounts by using dashboards.
5. Instant view of field service finances
Often Field Service Management Software and Financial Information are held separately. They operate within two different systems and rarely 'talk' to each other.
When you use Job Management Software with Finance Integration you can save a lot of time.
You don't need to duplicate your quoting and Invoicing admin from one system to another, you simply sync the two. Secondly, when you need insight on the value of the work you've completed or still yet to complete you can use your real time Field Service Dashboard and gather that in seconds.
How a Field Service Dashboard can improve your decision making
Most of the benefits of Field Service Dashboards come from having a single place to quickly access the information that is vital to the success operation of your business. 
With less time spent on duplicating admin, gathering information from various different systems and sharing that across your teams, you can spend more time on the things that will help you grow your business.
One of the biggest benefits to using Job Management Software with Field Service Dashboards is the ability to make better, more informed, data driven decisions.
Which companies should we work with?
What sectors are the most profitable?
Which engineers create the most revenue?
The answers to these questions will have lasting effects on your business and they are very tricky to answer without having this information to hand.
Improving customer satisfaction by using Field Service Dashboards
Your ability to make better decisions based on the information available to you helps you offer an evolving and improving service to your customers.
Field Service Dashboards help you better understand what parts of your business are working well and what needs to be reviewed.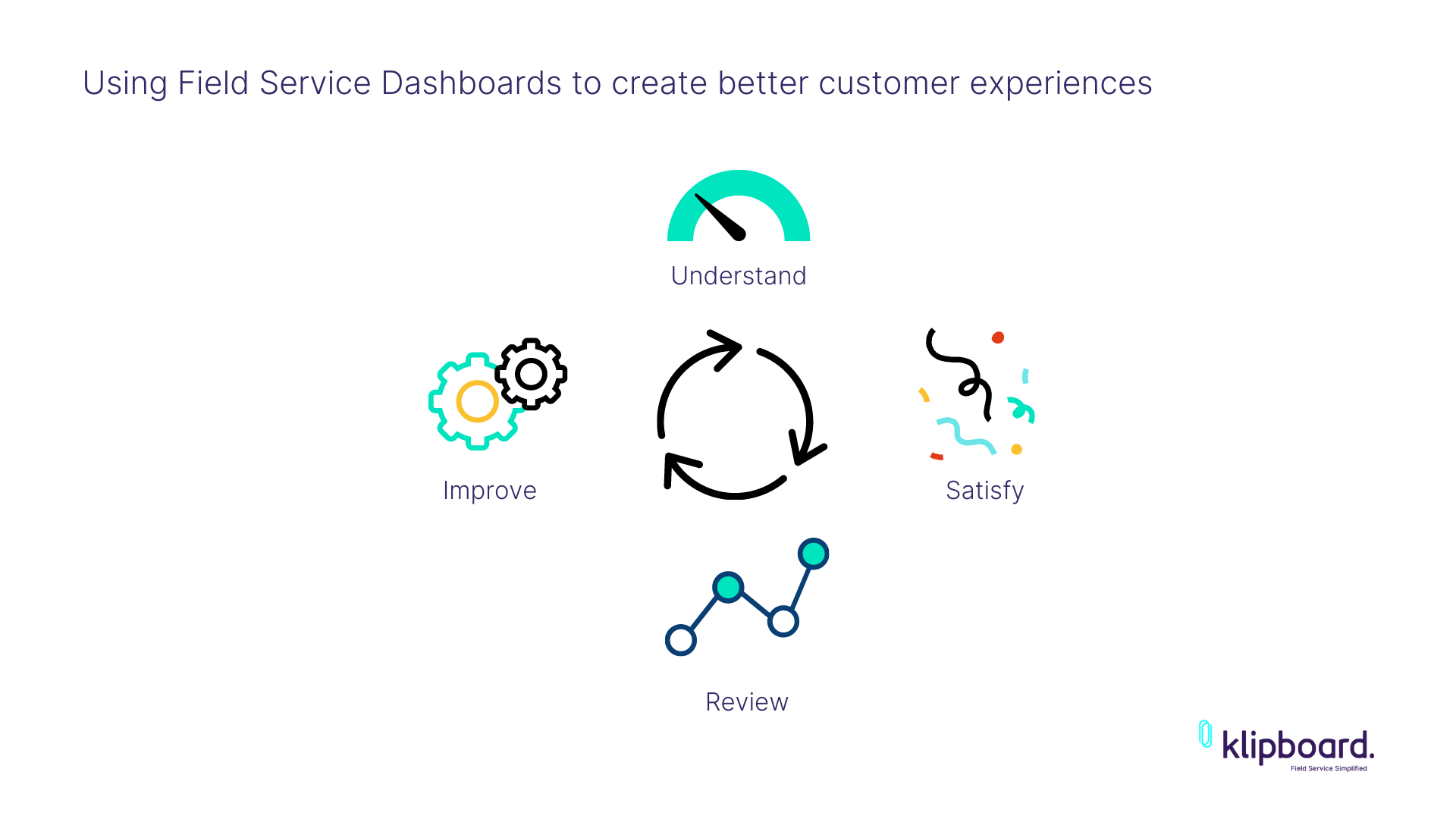 Understand
The first and most important stage is to understand the current situation. 
Without a top down view of your Field Service business you won't be aware of what is working and what needs improving. You may be 100% sure that you're giving you customer a better experience than your competitors but if your job progress is taking too long or the profit margins are low then it will affect your revenue.
Satisfy
Once you understand how you're performing and you know what work you should be focusing on then you can concentrate on giving your customers the best possible service.
If you have your team pointing in the right direction then you can take measures to ensure every need your customer has is being met.
Review
What works today might not be suitable tomorrow so don't sit still. Arrange monthly reviews of your team's performance using the insight in your Field Service Dashboard. 
Review what jobs are generating the most profit and keep an eye on the number of outstanding jobs and invoices to ensure you maintain a healthy cash flow.
Improve
You can always improve. Your customer's needs will change and you may even discover better ways to manage your team from the added visibility you have of your operation.
How to start using a Field Service Dashboard in your business
To start benefiting from using these powerful, insight filled dashboards in your business you'll need to find a Field Service Management Software or Job Management Software provider who offers this feature.
Klipboard's Field Service Dashboard is a game changer. It's simple to use, intuitively designed and contains all the insights you need to run a high performing Field Service business.
You can get a one to one demo of Klipboard with one of our helpful team by clicking here.
Latest Insights
Trade Talk