Field Service businesses are increasingly looking towards tech for a way to cut costs and find efficiencies in their operation. Advances in machine learning and Artificial Intelligence (AI) are making these options cheaper and more viable, but will AI and machines replace Field Service Workers?
A smart machine revolution is happening
In a large town, one hour drive north of London, deliveries are being made in Milton Keynes without a human being in sight. Tech company Starship has a fleet of self driving robots that are motoring around the town making deliveries of small products no more than 100 pounds in weight.
Local deliveries are being made in a faster, smarter and more cost-efficient way and it's been so successful its expanded to more cities and several Universities in the US. They are able to navigate their way around by utilising a combination of smart route mapping, collision sensors and GPS tracking, so their customers know exactly when they are going to arrive.
"A glimpse of the future"

The New York Times
In January 2021 Starship reached a the milestone of 1 million automated devilries worldwide (63,200 were pizzas in case you were curious!). The revolution might start with small food parcels and packaged items but its success has been proven and points towards further investment in smart machines and devices referred to as the Internet of Things (IoT).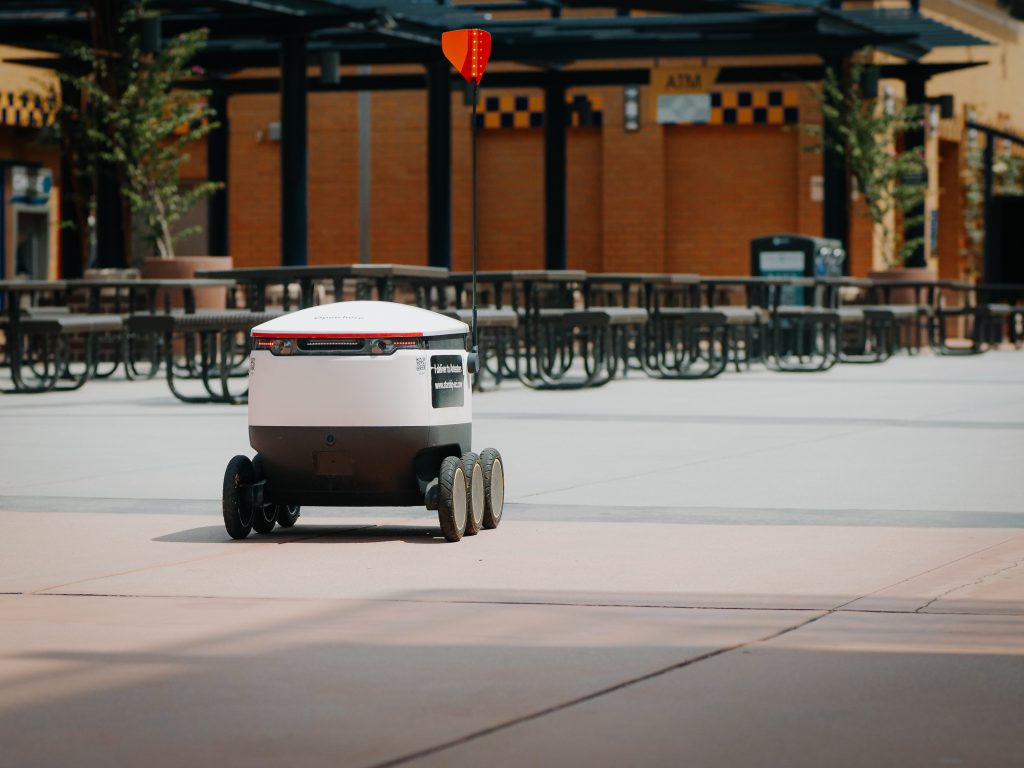 What is the Internet of Things (IoT)?
The term IoT is used to describe devices connected to the internet which effectively 'talk' to other devices or systems. The information gained from these devices is used to make smarter use of that device, make other systems work more efficiently or even carry out tasks. A world connected by devices that makes life easier, this is the Internet of Things (IoT).
IoT insights
By 2022 the total number of IoT connected devices will reach 46 billion
The average home in 2020 had around 10 IoT connected devices
By using IoT devices Manufacturing Companies in the US witnessed 49% fewer product defects
Cisco Systems, Google, IBM, Microsoft, Samsung and Huaweu all have significantly invested in IoT
The introduction of 5G is being seen as a turning point for IoT devices making them even more viable
The use of IoT devices is expected to grow significantly over the next few years and you'll find their influence in almost every industry and a variety of products from vacuum cleaners to weighing sensors.
How the Field Service Industry can benefit from IoT and smart machines
The Field Service sector in particular has a lot to gain from adopting smart machine technology because of the need to respond quickly and their use of data for decision making. In a 2017 survey it found the two major concerns for the Field Service industry were whether their business was operating as efficiently as possible and how they were going to meet the increased expectations of their customers.
With greater visibility of what's happening with their client's assets, Field Service businesses can offer a more cost effective service and greatly avoid downtime due to part failure.
"The two major concerns for the Field Service industry were whether their business was operating as efficiently as possible and how they were going to meet the increased expectations of their customers."
Changes in the way information is collected in the field and then shared with the team is making it possible for Field Service businesses to keep up with changing compliance and legislation, not to mention the increased pressures from their customer to keep downtime of their equipment to a minimum.
Sensors in sophisticated machinery send data back to engineers with details about the condition of the equipment and is used to predict when a service should take place. Real-time inventory management is helping businesses better manage their inventory avoiding over or under stocking items.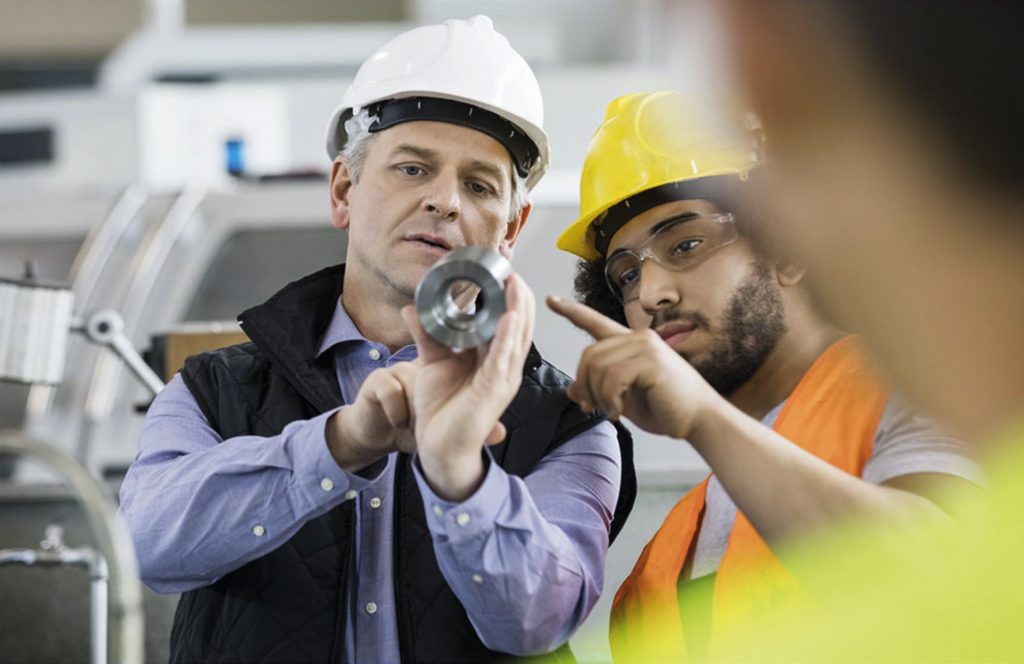 In most cases Field Service Workers are irreplaceable
Automation can make businesses more lean and the manufacturing and construction sectors have been leaders in finding efficiencies in their businesses. Their drive to reduce lost time, costly mistakes and wasted materials has helped many businesses through challenging times.
For a vast majority of Field Service jobs a person is required to carry out the work, but it's IoT sensors and machine learning that can assist rather than replace those individuals. The knowledge and experience of the Field Service operative is still vital to decision making and to ensure positive results for the customer.
How tech will change Field Service jobs
As the adoption of IoT and smart machines increases, Field Service Technicians and Engineers will shift from planned or reactive maintenance to a more pro-active approach to servicing called Predictive Maintenance.
The information at their fingertips allows them to closely monitor the condition of machinery and make judgement calls on whether to repair or replace. This is a more consultative and attentive approach to client management and will help forge better business partnerships with their clients.
Customers of Field Service businesses are going to expect this level of service. They are already receiving real time information from other aspects of their life. Online banking, package deliveries and many offer this in their own businesses, it will be expected that their service partners deliver at the same level.
To meet these challenges Field Service businesses will need to ensure they are training their teams on the use of these technologies, nurture fresh thinking throughout their business and still retain the knowledge and know-how from their more experienced team members.
Customer are the big winners when adopting IoT and AI
Most of the key benefits of adopting this technology will be passed down to the customers of Field Service businesses who use technology to work smarter. 
More efficient team scheduling, predictive maintenance and few breakdowns will mean their equipment has the potential to have a longer lifecycle and they will have to pay for fewer call-outs.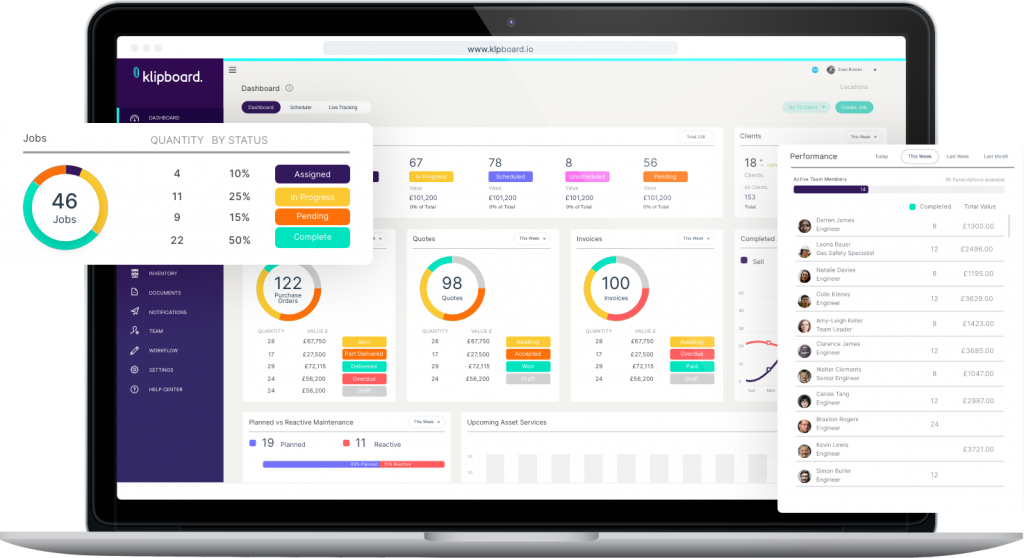 5 ways Klipboard brings Field Service into the 21st century
The most accessible step towards this bright new future a Field Service can be made by using Job Management Software from Klipboard.
Before Field Service businesses start to think about smart sensors monitoring their client's assets and robots delivering their milk, they can revolutionise how they schedule work and plan preventative maintenance today.
1. Real time visibility of job information
Being able to view job information in real time means field service engineers can react faster when they are needed. It helps deliver that 'on-demand' service clients expect. Learn more.
2. Win more business with online quote acceptance
Field Service businesses can put themselves in the best position to win new clients with online quote acceptance. Klipboard's Client Portal helps speed up cash flow and grow their business. Learn more.
3. No more missing paperwork
Klipboard removes the headache of missing paperwork by moving all our Field Service customer's forms and workflows online. This helps Field Service business provide a consistent service and ensures compliance on every job. Learn more.
4. Get time back & focus on growth
Going paperless isn't just about going 'green' and being more environmentally conscious. Using Klipboard will streamline a Field Service operation, from the office to the field and save hours which are better spent with their clients. Learn more.
5. Faster payment & integrated accounting
When a business can connect their office, their team in the field and their clients altogether on one Job Management Software it speeds up cash flow and improves operational visibility. Learn more.
Summary
The Field Service sector is embracing new technology. If some businesses are reluctant to join the AI and Smart Machine revolution, their customers aren't and that should drive change.
Many clients of Field Service businesses are implementing improved communication and shared data with their own customers and employees.
While there's little sign of a robot replacing the role of the Field Service Engineer in the near future, their role will most certainly change over the next few years. They will need to marry the use of AI, IoT devices and smart machines with their own technical knowledge to meet their client's expectations.
Latest Insights
Trade Talk