8 March 2021. Posted by Martin O'Neill
Preventative Maintenance planning is a great way to reduce the risk of asset downtime for your clients. With Klipboard we make it easy for your customers to know what assets are due a service and when.
Reaching out to the numerous clients that haven't contacted you about planned maintenance service jobs can be an administration burden to manage.
Klipboard automates this entire process by displaying to you when client asset services are due and sending customisable email reminders on your behalf. Automatic emails and our asset service reminders reduce admin and increase revenue.
It's simple to set up and can be customised to your industry needs, should your client need their asset service once a year or once a week, it's just as simple as setting a diary reminder.
Your clients will receive the service email reminders, therefore prompting them to book the job.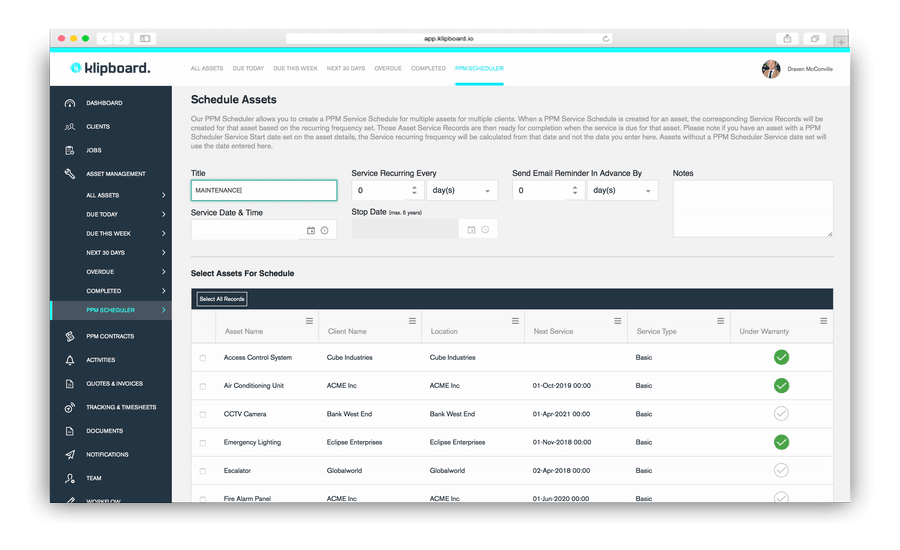 Managing asset management as lockdown lifts
While many businesses have remained accessible during the lockdown, many others have remained closed and are looking at resuming their services over the next few months, this puts extra pressure on businesses that support them and their equipment.
Klipboard subscriber Entre-prises operates in the leisure industry providing a build and maintenance service for climbing walls. As their clients plan to re-open their doors, this puts pressure on their team to schedule asset management and servicing.
Entre-prises are able to offer customer service second to none by effectively manage their asset maintenance schedule with Klipboard.
If you manage multiple assets across multiple locations and you want to spend more time working with your client than managing your administration, check out what Entre-prises have to say about using Klipboard.