Anywhere At Anytime.
Klipboard is built on robust cloud technology utilising and harnessing the power of Microsoft Azure, a leading cloud provider. Access via any web browser anywhere in the world.
Permit Your Team's Access.
Klipboard offers the ability to assign permissions to specific team members, allowing for full control over what each team member can do. Team member mobile app accounts can also be remotely deleted, whether the team member using the Klipboard mobile app is utilising a company device or their own.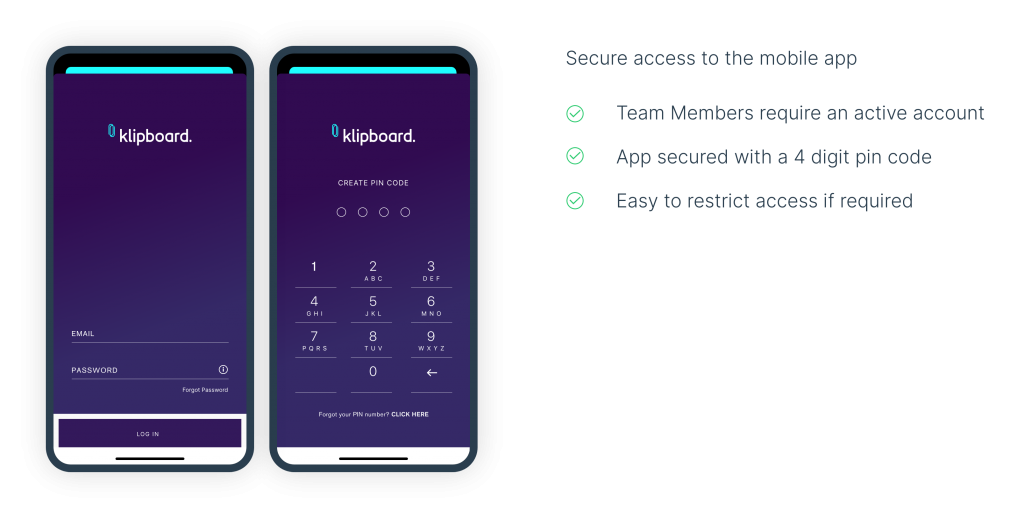 Secure Mobile App.
All of the required data for a job when synced to the mobile app is held in a dedicated app partition ensuring that the data synced or captured during a job is not shared with any other apps on the team member's device prior to syncing back to the cloud. There is an optional passcode access on the mobile app as well as an automatic timer lock giving additional layers of security. The API developed for the syncing process between the mobile app and cloud dashboard is transmitted in a compressed binary format making deciphering any communications extremely difficult.
Try it for Free
14 Day Trial. No Credit Card. No Obligation.
Klipboard is the future of field service and can improve the way you work regardless of the size of your business. If you manage people in the field and you want to offer your clients a great experience, try our 14-day free trial today.
Latest Insights
The Knowledge Hub
Keep In Touch
Receive Our Newsletter
Access regular content from our
Klipboard Knowledge Hub
- inspiration and insight for operating your field service business better.