Being able to complete your planned and reactive field service jobs relies on having the right inventory of parts and equipment available to your engineers and technicians. Many Field Service businesses have recognised Maintenance Inventory software provides them with improved visibility of their stock levels and greater cost control.
But, do you need separate software for Maintenance Inventory or could you use Field Service Management Software?
What is Maintenance Inventory Software?
Maintenance Inventory Software allows field service businesses to efficiently manage their stock levels for asset servicing and maintenance jobs. It helps control costs by avoiding over or under stocking items and ensures service businesses can use their existing inventory efficiently. Maintenance Inventory Software helps engineers and technicians easily see what they have available to them by providing more visibility of their stock levels and the exact location of those parts.
This limits the possibility of running out of parts and equipment needed for Field Service repairs, maintenance and new installations.
Typical features of Field Service Maintenance Inventory Software include:
Real time Inventory measurement so you're aware of current stock levels.
Low stock alerts to prevent running out of items needed by your field team.
Cost forecasting to accurately quote for jobs based on stock purchase prices.
Purchase order status displays whether parts are ordered, overdue or delivered.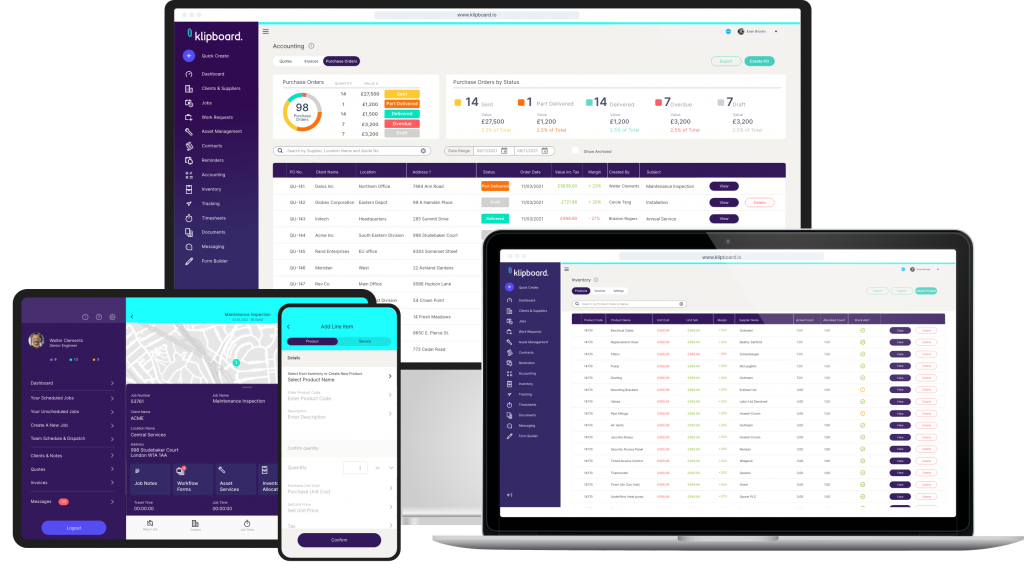 Why Field Service businesses use Maintenance Inventory Software
Maintenance Inventory Software helps sharpen up your management of parts, products and materials. Without it you'll likely have inconsistent records of the parts available to your team which will lead to incomplete jobs and potentially asset downtime.
Here are some of the potential issues you could experience without Maintenance Inventory Software:
Inefficient spend on parts
Poor tracking and location of inventory
Outdated or Redundant parts held in stock
Increased risk of loss or theft
Poor warehouse operational performance
Having the parts needed to complete repairs reduces downtime and helps you optimise your planned maintenance schedules. By ensuring that your field team have the parts and products they need, they can carry out each planned preventative maintenance job without the need to re-schedule the job due to not being able to complete the repair.
Do you need separate software for Maintenance Inventory?
Maintenance Inventory Software is found as standalone systems but also as a feature set within Job Management or Field Service Management Software (FSM).
Whether or not you need two separate software for your Maintenance Inventory and Job Management entirely depends on the market you serve and your current setup.
Do you already have a Job Management or FSM software system?
Are your requirements for Maintenance Inventory Software complex?
Is a real time or 'live' view of your inventory required?
For most Field Service businesses they will look towards a combination of improved job scheduling and data capture from Field Service Management (FSM) Software and ensure it includes Inventory Management features. This is particularly true for those who complete Planned Preventative Maintenance schedules, where their ability to complete the work is directly linked to the parts they have available.
Advantages of having Field Service Management and Maintenance Inventory software in the same platform
When you have you Field Service Management and Inventory management software within the same platform it saves a lot of time. By assigning a job to a field team member they will have access to all the relevant jobs details, asset service history, client contact information, location details and they also benefit from the features included in a Maintenance Inventory Software platform such as:
The ability to view Inventory allocated to a job
Add new products and services to a job
Accessible Inventory information on the go via a mobile app
Having your Maintenance Inventory Software linked to your Job Management will mean you never run low on the parts you need to complete a job.
Why your Maintenance Inventory Software needs to be Cloud based
Many Field Service Maintenance businesses are looking at Cloud based or Web based software. It's one of the key trends in field service at the moment and it's no surprise when you see the benefits that brings. Having a cloud based system means your FSM software or Maintenance Inventory Software is hosted on the provider's server, greatly reducing the initial investment needed to start using the system and the ongoing maintenance of the hardware.
Being Cloud based makes the software accessible by engineers and technicians on the go and provides up-to-the-minute information on job and inventory levels.
Without it you're managing your team with outdated information. This can lead to engineers presuming parts are available when they aren't, misquoting customers and even delays on completing the work.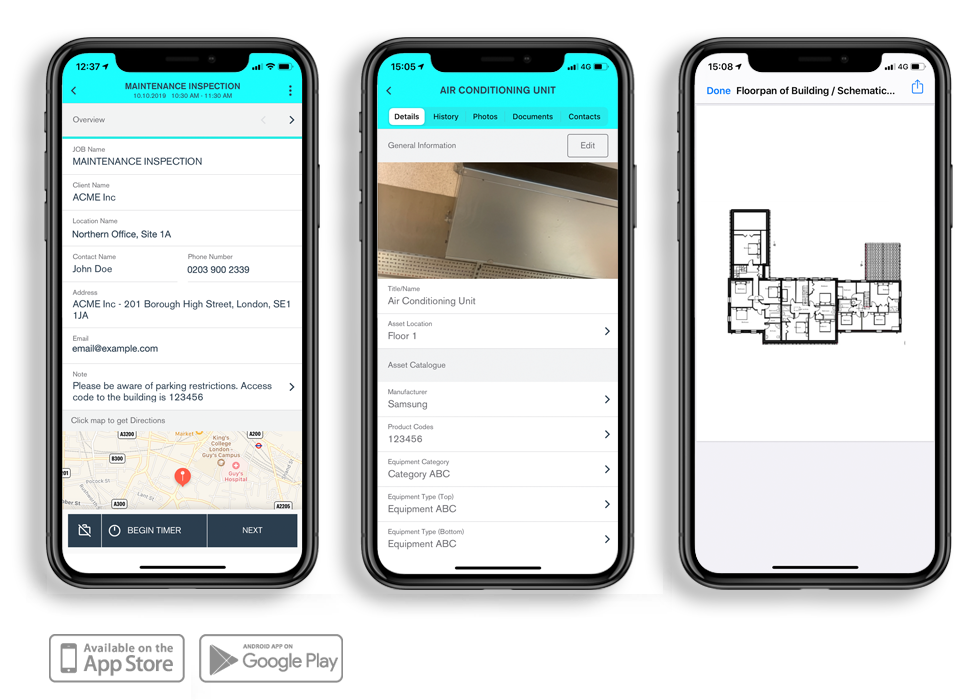 Benefits of a Mobile Maintenance Inventory App
Give your field team exactly what they need to complete their jobs. With a Mobile App providing their inventory and job details you can ensure they have the parts needed to finish the job and the map and routing information to get to their next one.
Mobile Job Apps puts everything your field team needs at their fingertips:
Client Details
Asset Details
Asset Service History
Real time job information
Digital Forms
Maps and GPS routing to jobs
Inventory and stock information
Ability to add new products and assets
Secure and restricted access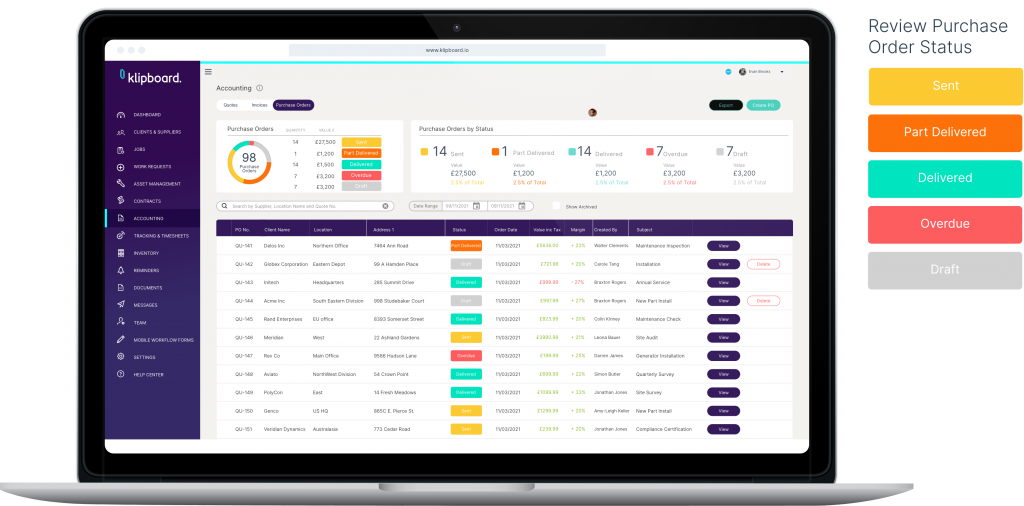 Why Field Service Business use Klipboard for better Job and Inventory Management
Klipboard has transformed job management for field service businesses. It's allowed servicing businesses to greatly improve how efficiently they can schedule jobs, while reducing their admin and helping them to quote, invoice and get paid for their jobs – in a simple and easy to use platform.
One of the features that Field Service businesses benefit from is our Inventory Management tool. Linking your jobs with your inventory makes a lot of sense as it ensures parts can be allocated to a job and your team always have what they need to complete the work.
Raise Purchase Orders
Replenish Stock
Get alerted when items reach low stock levels
Track the location of parts
Budget more effectively for each job
Greater visibility of job profit margins
Instant visibility of inventory allocated to jobs
View stock on the go with our Mobile App
For more on how Klipboard can improve your Job Management and your Inventory Management in one software platform: click here.
Latest Insights
Trade Talk