Intuitive Web Dashboard.
Accessible from any web browser, from the office or anywhere you like, you can create detailed tasks for deployment to a specific field worker.
Depending on the type of job you are doing, we offer the flexibility to assign tasks as unscheduled or scheduled where they will show on the calendar view on the mobile or tablet app for the field worker.  Offering full visibility to your field worker, tasks allocated can contain other details such as client information, location directions, additional notes and also associated task related PDF documents allowing them to have everything they need to complete the task at hand.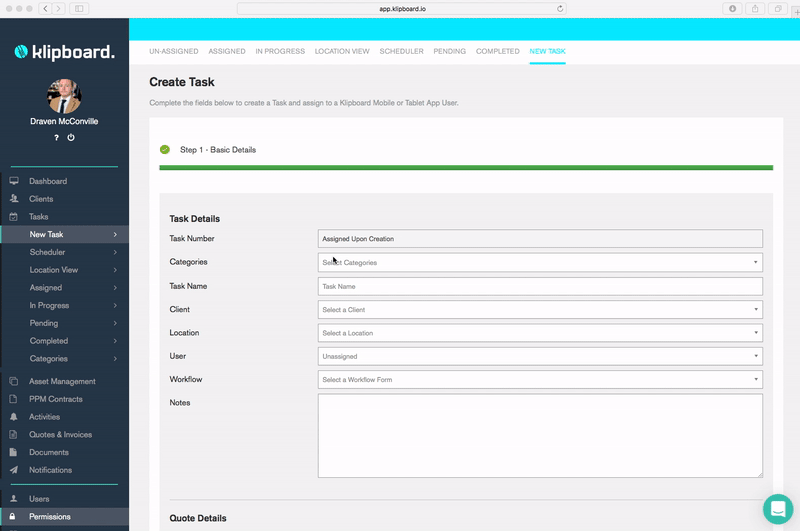 Automate Recurring Tasks.
For planned maintenance work or anything that requires your field worker to do more than one visit for your client, the recurring task feature will make those repeat visits easy to schedule and invoice. Simply click "Activate Recurring Task" and Klipboard will present you a range of options for setting up the recurring task to your specific needs and therefore automating the creation of repeat tasks for your client. 
Management & Total Oversight Of The Tasks From The Office.
A grid with multiple search filters displays Assigned, In Progress, Pending or Completed tasks. A range of options are available for editing, deleting or re-assigning as needed, ensuring the management of your field workers tasks is fluid. If you need to see geographically where your tasks are in progress, then our map view is perfect for seeing detail on each.

Once your field workers have completed tasks on the mobile or tablet app and synced, back in the office you can see those tasks in pending. Simply check them and if required, send back to the field worker for edit. Once you are totally happy, tasks will move to completed where they can then be invoiced if required and also any forms or reports completed by the field worker for that task can be downloaded as PDF in your custom style or CSV file for use in excel or other software. If you need to share the completed task forms or reports, simply use the email functionality from within Klipboard to send them to your client.