Your customers' assets are vital to their ongoing ability to generate revenue and create safe environments for their employees, building occupants and visitors.
Keeping on top of service schedules to meet compliance standards and ensure the equipment is running at peak performance can be a challenging job when you're responsible for the maintenance and upkeep of numerous assets. The trend for Field Service businesses is to use cloud-based asset management platforms, often built into job scheduling and dispatch software to help manage the service schedules for customers.
However, there is still a need to keep an ongoing, accurate and frequently updated record of these assets through an Asset Survey.
Skip straight to 7 ways to make Asset Surveys easier
What is an Asset Survey?
An Asset Survey is a comprehensive list of all assets owned, operated and maintained by a company, building or organisation. Asset Surveys are carried out by service partners or inspect, maintain and repair these assets to keep them operating within complaint standards and peak performance.
Assets can vary from Mechanical and Electrical equipment such as HVAC systems, to complex bio-medical scanning equipment. Details of these assets are recorded and stored for future reference, audits and reporting purposes.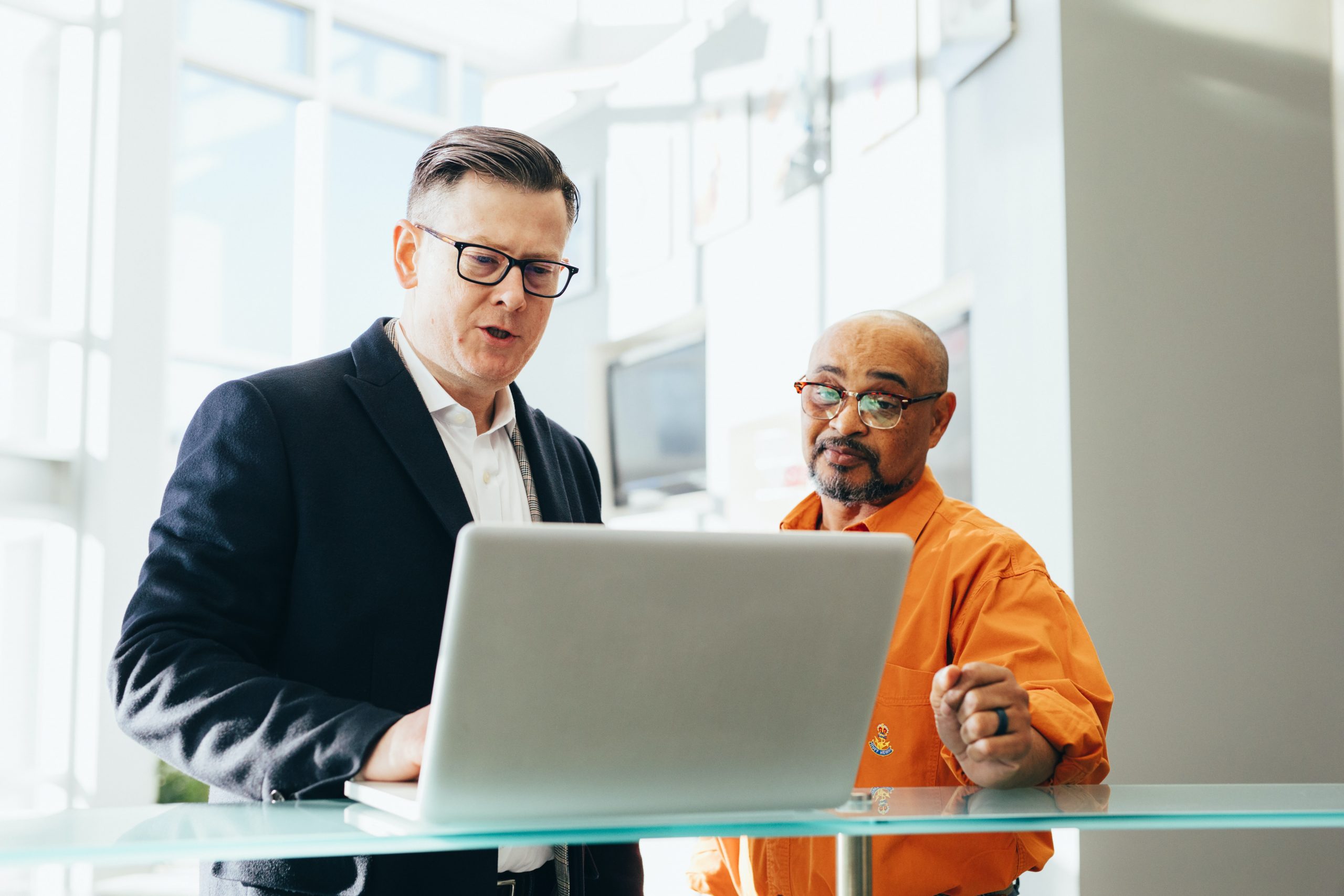 What information is gathered in an Asset Survey?
Each asset may require different information to be collected depending on its use case. For example, a HVAC system will need to be checked for F-Gas leaks which can be harmful to occupants and Medical Microscopes used in Healthcare Facilities will need calibrating and its current measurements recorded.
The Field Service business responsible for the Asset Survey and maintenance of the equipment will need to use specific forms for each use case. Typically the following details are nearly always recorded:
Location of Asset
Type of System
Asset Make/Model
Serial Number
Installation Date
Condition
Supporting Photo evidence
Frequency of Maintenance
Description of the Maintenance requirements
Who carries out Asset Surveys?
In almost all cases the people carrying out the Asset Surveys are those who are responsible for the upkeep of the asset. In some cases a Facilities Management Team or Building Services Manager for an organisation may wish to conduct their own surveys for auditing purposes.
Because of the need to ensure the condition of the asset and maintenance needs are recorded it's often a duty given to those experts in that particular field to carry out the Asset Survey.
A building may require multiple Asset Surveys from several different service providers. The business responsible for ensuring the lifts and escalators are routinely checked are unlikely to also be responsible for the HVAC systems.
The Facilities Management team may have to collate these Asset Surveys together to give an accurate picture of the condition of all assets.
Why Asset Surveys are important
Asset Surveys play a huge role in a businesses ability to ensure their equipment meets safety and compliance standards and the cost of failing to meet compliance can be steep.
The costs of non-compliant assets
The risk of failure of equipment and its impact on the occupants or operators of the asset can cause harm which can lead to injury or even fatalities. That's why strict penalties are in place for building owners or employers who fail to maintain certain standards.
In 2018, US companies were subjected to £4bn in penalties relating to failing to meet compliance.
If the cost of compliance is steep the overall cost of workplace injury and ill health is even more so. In the UK it was recorded that the cost of inability to work reached £16.2 bn due to workplace injuries and ill health. It was estimated over 610,000 workers were injured in workplace accidents.
The indirect costs of non-compliance
Employers aren't only preoccupied by the potential fines of failing to meet compliance on their assets. There are some indirect costs that can take a real toll on a business and seriously harm its ability to generate revenue, these include:
Their reputation as a safe and responsible employer can be called into question through the negative PR non-compliance can create.
Seizure of non-compliance assets not only require replacement but also leave the business without the ability to repair them or generate revenue from sales.
Court injunctions can be put in place to cease trading.
The risk to the public, employees, the cost of equipment downtime and the ever looming threat of hefty fines are what motivate businesses to ensure they work with skilled servicing and maintenance experts to avoid these pitfalls.
However, it's their reputation that can take the biggest and most costly hit.
What industries use Asset Surveys?
If your role is to monitor and ensure the ongoing performance of your customers' equipment you and your client would benefit from Asset Surveys.
These are used in various different industries such as:
Building Services
Facilities Management
Mechanical and Electrical Equipment operators
HVAC and Water Treatment contractors
Fire safety compliance services
Alarm and Security Installation contractors
Healthcare and Medical Device operators
Gym and Spa equipment maintenance
Software you should use when carrying out an Asset Survey
One of the biggest trends in Field Service is the digitalisation of day to day activities in an effort to streamline their businesses and reduce the amount of time entering data.
Job Management Software has enabled field teams to receive jobs and access the accompanying details via their smartphones and Mobile Digital Forms are reducing the need to duplicate admin created in the field from reports.
Asset Surveys are even easier to update today thanks to this technology and its ease of use has significantly reduced the barrier of entry. Cloud-based software providers like Klipboard have ensured anyone can use the software, complete forms and update asset registers with their intuitive web platform and mobile app.
Advantages of using Job Management Software for Asset Surveys
There are numerous advantages to using cloud-based Job Management Software for Asset Surveys, here's just a few ways you can benefit by upgrading your processes to a more modern approach:
No more paperwork
Digital Forms completed on a smartphone means we can finally get rid of triplicate paper forms. Those tatty and often misplaced pieces of paper not only take time to return to the office for report writing, they can also go missing leading to long delays in raising the invoice.
Forms built for their purpose
Asset Surveys are specific to the equipment that's being surveyed. The details you record for a HVAC system is going to be different to a Water Pumping Station.
Job Management Software allows you to build templates for the exact requirements of the job. That way you can ensure the correct tasks are carried out.
No more QR codes
When you can record the location, model and serial number of an Asset, why even have a QR code? 
Being able to log into your Klipboard app and instantly see the asset, a photo of it and all the identifying details removes another step and helps your team use their time more efficiently.
Everything you need at your fingertips
Having all your customer's asset details immediately available at the click of a button is a huge benefit when using Job Management Software.
At an instance your team can check which assets are due a service over the next days, weeks and months, making it easier to plan their schedule and ensure no service is missed.
Instant access to asset details comes in handy when you're caught off guard and your customer asks questions about their equipment. Your team can confidently filter by client and view exactly the information they need to answer the query.
What's the difference between an Asset Survey and a Condition Survey?
A Condition Survey goes beyond simply logging the presence of equipment. It is performed to determine the operating performance of an asset and provides a more detailed report to help clients, building owners and service partners identify potential issues early.
When potential failures are spotted early they can be avoided. By doing so you can extend the life cycle of assets, reduce the costs of adhoc repairs and the disruption it has on a business.
How Asset Management Software supports Condition Surveys
Carrying out a program of Planned Preventative Maintenance (PPM), requires a service team to have a clear and complete picture of the assets they are responsible for the upcoming service dates, access to service history records and be able to spot trends.
Klipboard provides Field Service businesses with the software they need to manage their customers' assets. Using our Asset Management Tools you can easily create an Asset Register, record all the details needed in your Asset Survey and effortlessly create a PPM schedule.
For more on PPM schedules check out this article: What is a PPM schedule?
PPM schedules managed through Klipboard use Automated Customer Communications which alert them when they need their equipment serviced. That means you can concentrate on getting the work done, while keeping a close eye on what work is upcoming.
7 ways to make Asset Surveys easier
The benefits of carrying out Asset Surveys to ensure your customer's assets remain compliant and fully operational are clear.
Here's 7 ways you can make process of carrying out these Asset Surveys easier:
1. Job Management Software will streamline all aspects of Asset Management
Finding a Cloud-based software provider will need to be your first step. Streamlining your Field Service operation and ensuring the smooth flow of information collected in the field to your office is the starting point.
With Job Management Software you'll be able to take the details collected on each Asset Survey and store that in a single location, accessible to those in your team who need the information for job scheduling, quotes and invoicing.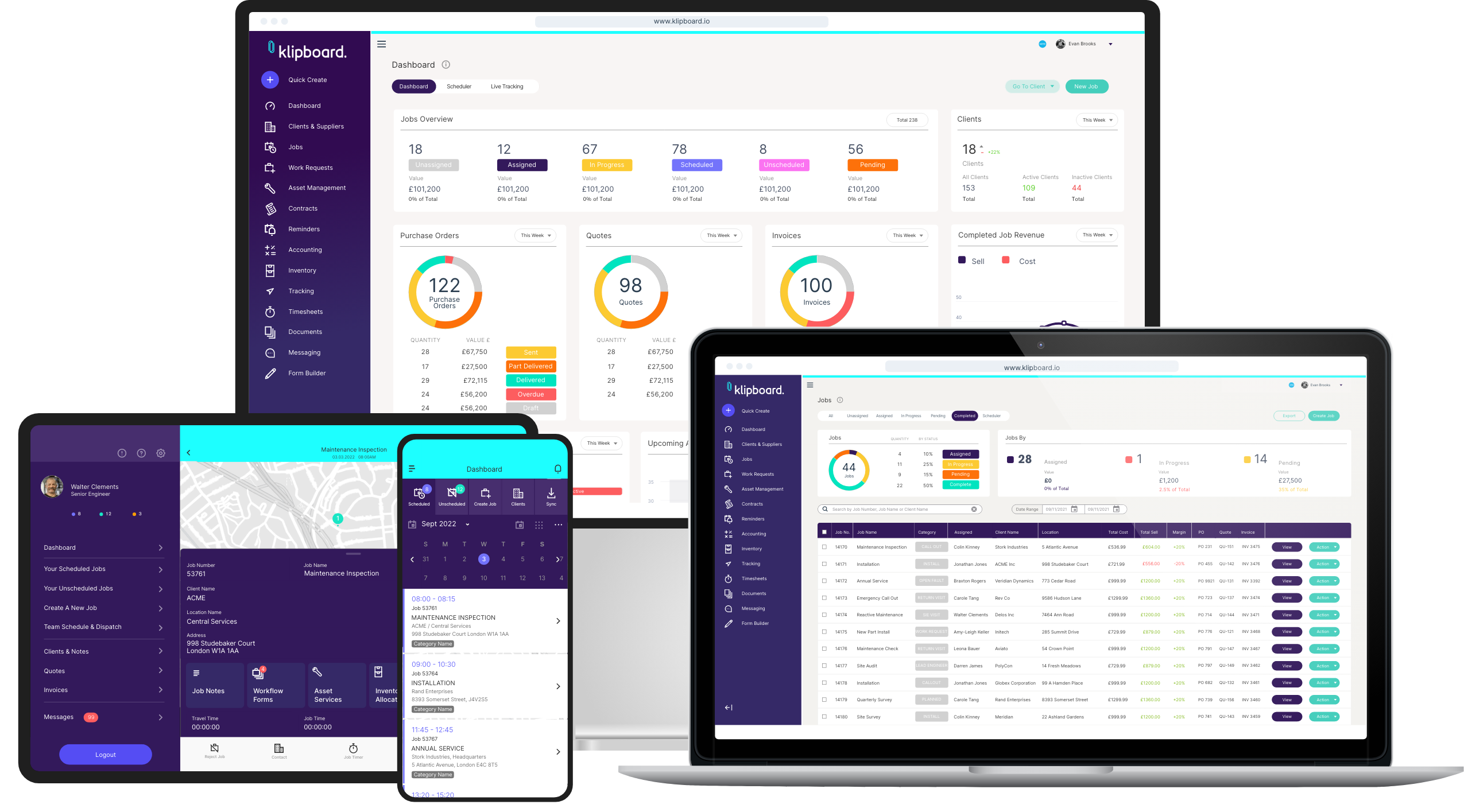 2. Empower your Team with Mobile Forms
Collecting details such as the condition of the asset, photo evidence and logging any part usage or repairs is important to the smooth running of your operation. With the collect tools to hand your Field Team can save valuable hours. That's why you need to pick software that also includes the ability to manage asset details from a smartphone or tablet app.
Managing Asset Surveys isn't just about logging details, your team may also be required to register new assets to a register. With the right mobile app you'll be able to update your customer's records in minutes rather than gathering all the details and re-typing the information into a log later.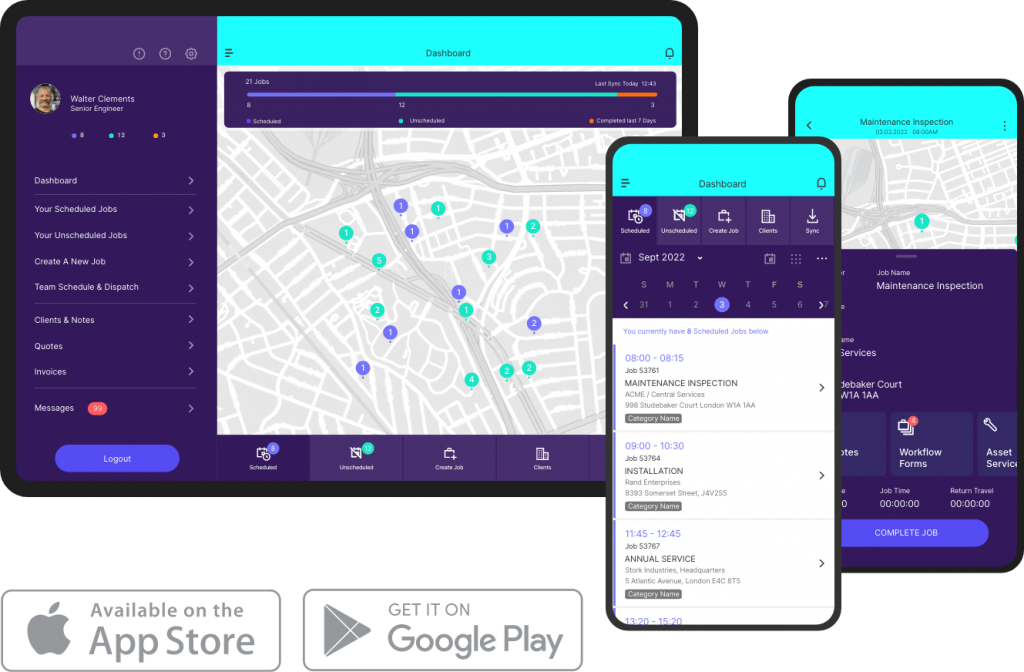 3. Build Forms or use Templates to match your Asset requirements
Using templates for your Asset Surveys will ensure consistency in your team's work is guaranteed. Mandatory fields can be included to ensure checks or tasks that are required to meet compliance are carried out.
Each type of Asset may need a different survey so it's important your team can quickly access the correct forms for each job.
On Klipboard, when a job is dispatched to a Field Team member all the details of the job are sent to their mobile app. The client name, location and any notes about the job are included but most importantly for your Asset Survey requirements, the corresponding Templated Forms are attached.
You may need to build a form specific to a particular client or piece of equipment. Ensure the whichever Job Management Software provider you choose, allows you to create what you need. Also enquire about the costs incurred for creating these forms.
Klipboard's intuitive Mobile Form builder allows you to quickly and easily build any type of form you need in minutes.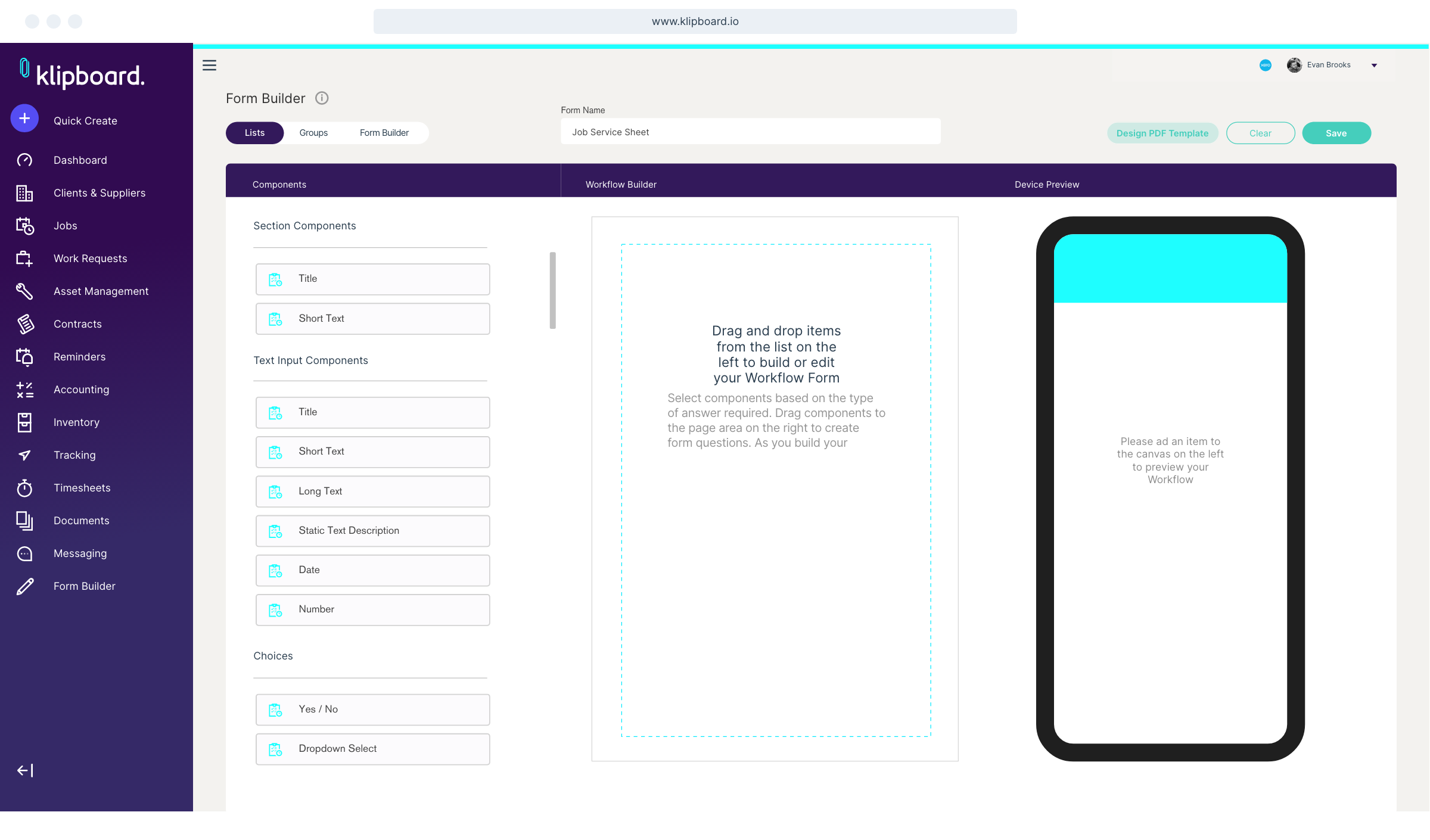 4. Stop using QR codes
Don't waste time finding a QR code and scanning it to check you're surveying the right asset. Your Job Management Software should have a complete Asset Register to hand on your mobile app.
Make, model, serial number and photos of the asset can be added so it's clear what equipment you need to inspect. Removing the need to scan QR codes removes another unnecessary step in your team's day to day tasks.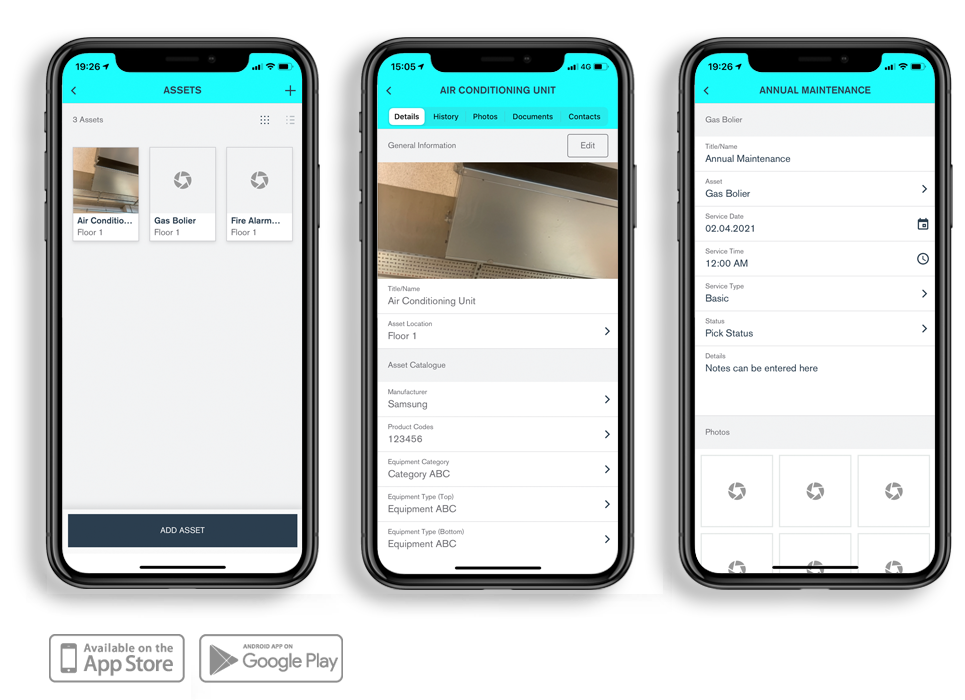 5. Make Asset Surveys part of the service
It's very easy to underestimate the value of your service, particular services around Asset Surveys.
Making Asset Surveys part of your available services allows you to build lasting relationships with your customer and helps your customer gather reliable audits of their asset portfolio without the need to count and check themselves.
When you're tendering for new work with a prospective client explain the benefits of this service including the ramifications of non-compliance.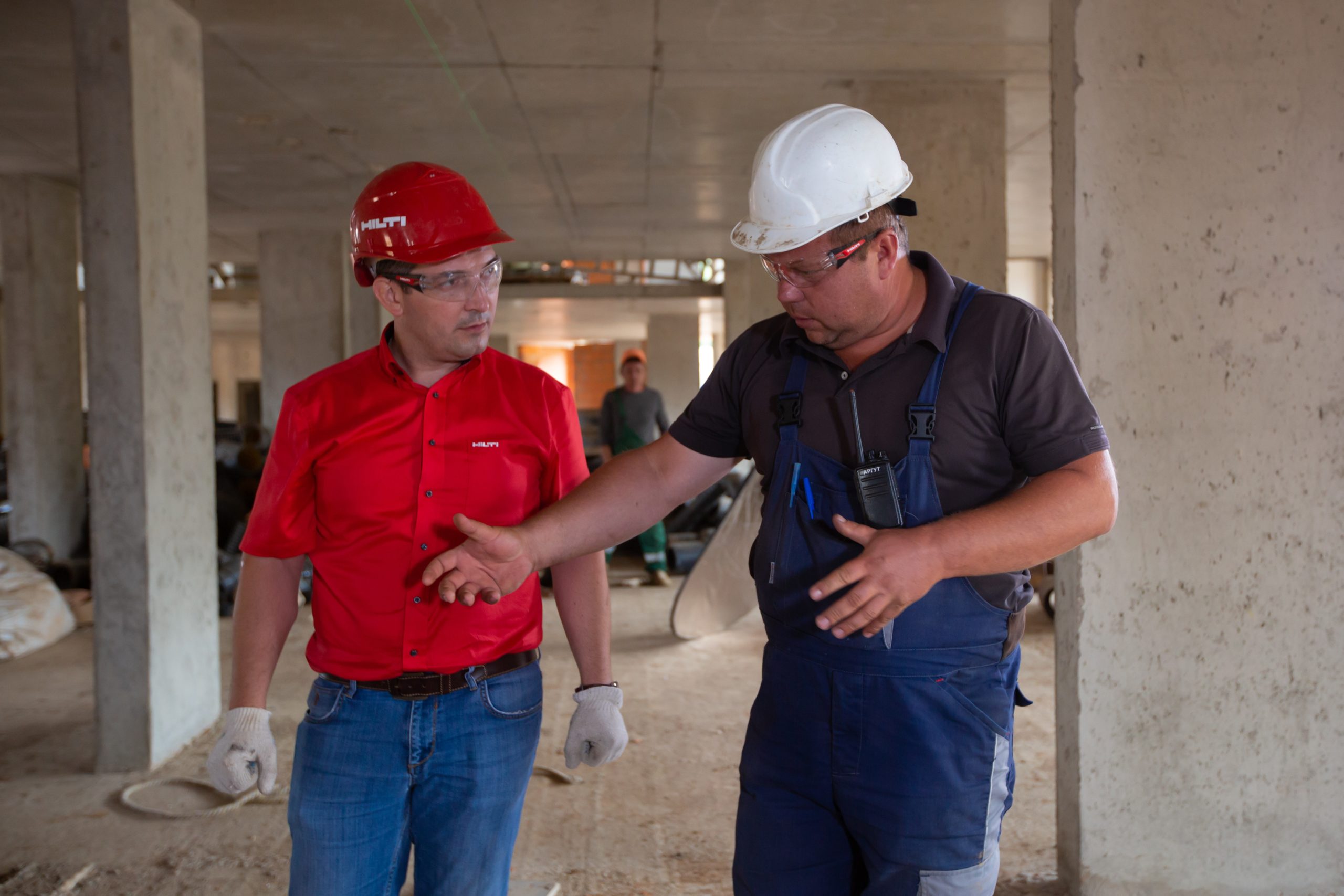 6. Share information with your customers through a Client Portal
88% of customers expect to be able to log into a platform or website and see the status of their jobs and their services. That's the findings of a customer survey conducted in the US around the growth of on-demand services.
The emergence of services such Uber, DoorDash, JustEat and Deliveroo have raised the bar when we talk about minimum expectations for customers. It's now important you are able to quickly offer information on your customers jobs and assets 24 hours a day, 7 days a week.
Client Portals offer a way to achieve improved visibility. They greatly reduce the amount of time you spend fielding phone calls and replying to emails by offering asset and job details at a glance.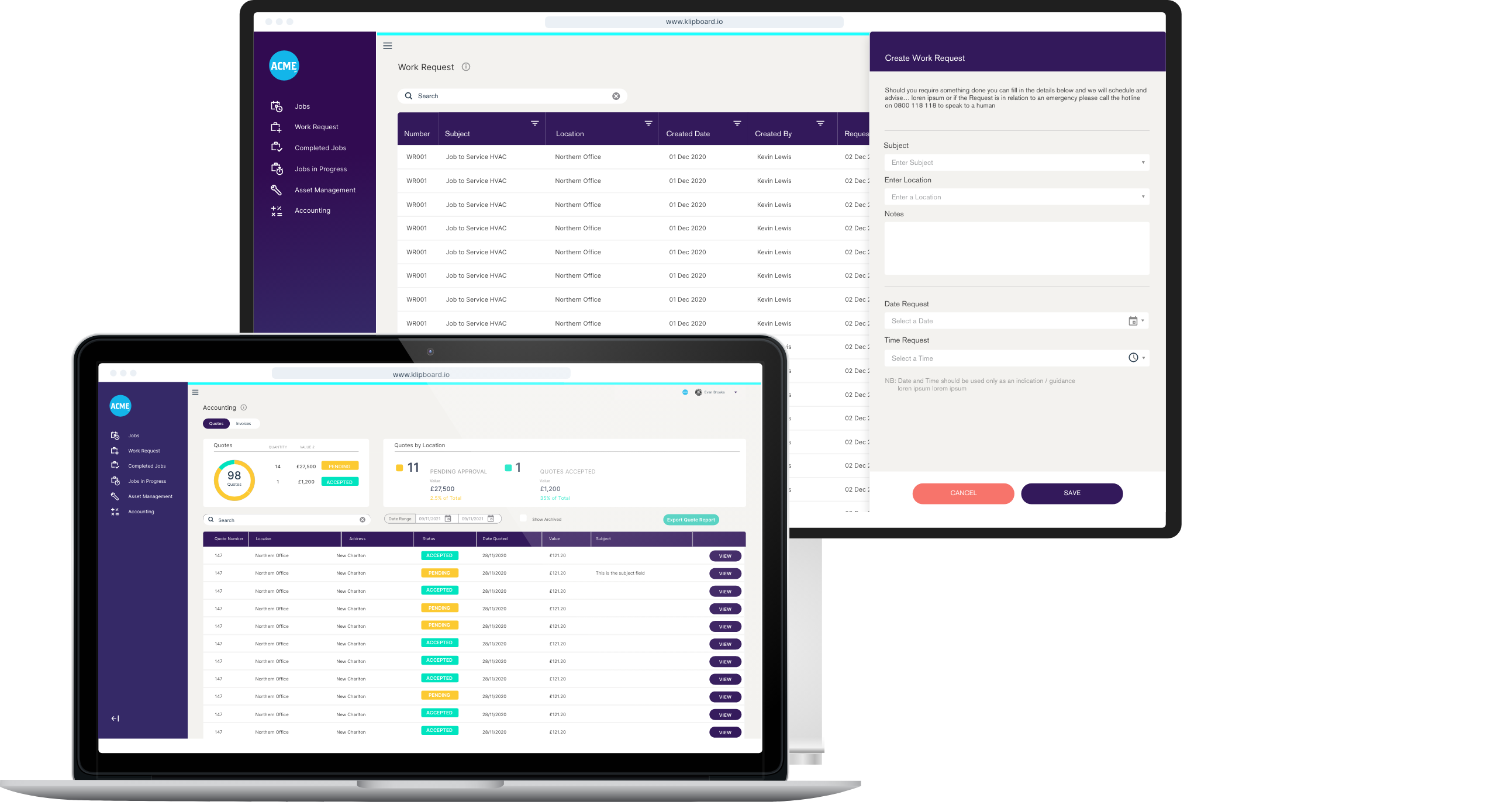 7. Use a Job Management Software provider with excellent training and onboarding
Adding Digital Forms, Client Portals and building your own templates requires you to learn a few new skills and train that across your team.
How challenging that has to be is dependent on the onboarding and training services offered by your Job Management Software provider.
We always ensure each customer is set up with their own onboarding schedule and all 'Champions' or key users of the platform get the training they need. Before you choose a provider make sure they can offer you details on how they get you started.
Cloud-based Software is helping Field Service businesses carry out Asset Surveys that matter to their customers
The importance of meeting compliance and ensuring your customers assets have a long and productive life cycle is very vital. Your role in that is critical and the value you bring to your customer for keeping their equipment up to code and operational is undeniable, but it's a challenge to do this without the right support.
That support comes in the shape of intuitive, easy to use, Cloud-based Job Management Software. If you would like to see for yourself then start a Free 14 day trial with Klipboard.
Latest Insights
Trade Talk