Rising energy prices, field costs and inflation has put pressure on Field Service businesses to find cost savings wherever they can. Medical Equipment Maintenance Software provides servicing businesses with a more efficient and streamlined way to run their operation.
Almost every sector is affected by soaring energy prices and the need to mitigate waste and find additional cost savings isn't going away any time soon. ING predicts the value of Oil is expected to remain above $80/barrel until 2024.
What is Medical Equipment Maintenance Software?
To better manage the schedules of your Medical Equipment service technicians and engineers you need improved visibility of your operation and the ability to share information around your team.
Medical Equipment Maintenance Software helps servicing businesses to carry out Planned and Reactive Maintenance jobs in a more efficient and cost effect way. It achieves this by streamlining the process of creating jobs and assigning the work to field teams. Digital Mobile Forms provide a more time efficient way of capturing data from the field and instantly syncing this back to the office greatly reduces the need to duplicate admin.
Features commonly found in Medical Equipment Maintenance Software
Job Scheduling Boards
Performance Dashboards
Customer CRM and Supplier Management
Asset Management Tools
GPS Tracking
Digital Mobile Forms
Quote, Invoicing and Purchase Order systems
Xero & Quickbooks integration
Client Portals
Automated Customer Communications
Not all Medical Equipment Maintenance Software providers will offer all of these features. The features listed are improved solutions to many of the day to day tasks Medical Servicing Businesses carry out.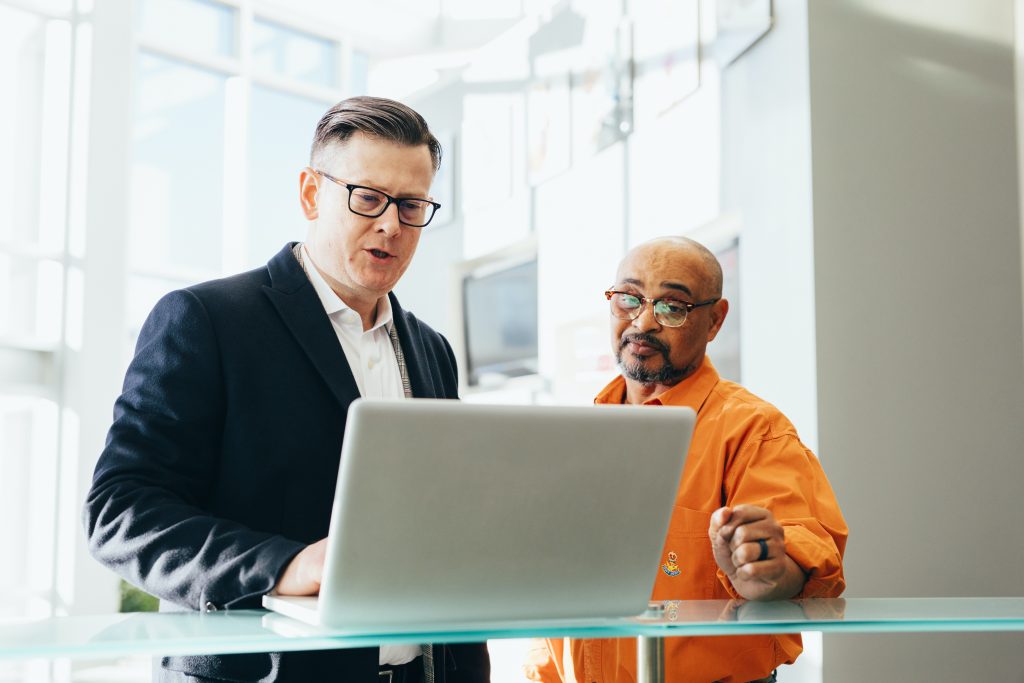 What is the best software for Maintenance Management?
When choosing which Maintenance Management Software you should use you need to consider how your team presently operates and the needs of your customers.
Do you need a way of periodically reminding your customer of an upcoming service?
Is it likely your field team will use a variety of different maintenance checklists on site?
Are your field teams likely to operate in areas of little or no wi-fi or phone signal?
Are you required to offer your customers bespoke reports on each service?
Do you need to adjust your schedule when reactive jobs occur?
Every service business is different but if the answers to the questions above are mostly affirmative then you need a Cloud based Maintenance Software platform that allows you to create and share bespoke forms, customer reports and work orders with your team in real time while providing automated customer communications to ensure your client's know when their next service is due.
The best use of your time is to find a provider that offers these features and book a demo with them to see how it could work for your business.
Klipboard offers a personal demo of the platform and we encourage you to bring people onto the call from other departments or come with a list of questions – we will be happy to answer for you so you can be sure if it's right for you.
Click here to book a demo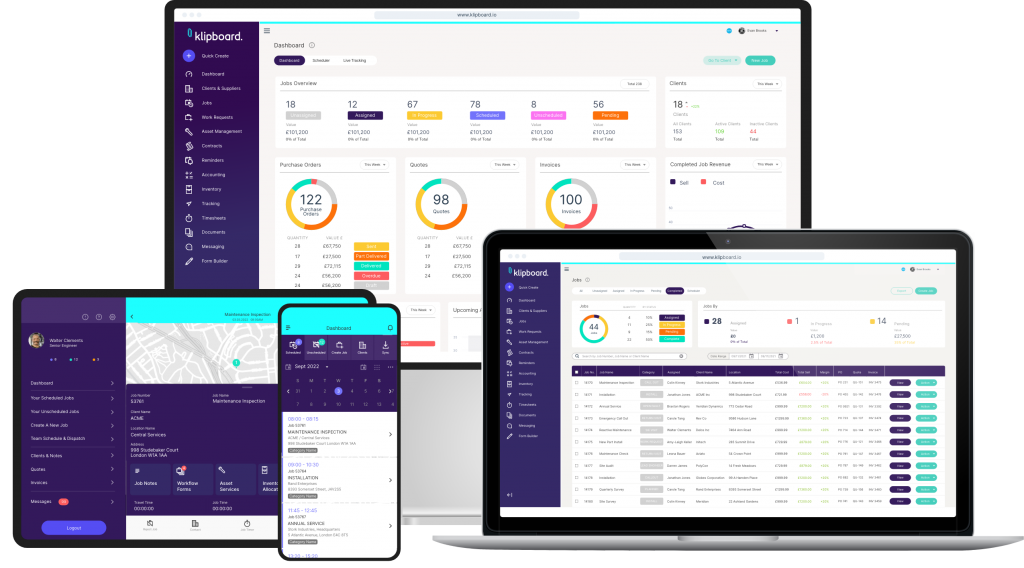 7 Cost Saving Benefits of Medical Equipment Maintenance Software
Running a Field Service business has never been more challenging. Your customer expectations are always rising and competition in your markets will put pressures on your ability to turn a profit.
Here's seven ways Healthcare equipment servicing businesses are using Medical Equipment Maintenance Software to introduce measures that increase productivity, reduce waste and help them run a more cost effective business.
Better Route Planning
Inefficient route planning wastes time and fuel. Medical Equipment Maintenance Software that includes smart Route Planning through a mobile app helps your team get to their customer using the most efficient route.Empower your team to reach more jobs in a day by using better route planning. A simple tap on an app will display a map to your field team worker. The rising cost of fuel has made this a key cost saving benefit from many Healthcare Servicing businesses.
An Improved First Time Fix Rate
A good First Time Fix Rate (FTFR) is fundamental to a well run service business. This is particularly important in the Healthcare Industry as delays in bringing an asset into working condition can have a significant affect on patient wellbeing.

 

Improved insight and visibility of previous asset service history, inventory and part availability and better job schedule go along way to improving your FTFR.

 

You can read more on improving your FTFR here.
Stop Duplicating Admin
The average Field Service professional spends around 6 hours a week on admin. Typing up notes, producing reports and creating finance admin back in the office for quotes, invoices and purchase orders is incredibly time intensive.The most egregious of these activities is duplicating admin from maintenance checklists and notes in the field. This is entirely avoidable with Medical Equipment Maintenance Software. Digital Mobile Forms help your field team capture data and then instantly share it with your support teams. This information is then used to create PDF Reports for your customer or can be used for your finance admin.
Optimize Inventory and Parts usage
Poor stock management will eat away at profits. Holding onto equipment that is replaced or redundant is avoidable as is running out of regularly used parts.When servicing Medical Equipment your field team needs to be aware of what's available to them and where it's stored. Medical Equipment Maintenance Software gives your whole team a better view of your parts and inventory, allowing your team to finish more jobs, your customers' needs will be met and your purchasing team will always be made aware of when items are running out of stock.
Focus on more profitable jobs
Not all jobs are worth the same to your business. Sometimes even large projects or key customers will have you working on jobs that have low profit margins.How much visibility do you have of the value of each job?Performance Dashboards in Medical Equipment Maintenance Software help you view the profit of each job and help you focus your efforts towards the jobs and clients that provide the most value to your business.
Accurate billing for hours worked
Gain greater visibility of your field teams and create savings by tracking exactly the number of hours worked. Your Medical Equipment Maintenance Software should include a timer feature allowing your field teams to accurately record the travel time or job time for each work order.
Streamlined Finance Admin for better cash flow
Cash flow is the life blood of your field service businesses. Your ability to operate your business effectively is directly linked to how well you manage your invoicing.Avoid bottlenecks, payment delays and mistakes by using a single system to manage your jobs, quotes and invoices. Medical Equipment Maintenance Software provides a clear picture from start to finish and helps reduce the time it takes to go from a completed job to a paid invoice.
Latest Insights
Trade Talk