A poignant title for this article and utilises the wise words from the great George Bernard Shaw. Change can be uncomfortable for most but be bold and be brave as life is not a dress rehearsal. It's a motto I like to personally live by and a culture I like to instill in the Klipboard team.
That energy and vibrancy for life is what we have brought to our bold new brand. We are super excited as a team to share this and what we've got planned for the future of the field service industry.
We've made some big changes to our brand – it has a confident, straight-talking approach. The days of people having to use dull, drab, unintuitive business software should be consigned to the history books. Our mission is to bring smart, intuitive, user-friendly and easily accessible job management software to the many field service businesses across the world – we believe our new brand reflects this.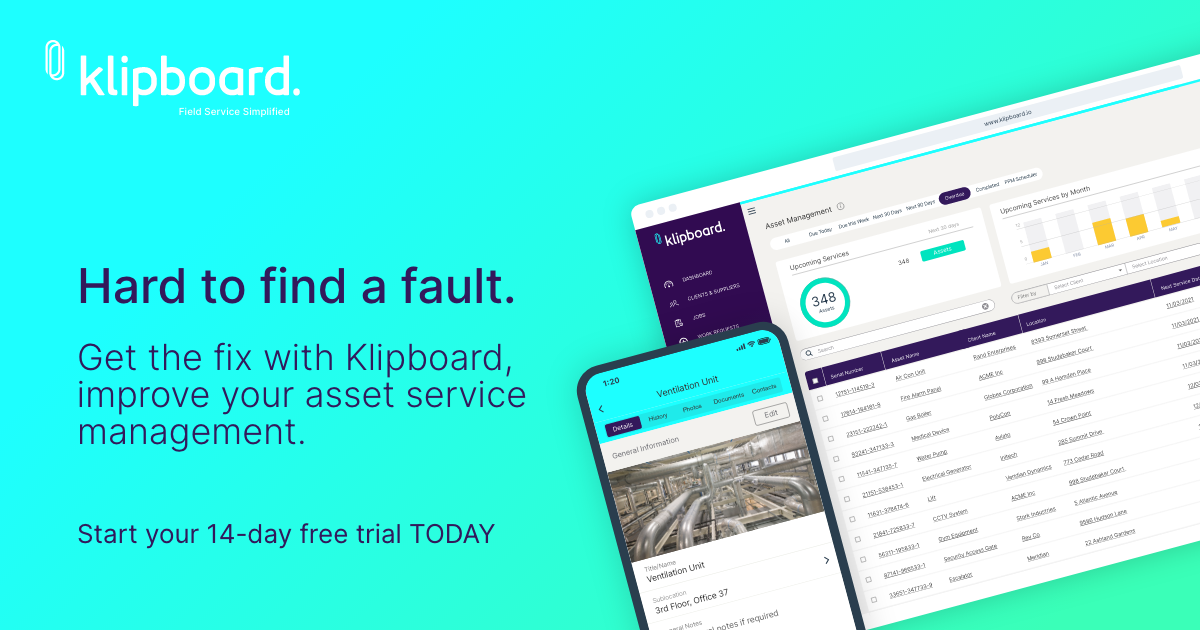 I can relate to every founder and business owner that sheds blood, sweat and tears in building their business. Their ambitions are my ambitions too – to grow a successful business. That's why our priority at Klipboard is to help our customers achieve their ambitions for their field service business by providing a software platform that unlocks business growth potential.
Our team works hard and I'm constantly impressed by their talent and enthusiasm for what we are creating. Every aspect of our new brand has been painstakingly crafted and executed by the team internally, an incredible achievement.
Enough of my visionary words and more importantly let's be real – this would not have been possible if it wasn't for our loyal customers. Genuinely, thank you from all of us here at Klipboard.
Draven McConville
CEO
P.S If you want to know more about rebranding a business? Read more below….
Why Would You Ever Rebrand?
Fair and reasonable question. Typically people think of a rebrand as a "new logo", it's more than that. It encompasses every touchpoint your customer has with your business such as tone of voice, marketing content, customer service and more.
From the beginning of Klipboard we've been totally focused on improving our customer's experience through the software we provide them but also how they interact with other touchpoints within our business – for example our support and training. We decided to evaluate all of this and the conclusion was that our existing brand didn't match our friendly, straightforward approach.
This glaring conclusion and also a gut instinct lead to the decision that a rebrand was required as it would give a more cohesive, engaging and authentic experience for our customers across all the business' touchpoints.
This is not the only reason, it is also for growth, not just in revenue terms but to enable us to grow our offering for the future of the Field Service industry. We've simplified field service and I like to think we have given it the 'wow factor'.
For your business a rebrand could bring a cohesive approach to every customer touchpoint, unlock a new direction and opportunity for growth. A brand can bring an emotive response and rebranding a business can create a newfound energy for not only your customers but also your team.
It is no small undertaking to rebrand, so take time to evaluate your business and decide if there is a genuine need to – not just because a new logo would look good!
Remember Where You Have Come From
I've always been very proud of what we had before. We've also been flattered by the reviews people left for our platform and the feedback from our loyal subscribers.
However, over time I realised the previous brand didn't match our own ambition. I believe the bold new look we've created isn't like anything else in our industry and that is reflected internally too. We're built a bit different, we're straight-talking, direct, approachable and confident, that's clear in our re-brand.
When you decide to rebrand it is important to reflect and consider the origins of your business as that ensures you bring that original spirit into the new one. The personality and characteristics of your team should be considered as your team is your business – in my opinion, it is important that your culture is reflected in your brand.
How Do You Begin
There is an immense amount of points to consider when you start this journey. Particularly when you've got the needs of your loyal customers to consider. They've been central to our thoughts from the very beginning.
Firstly, you should consider the main objective of what you wish to achieve. Is it to change the direction of the business? Or is it simply to reflect the trends within your industry?
Once you have that focus point you can then begin to reflect on what your current brand identity or name is (in our instance we kept our name) and how you could evolve that into delivering your main objective. When we decided to rebrand our platform, we identified that our journey should start with the most important touch point, where an engineer in the field begins a day or starts their job – they kick everything off by touching our app icon.
Our Icon had to retain a familiarity and remain a constant, the one non negotiable element we knew from the outset was to retain our vibrant sky blue colour as it is a hugely important brand element for us. Originally we picked that colour to give us an instantly recognisable brand that could be associated with Klipboard. In terms of the identity we did consider various evolutions and even ventured going quite far away from our original identity.
However, it was hugely important for us to recognise the importance of retaining the legacy of the original look and retain a familiarity for our existing client base. We've managed to make changes but retain a level of maturity to the brand. We supplemented these changes with a revised secondary colour palette which evokes the depth the Klipboard platform has evolved into.

The other assessment was on our typeface which we softened substantially to better portray the company we strive to be. We've moved away for the angular nature of the original font to something more soft and approachable. If you are a subscriber, or on trial, we have changed the typeface you will see on the web app. This very subtle change was to improve legibility and more importantly efficiency.
We always aim to be straight-talking, our principle is to communicate as clearly, concisely as possible. We want to simplify field service management, helping our customers get more out of each day. We haven't removed any functions to our app, in fact we've enhanced the user experience and statistical dashboards for improved visibility. Our goals are the same and the evolution of our brand is to reflect them.

What Will Achieve A Successful Rebrand?
If you think it's going to take considerable work to re-brand, you're probably still underestimating it!
If Klipboard wasn't a team full of talented people who can share their opinions and benefit from transparent, constructive communication, it would have been much more difficult.
As with anything in business, it comes down to communication and it also happens to be the key to a successful rebrand.
From the beginning to the end, everyone in your team should feel that they have an ownership stake in your re-brand. That is achieved by ensuring there are channels for structured communication to enable the ability for all ideas and opinions to be openly heard. Constant updates as it progresses also keeps your team's enthusiasm for the rebrand alive, resulting in keeping that drive when the process gets tough.
Never Standing Still, Always Evolving
We as a team all love what you see today, but we know it will evolve over time. As the philosophers say, change is the only constant in life.
Just as your business grows and evolves, so must your branding. You could easily find yourself in a position where your brand identity no longer represents your offering or doesn't resonate with your target market.
What we have now is an exciting bold new look that's a fresh change for field service but it will also allow us to evolve.
5 key lessons when rebranding
1. Treat every customer touch point as a brand awareness opportunity
2. Use a rebrand as an opportunity to stand out in whatever market you're in
3. Start your rebrand by considering the objectives of the business
4. Keep everyone involved from the beginning as communication is vital
5. Accept that your brand will keep changing but remember your original objectives and company values