15 March 2021. Posted by Martin O'Neill
Klipboard is mobile field service management for the mechanical engineering industry made simple.
Our platform empowers our subscribers to complete more jobs and have happier customers, by allowing you to focus on the tasks and not the admin. No more duplicate data entry, put an end to wasted journies, and never miss a scheduled service. Klipboard is an easy-to-use platform, built with your business in mind and the best thing is it's so simple to implement into your processes.
We've helped plenty of mechanical engineering businesses like yours succeed and grow their customer numbers.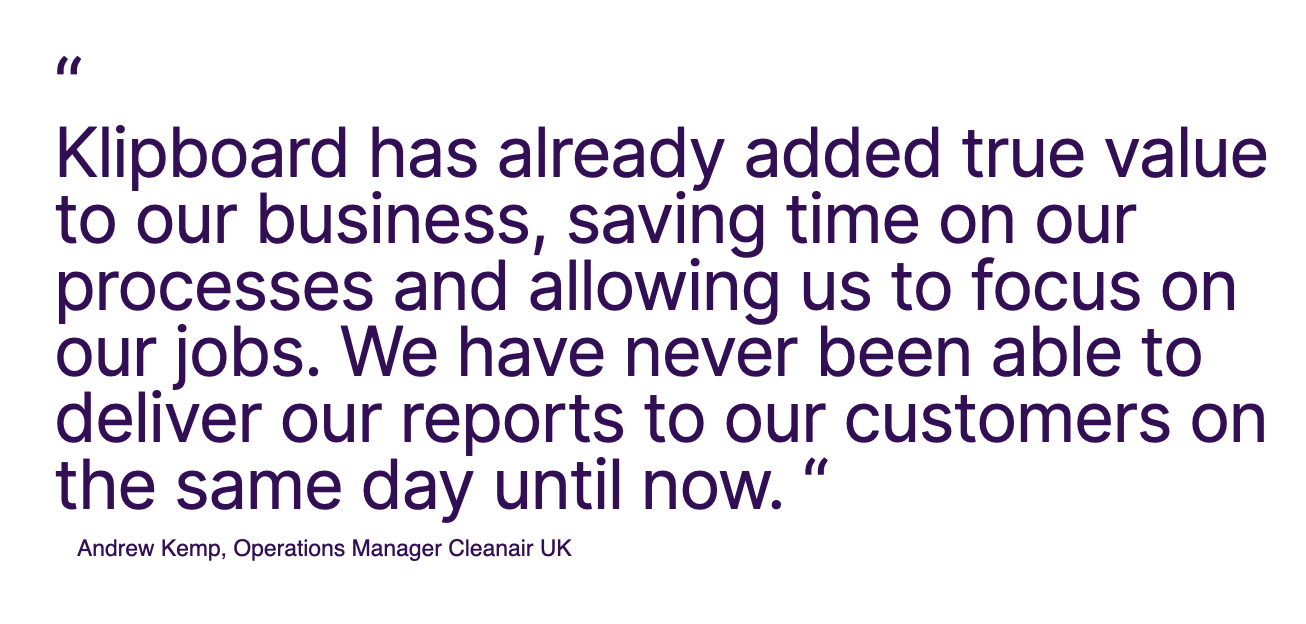 Plan for the unplanned
With Klipboard's drag and drop calendar, you can easily assign people to jobs and react when your plans change. An emergency repair or an unexpected absence is easily managed with Klipboard. Track and optimise how you allocate your team in the field. No more confusing text messages or messy diary requests, instead you can manage your jobs and your people all on one platform, so if the job changes, it's easy to move people around and get them to where they need to be.
We know that a lot of mechanical field service providers may be called upon at short notice. You may have to react to emergency jobs and these tend to be hard to manage with a traditional diary system, but not with Klipboard. Even if they are in the middle of a job, we can give you complete real-time visibility of your team, that way you can find the right people to assign to the job.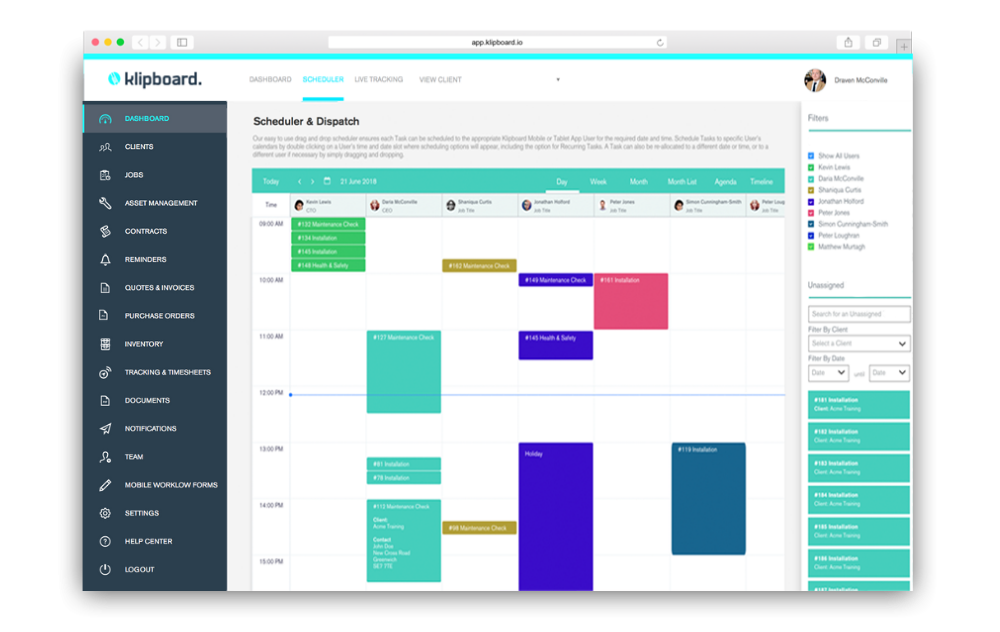 Remain completely compliant
Build your own forms, workflows and reports in Klipboard, so you can record the information you need to remain compliant. It's simple and easy to create custom workflows so you can ensure consistency on every job. If a client or piece of equipment requires a particular series of checks to be compliant and meet legislation, Klipboard allows you to build this yourself, matching your business requirements.
Everything is synced back to the office so you always have a record of the data, such as client signatures or photographic proof of repairs.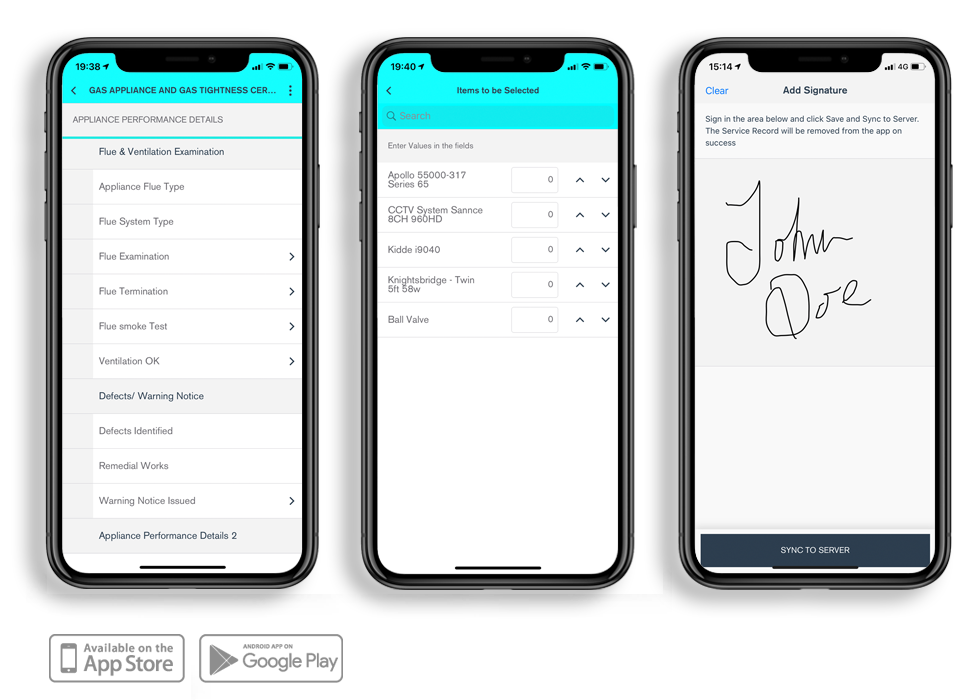 Line up your next job
When it comes to generating revenue, little comes close to Klipboard's helpful Asset Service Reminders. These automated communications are totally hands-free once they have been set up, they can be set to daily, weekly, monthly intervals, or whatever suits your client and allows you to concentrate on the jobs and not the diary.
Use these automated service reminders to keep the jobs rolling in and your customers informed when their equipment needs serving. Klipboard does the heavy lifting when it comes to scheduling and planning. These can be sent via SMS or email and you control the message in the easy-to-use message builder.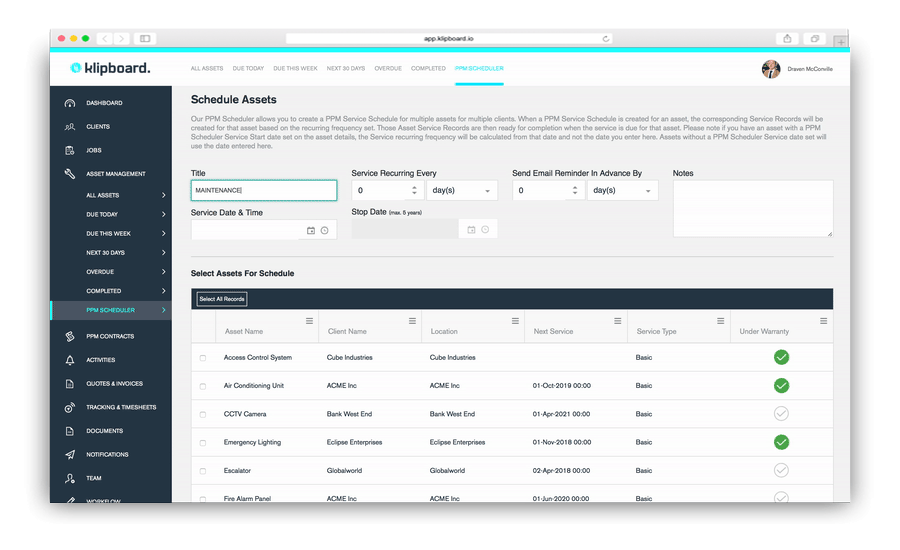 Save time and money
Digital data collection will mean no more paper-based forms for your jobs, no more lost paperwork, and a lot less admin in the field so you can get your team moving faster.
Remove the need for re-entering data back in the office leaving you to focus on planning your next jobs and ensuring your customer service remains outstanding.
Spend more time with your client
When you spend less time re-entering data back in the office and your team is more effectively scheduled throughout the week, it leaves you more time to spend with your clients, growing your accounts and building better relationships.
Use Klipboard to grow your revenue and better organise the placement of your team throughout the week.
Try Klipboard out for free with our 14-day trial, it requires minimal setup and you can get up and running in 15 minutes. We're sure you'll be building your own forms and scheduling your mechanical engineering service teams in no time at all.