First impressions are everything. That's why creating great looking professional, branded, comprehensive quotes help you put the right foot forward and not trip on the first step.
Here's how to put together really great looking quotes by using Klipboard.
Creating quotes is quick a easy on Klipboard
When you're responsible for going out and seeking new business, ensuring that you have a quick and easy way to send out a branded, eye-catching quote is a great place to start.
You can use Klipboard to build a 'New Quote' in hardly any time at all. 
Here's a few simple steps to create a new quote:
Click on 'Accounting' on your menu bar on the left of the screen
Click 'New Quote' found on the right
Complete the quote using your drop down menus for speed
Save & you're done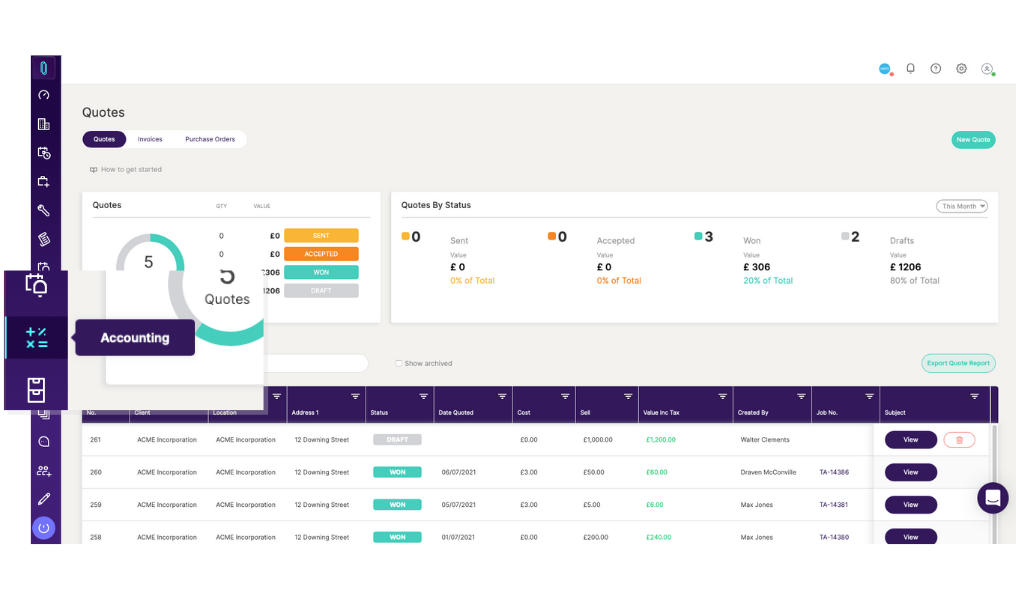 You can even turn that quote straight to a job from here if you've already secured the work.
Using Klipboard means you don't have to dig out a template and change the fields, recycling the same spreadsheet or PDF. 
If you are questioning if your quotes are good enough to win new business then you probably aren't using Job Management Software with finance tools built in. Klipboard is significantly reduces the time you spend on admin because, we link the quote directly to the job, the whole process is connected.
Use a quote style that's right for you
You could use a template you find online but it might not be right for your business. The big advantage of using Klipboard is you decide what to include on your quote and it's consistent regardless of who's sending it.
Whether you want to keep it fully detailed or stripped back and simple it's up to you.
See what quotes you've Won & Lost
With everything else that's going on with your business its hard to keep track of what quotes are accepted and rejected. Klipboard helps you track Accepted, Lost and the quotes Won and converted to a job, on a clear and easy to view Dashboard.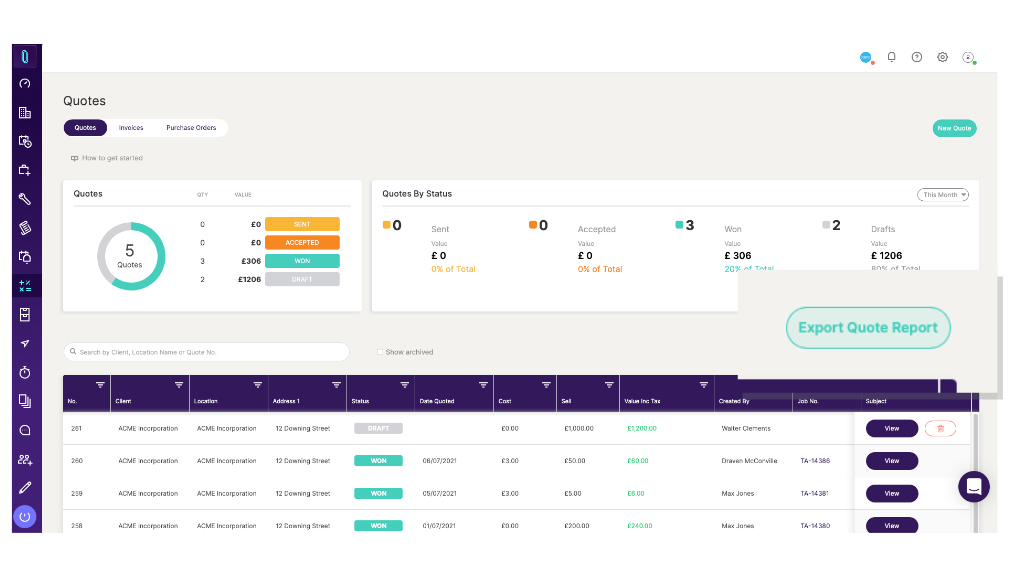 The quoting dashboard is an excellent way of seeing what's in your sales pipeline. You're just a click away from seeing what quotes are sent, accepted and won in an easy to view dashboard. You can see Invoices and Purchase Orders here too and the full details of each item is listed underneath with all the information you need. You can even export this information from here into a spreadsheet if you need to share this with others in your business.
Interested in improving your cash flow?: 5 ways to improve your cash flow
An unresponsive customer doesn't mean it's a lost job
Having a slow month and you're not sure why? Use Klipboard to identify the quotes you've sent and the quotes you've not had a response to yet. You don't know if they are won or lost until you check and Klipboard helps you clearly see what you have in the pipeline.
A lost job doesn't have to be the end of the story, export a list of the lost quotes and plan a chase up day reaching out to those customers you've missed out on to see if they have had success getting the work completed. 
Klipboard simplifies quoting, invoicing and purchase orders by streamlining the process and linking your finance admin to your job management.
Summary: Are your quotes good enough to win new business?
Turn your quotes from dull spreadsheets to eye-catching professional, business winning tools with Klipboard. Getting a clearer picture of the quotes you have outstanding and what you've won is an added bonus, winning new business is easier than you think.
Latest Insights
Trade Talk