What a year (or should I say 'what a couple of years').
You deserve an award for making it this far – we all do. All the uncertainty we have had to navigate over the last twelve months has been a challenge in not only business, but our personal lives too. 
A word of thanks and gratitude
I would like to thank all the people that have supported Klipboard over the last 12 months – without our partners and customers it wouldn't be possible. A special thanks to my team, without them my vision would not be brought to life.
We continue to be incredibly passionate about what we do and I can speak for the entire team when I say, that we do really put our heart and soul into the product we deliver.  The kind messages we receive from customers about how we have helped their business means a lot to our team, it really is appreciated.
Your support allows each of us to do a job we love.
A positive look towards 2022
It would be easy to think 2022 is going to be the same considering the past couple of years, however we believe in the power of optimism! The Klipboard team is really enthusiastic about what we have planned in 2022.
Not only will we continue to release features that our customers love, but our Customer Success team will be increasing their services too. For new and existing customers, we will be focussing on expanding our existing services in training, product adoption, webinars and more. These services are there to be availed of by our customers at any time and are designed to support their business use of Klipboard.
Our team's mission is to always ask 'What could we do to make our customers working day a little easier?' We will continue this into 2022 with more energy and optimism than ever.
Business is about people
We are very grateful of the relationships we have built with our customers and the value and insights that you all bring to us.
We are first and foremost a people business, not a faceless tech product giant. Throughout 2022 we will be sharing insights into the people that bring you Klipboard. You will get to know the individuals that answer support queries, through to those that make the dashboard display statistics – they all want to say hello!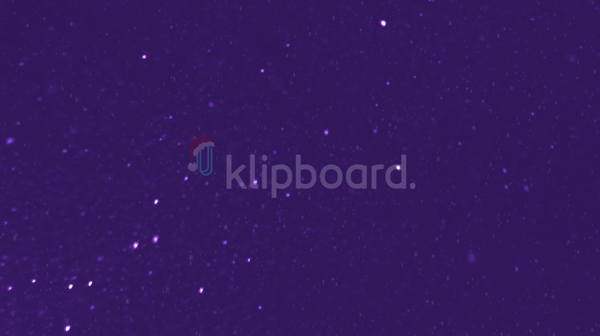 Having a little fun
We know how business can be challenging at the best of times but more than ever it is important to have a little fun. Just because our software takes care of the serious business of job management, it doesn't mean it can't be fun too!
This year we introduced random trivia when you sync the mobile app – did you know that all polar bears are left handed? Do you know any random trivia?  If so, please share and we may feature it in the app!
Our team really does loves a giggle. The above video featuring some of our team from engineering, design, support and sales, you can see they will literally wear the Christmas tree lights to a party!
Closing words from Draven
We are a passionate group of people that work hard, experience the highs, also the lows, but no matter what, we fundamentally just care. We care about our customers, we care about the product we deliver and we care about each other.
Whether it is in business or our personal lives, the act of caring for each other or being empathetic can be a radical force for what we all want to achieve as a collective.
"Be kind, for everyone you meet is fighting a hard battle." Plato
All that remains to be said from me, is that I would like to wish you a very Happy Holiday.
Draven McConville
CEO, Klipboard